"She's (Janet Yellen) gonna do more and more of it (printing dollars) until ultimately there is a currency crisis and the dollar collapses." - Peter Shiff
Income investors looking to maintain equity exposure and hedge against a falling U.S. dollar may find refuge in both international firms and U.S.-based corporations that observe a large portion of international profits.
For those looking for REIT income with a natural hedge against the dollar, there is one excellent option that offers sector diversification, historically growing dividends, capital growth and international real estate exposure. This company trades on the NYSE, yields over 5.5% and offers real estate exposure that includes both U.S. and European properties.
W.P. Carey Inc. (NYSE:WPC), $4.25 billion ($62.18/share)
W.P. Carey is a diversified U.S. equity REIT founded in 1973 and based in New York, New York. The company owns 421 properties in the United States as well as in Europe, with 39.4 million square feet and a 99% occupancy level. The WPC portfolio is well-diversified geographically, as well as through industries and property types.
WPC also earns income through its investment management platform, which allows management fee income from operating non-traded REITs. Currently this portion of the company manages $9.3 billion in assets, which accounts for about 28% of total revenue.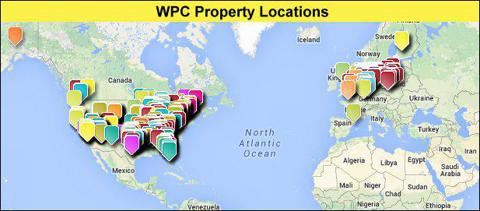 Click to enlarge
As seen in the WPC property location map above, the international focus of WPC-owned properties is wholly in Europe, which constitutes 31.6% of the total portfolio.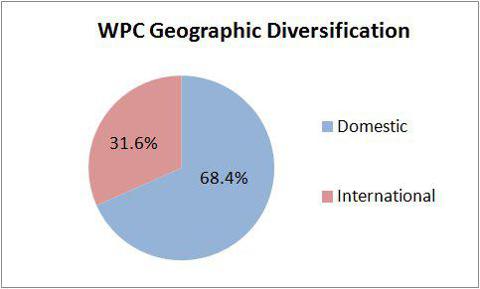 Click to enlarge
Within the United States, the WPC property allocation is spread well between the East, West, South and Midwest areas.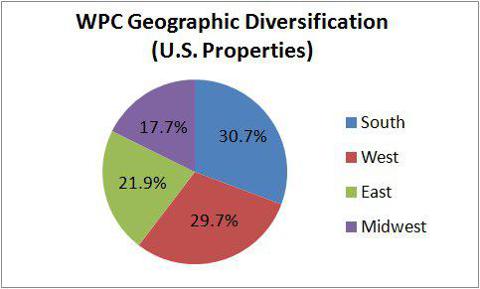 Click to enlarge
The WPC real estate holdings are quite diverse, with a 30.7% weighting in office buildings as well as exposure across several other REIT asset classes. The company believes that exposure offered though various property sectors is beneficial to mitigate risk through economic cycles as well as optimize the risk-return potential.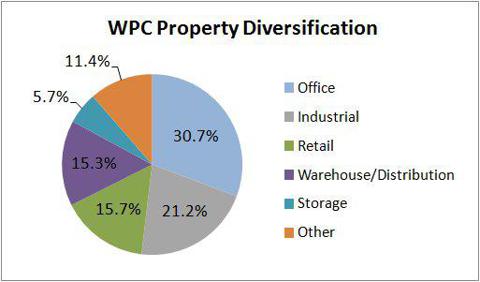 Click to enlarge
The types of tenants come from a wide-range of industries as well, which range from aerospace and defense tenants, such as Northrop Grumman Corporation (NYSEMKT:NOG) and Lockheed Martin Corporation (NYSE:LMT), to retail tenants such as Walgreen Co. (WAG) and AutoZone, Inc. (NYSE:AZO).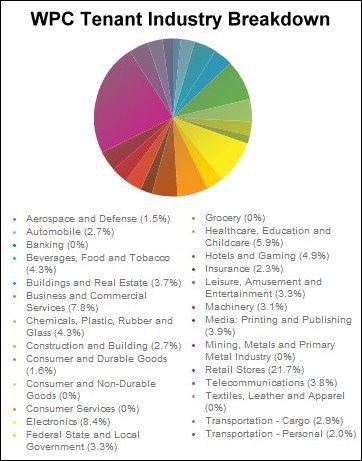 W.P Carey Dividend Performance
To the income investor's delight, WPC is clearly focused on returning cash to shareholders as the company has increased the dividend each quarter over the past 50 quarters. Over the last five years, the quarterly distribution has grown from $0.492 to $0.86 per share, which is a compound annual growth rate of 11.82%.
While the quarterly dividend has increased even more dramatically over the past two years (up 53.6%, or 23.9% compounded annually), the dividend yield is at a 2-year high due to the recent WPC share price reversal observed during the current REIT bear market.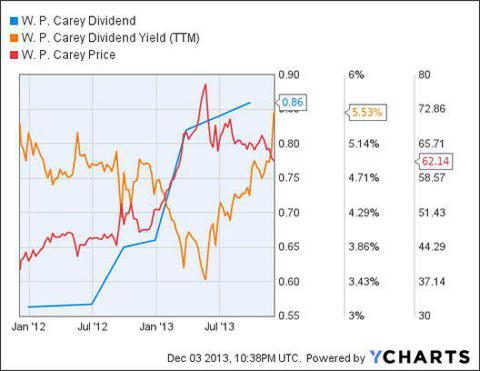 Click to enlarge
Assessing The Dollar Hedge
As mentioned above and in the 2012 WPC annual report, W.P. Carey notes that 31.6% of property assets are located internationally while 28% of revenue is derived from interests in their non-traded REIT platforms.
As such, one can estimate that if 72% of revenues come from the ownership and management of company property, then approximately 31.6% of the 72% of property revenue, equating to 22.75% of total revenue, comes from international property leases.
Using this estimation, if the dollar falls 20% against the European currencies over the next 4 years, under the existing structure WPC would gain 4.55% in additional revenue (on the existing asset base and revenue structure) in dollar terms alone due to currency movement.
While a 4.55% moves approximates WPC international property income and a large decline against the dollar, this example showcases how international revenues can add growth in a simple matter. The only requirement of such growth is weakness in the domestic currency in terms of the risk currency. Rent bumps and an increase in occupancy would also add to this move accordingly.
Conclusion
As as U.S.-based REIT with a 40-year history with a host of international assets, a high degree of both geographic and real estate sector diversity, a constantly growing dividend and a distribution yield of 5.53%, W.P. Carey appears to be a solid income-producing REIT that may offer a natural hedge against a weakening dollar.
Not all investors are sold on a weakening U.S. dollar, however with low short-term interest rates and a Fed balance sheet that continues to grow, a real threat to dollar stability exists. By creating portfolio hedges with income-producing assets that observe international currency risk, investors may benefit from heightened capital appreciation and dividend growth in a weakening dollar environment.
Disclosure: I have no positions in any stocks mentioned, and no plans to initiate any positions within the next 72 hours. I wrote this article myself, and it expresses my own opinions. I am not receiving compensation for it (other than from Seeking Alpha). I have no business relationship with any company whose stock is mentioned in this article.