Note: This article covers a micro-cap stock. Please be aware of the risks associated with these stocks.

After spending years developing products that are unrivaled in the prevention of foodborne and contact transmitted diseases, Pure Bioscience (NASDAQ:PURE) with their patented Silver Dihydrogen Citrate antimicrobials is now positioned to become the leader in the multi-billion dollar space of Pathogen Prevention. Pure Bioscience owns 12 issued patents with 6 patents pending creating a strong barrier to competition. The company's products are not only proven to be the most effective in the industry, but they are registered with the EPA that has granted them the safest designation possible of "Category IV" meaning that unlike the competition, they are completely safe for consumers.
The following chart demonstrates how much more effective "Pure Hard Surface" is compared to the food industry standard of "Quaternary Ammonia-based Sanitizers" and an EPA Hard Surface Disinfectants chart shows the enormous safety benefits over all the competition.
Pure Hard Surface Versus Industry Standard Quaternary Ammonia Sanitizer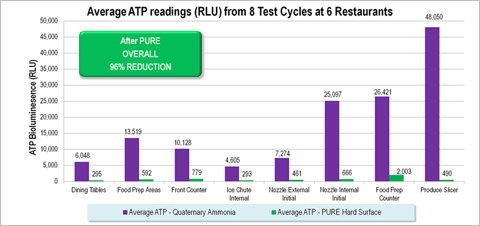 Recently, Pure Bioscience management has been completely restructured to take advantage of the large opportunity created by their unique products. The company has brought in new management that is rich in experience and contacts in the food industry where the company's initial focus is and where its products are most needed. Chairman, David Pfanzelter, is the former Senior Vice President of Kellogg's Specialty Channels, President of Kellogg's Canada, Director of Subway Restaurants, and on the Wrigley Advisory Board. Hank Lambert, CEO, has over 35 years experience in executive capacity with Heublein, RJ Reynolds, Nabisco, Pinnacle Foods and Underwriters Labs. Peter Wulff, CFO and COO has 25 years experience in fast growing medical technology companies. Tom Myer, EVP Product Development & Marketing has over 40 years experience in food science and processing. David Theno, Jr., PhD, Director, is formerly the VP of food safety for Jack In The Box. Craig Culver, Director, is the Founder and CEO of Culver Franchising Systems with over 490 restaurants. Bill Otis, Director, is the President and COO of Cudahy Foods and Saratoga Food Specialties. Gary Cohee, Director, has over 40 years experience in Investment Banking and Finance.
The United States Centers For Disease Control and Prevention estimates that each year roughly 1 in 6 Americans, or 48 million people, get sick from foodborne diseases. 128,000 are hospitalized, and 3,000 die. Robert Scharff, a former Food and Drug Administration economist says, "Foodborne illnesses cost the United States $152 billion a year, a tab that works out to an average cost of $1,850 each time someone gets sick from food." The World Health Organization estimates the cost of influenza epidemics to the U. S. economy alone at $71-167 billion per year. Influenza is spread both by airborne viruses and contact with infected surfaces.
The continuing high rate of foodborne illnesses confirms that industry standard solutions for foodborne pathogens are not working well and underscores the large and growing need for a truly effective sanitizer. "Pure Hard Surface" has proven its superior efficacy over a broader spectrum of pathogens than any other sanitizer. It has faster kill times of 30 to 120 seconds versus up to 10 minutes. It is Non-Toxic to humans and animals and carries the safest rating by the EPA. Pure Hard Surface has a 24-hour residual kill against pathogens. It does not cause bacterial resistance and it is odorless and colorless making it perfect for food safety.
"Pure Hard Surface" reduced overall pathogens 96% better than their standard "Quaternary Ammonia Sanitizers" and had unrivaled performance in all the following measured areas:
Pure Bioscience Product Advantages Compared to Leading Brands
| | | |
| --- | --- | --- |
| Features | Pure Hard Surface | Leading Brands |
| Active Ingredient | Silver dihydrogen citrate | Ethanol/Ammonium Chloride |
| EPA Safety Category | IV | II |
| 24-Hour Residual Protection | Yes | None |
| Kills MRSA | 2 Minutes | N/A |
| Standard Bacteria Kill Time | 30 Seconds | 10 Minutes |
| Resistant Bacterial Kill Time | 2 Minutes | N/A |
| Fungal/Virus Kill Time | 30 Seconds - 10 Minutes | 10 Minutes |
| Rinse Required | No | Yes |
| Irritating Fumes | No | Yes |
| Skin Irritation | No | Yes |
| Flammable | No | Yes |
| Stains Fabrics | No | Yes |
| Corrosive | No | Yes |
QSRs like McDonald's, (NYSE:MCD), Starbucks (NASDAQ:SBUX), all the YUM Brands (NYSE:YUM), restaurants, 7 Eleven, Wendy's, Burger King and many others will benefit immensely when they can confidently boast the highest levels of pathogen protection in their industry. The following table illustrates all of the pathogens Pure Hard Surface is effective in controlling. The list is truly impressive and compelling.
Pure Bioscience EPA Register Disinfection Claims
| | |
| --- | --- |
| Organism | Kill Time |
| Pseudomonas aeruginosa | 30 seconds |
| Staphylococcus aureus | 30 seconds |
| Salmonella choleraesuis | 30 seconds |
| Listeria monocytogenes | 30 seconds |
| HIV | 30 seconds |
| Herpes | 1 Minute |
| E.coli 0157H7 | 2 Minutes |
| Methicillin Resistant Staphylococcus Aureus (MRSA) | 2 Minutes |
| Vancomycin Resistant Enterococcus facium (VRE) | 2 Minutes |
| Rhinovirus | 10 Minutes |
| Influenza A (H1N1) | 10 Minutes |
| Polio Virus Type 2 Lansing Strain | 10 Minutes |
| Trichophyton mentagrophytrs (Athletes Foot Fungus) | 10 Minutes |
Although Pure Bioscience is initially targeting the $1.5 to $2 billion market in the food industry the company will pursue several very large markets where dangerous pathogens are transmitted through contact in places like floors, elevator buttons, door handles, health club equipment, grocery markets, public transportation, restrooms, doctors offices, hospitals, schools, sporting events, retail stores, shopping malls, and more. Note that the soap and cleaning compound industry produces sales of $56 billion led by Colgate-Palmolive (NYSE:CL), Ecolab (NYSE:ECL), Procter & Gamble and the private company, S.C. Johnson.
Personal products like soaps, deodorants, skin creams and toothpaste that are used to kill pathogens are multi-billion dollar markets. Imagine what will happen to the value of Pure Bioscience when they capture a chunk of this business because their products work far better than anything else and are perfectly safe. Large companies will be motivated to partner with Pure Bioscience so they can boast the safest and most effective products.
Food decontamination of meats and produce is a major business in the trillion-dollar food industry to help stem the spread of E.coli, Salmonella and other foodborne illnesses. Ammonia and other chemicals are currently in use, but are not nearly as effective as needed, plus they have issues with safety. Another large market for Pure Bioscience opened up when the company announced the EPA determination of Silver Dihydrogen Citrate as GRAS, (Generally Recognized As Safe) as a contact biocide in food processing. Charles Deibel, President, Deibel Laboratories, said, "Given the results of the testing Deibel Laboratories performed on the shiga toxin producing E.coli serotypes and the pathogen log reductions in the direct application of SDC to beef trim and ground beef, we believe the SDC molecule will be a truly unique tool to help eliminate the dangerous pathogens that have plagued the food industry for years." Promising studies are already underway testing SDC for decontaminating fruits and produce. If the industry adopts Silver Dihydrogen Citrate for decontamination of meats and produce, Pure Bioscience sales will go through the roof and will be ongoing for at least the life of the patents.
The opportunities for Pure Bioscience are enormous and the door is wide open now with the welcome mat out for management to cross over the threshold and forever change the way we guard ourselves and our family against dangerous pathogens. Pure Bioscience has everything necessary to begin creating very large and fast growing sales and profits.
Pure Bioscience is a small cap company with a very big investment potential, but still investors also need to be aware of any risks associated with such an investment. To date, the company has always been able to procure adequate capital to continue as a going concern but the biggest risks the company runs are the risks of not being able to raise adequate capital, failure of management to execute sales successfully and of course the unknown. To maximize the opportunity and the risk to reward ratio, it is advisable to commit only a small portion of your portfolio to Pure Bio but to commit some portion that can be meaningful.
Note the sizable increase in trading volume beginning September 2012 when the company began restructuring management. The increasing volume and rising price indicates accumulation by knowledgeable investors.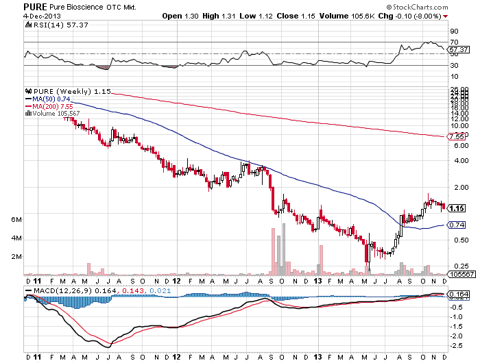 Now that Pure Bioscience has the leading products to fill a great, unmet need, the management to successfully commercialize them, and a historically low share price, the timing appears ripe for an investment in the small number of only 24 million shares available. A 12-month target of $6.00 for PURE is based on the small outstanding number of shares, the company achieving only 10% of their first target market, the large market need for their product, their experienced and very well connected management/sales force, and rising investor interest.
Pure Bioscience is positioned to outperform expectations.
Disclosure: I have no positions in any stocks mentioned, and no plans to initiate any positions within the next 72 hours. I wrote this article myself, and it expresses my own opinions. I am not receiving compensation for it. I have no business relationship with any company whose stock is mentioned in this article.