AudioCodes (NASDAQ:AUDC) got Dell. Last week, AudioCodes surprised the markets as it announced that it had been selected by Dell as the voice networking solution provider for Dell's Accelerate Program for Microsoft Lync. This is a significant deal and I believe it will be similar to the successful partnership it has with Microsoft (NASDAQ:MSFT) with its One Voice for Microsoft Lync. However, I feel that the announcement fell through the cracks as the lone Oppenheimer analyst failed to pick up on the news. For the past year and a half, AudioCodes has positioned itself as a one-stop shop for Microsoft Lync and you can see the payoff as Dell, which also likes to be a one-stop shop for Microsoft, has decided to align itself with AudioCodes in an effort to take the $25 billion Unified Communications market by storm.
Here's why you need to buy AudioCodes on this Dell announcement:
Anyone that follows technology knows that having Dell on your team will automatically tip the scales in favor of larger enterprise deals. This is a win-win for AudioCodes, but could be a much bigger win for Dell in the long run. Industry analyst Jon Arnold visited AudioCodes' premises and said on his blog, "I like how they've built up their contact center reach, and from what I was shown, they are currently supporting a number of global, large scale deployments." I believe that Dell saw the same thing and it gave it confidence AudioCodes will be a reliable partner. I look for this relationship to blossom over the next 6 - 12 months.
AudioCodes supplanted institutional favorite Sonus Networks (NASDAQ:SONS) from its Dell relationship. This could be one of the reasons why the Oppenheimer analyst didn't bring attention to AudioCodes' meaningful win even with a brief note. Oppenheimer has an Outperform rating and a $4 price target on Sonus, while it has a Hold rating on AudioCodes after a recent downgrade. Sonus' $4 price target equates to 3.73 times its estimated 2014 revenues, applying Sonus' valuation to AudioCodes would give it a $14 price target.
I believe that AudioCodes warrants this higher valuation as its strategy is more of a Cisco Systems (NASDAQ:CSCO) model whereby it's an end to end solution provider as opposed to a product only model. Additionally, AudioCodes has already proven it can successfully partner with the who's who of the Unified Communications world given its partnerships with Avaya, Microsoft, Alcatel-Lucent (ALU), BroadSoft (NASDAQ:BSFT), Hewlett Packard (NYSE:HPQ) and Genysys.
The Dell relationship could lead to a strategic collaboration where they formulate a game plan with AudioCodes to strengthen its software side through small accretive acquisitions making it a much stronger player and leading the way to its integration into Dell (through acquisition) in the near future. AudioCodes is one of the lone survivors of the VoIP suppliers and it has spent years pushing its core competencies forward and reworking its marketing strategies to complement the new UC landscape. As Jon Arnold also said, "Outside of the telecom vendors - and Cisco - I really can't think of any other vendor who can provide such a complete range of products that enable UC and voice communications in general. AudioCodes may not own the customer the way Microsoft or Cisco does, but it's clear to me they bring a lot to enhance any vendor's solution." I believe an acquisition by Dell makes sense and I would look for a price of between $12 and $15.
I believe that AudioCodes will deliver 60% - 80% earnings growth in 2014 and 2015. The Dell relationship can be the event that allows AudioCodes to handily beat forecasts in 2014 and 2015. I have AudioCodes earning $0.15 in 2013 and $0.25 - $0.27 in 2014.
AudioCodes' new software SBCs which will deploy 16,000 sessions should be available in early 2014 and its two new cloud based mobile platforms should be announced very shortly as per the CEO's comments on the past conference call. This will allow for more service provider revenue and potentially a much more reliable, security proof enterprise mobile VoIP solution that will deliver excitement at both Dell and in the investment community. In an interview with People and Computers on December 3rd, AudioCodes' CEO Shabtai Aldersberg said "We are witnessing a steady growth in recent years, our products appeal to audiences Lync users. With the suite we provide organizations the ability to simplify Lync projects and work with one source sound field." He concluded, "we will launch a platform that will give employees the ability to be connected to the office every day from anywhere - and in a secure manner."
The Chart: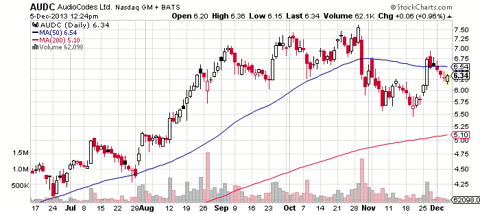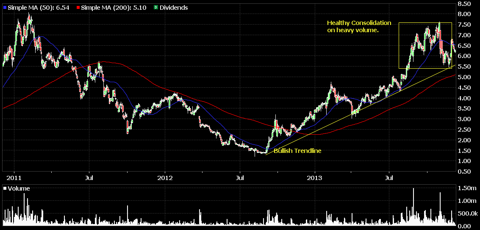 We have seen a lot of consolidation in the $6 to $7 range over the past three months as the stock has taken a pause after running up to new highs. The 200 day moving average is on an incremental climb higher and the shares saw support with a double bottom at $5.50. I see the 200 day moving average touching $5.50 by late January which will add confidence that this is strong area of support and any subsequent pullback will hold this $5.50 level. With the upside being $14, it provides a very favorable risk reward scenario with an entry around these levels.
AudioCodes Vs Mavenir:
Mavenir Systems (NYSE:MVNR) is a recent IPO that participates in the VoIP space on the wireless side. It's a very close comparison to AudioCodes except Mavenir is focused on the VoLTE space whereas AudioCodes is focused on the Over the Top (OTT) space in the wireless wars. Once again like Sonus, Mavenir differs from AudioCodes on valuation.
· Mavenir is expected to generate $120m in revenues and lose -$0.30 in 2014 up from $100m and a loss of -$0.60 in 2013.
· Mavenir has ~$35m in net cash and trades at approximately 2 times revenues.
· AudioCodes is expected to generate $150m in revenues and earn $0.25-$0.27 in 2014 up from $137m and $0.15 in 2013.
· AudioCodes has ~$43 million in net cash and I estimate it will generate $12m in cash flow in 2013 and $16m in 2014. It trades at approximately 1.5 times revenues.
Today, Duetsche Bank initiated coverage on Mavenir with a Buy rating and a $14.00 price target. This values Mavenir at 2.7 times revenues. Applying this valuation to AudioCodes would give it a price target of $10.40.
Mavenir has the institutional backing of the sell-side institutions; hence the IPO and I believe that this will be coming to AudioCodes soon. This disconnect in valuation between AUDC and Mavenir, and between AudioCodes and Sonus will shortly come to an end. AudioCodes is now on institution's radar screens, which we saw with 28 institutions either increasing their stake or initiating a new position last quarter; the highest number since my initiation. The sell-side is sure to follow, especially with industry consolidation and AudioCodes proving through partnerships, marketing campaigns and results that the upside is too big to ignore on a risk reward basis. I'm recommending that all my followers get in here before the sell-side arrives.
Institutional Marketing:
AudioCodes will be attending Benchmark's Micro Cap Discovery Conference on December 11th and then could potentially announce attendance at Needham's Annual Technology Conference on January 14-16, 2014. We are shareholder activists in the sense of wanting AudioCodes to hold its own analyst's day. While I believe that AudioCodes did everything correct in completing its turnaround and in aligning itself with the correct partners in the $25 billion UC market. I believe its time AudioCodes opened up its management team, its products and its vision (including mobile) to the kind of positive Wall Street scrutiny that an analyst day would bring and the sooner, the better. The time is now.
Conclusion:
The shares of AudioCodes pulled back recently after what I perceived to be a poor downgrade (price objective being met) by an unenthusiastic analyst and by some profit-taking as the stock made new highs. Profit-taking is part of any good performing stock, but after about 3 months of consolidation between $6 and $7 I believe that AudioCodes' is getting ready to break out and shareholders are getting ready to scream "Yo dude, I'm glad I bought AudioCodes on the Dell news".
Disclosure: I am long AUDC. I wrote this article myself, and it expresses my own opinions. I am not receiving compensation for it. I have no business relationship with any company whose stock is mentioned in this article.