I'm in the unique position of having the opportunity to spend extensive time scrutinizing hundreds of mining companies, their assets and related transactions. Whenever I see an interesting prospect, I try to really understand the value, and subsequently attempt to find more attractive opportunities at similar discounts, and ideally with less risk. Some classic key selling points for gold assets, although sometimes highly relevant, are often overstated in an effort to sell. I'm going to attempt to dispel some of these over-exaggerated or misunderstood phrases using data from in excess of 180 publicly traded gold companies that I have reviewed after the recent Q3 results.
Undervalued
A discounted stock is not necessarily a value stock. Almost every gold asset is proclaimed to be undervalued, which might be understandable, given that the average public gold miner evaluated has a 1-year share price performance of -55%. In fact, of the 181 companies referred to below, only 5 (or less than 3%) have appreciated in share price over the past year. The fact is that the price of gold has fallen, producers have low margins, and those not producing don't have the capital to see their project through to production. Therefore, in a lower gold-price environment, a stagnant asset, which has not been advanced along the value chain, should rightfully be discounted. The opportunity lies in those companies that have had the capital and expertise to significantly & successfully advance their assets, but have nonetheless declined, along with their peers, simply as a by-product of being grouped in with the down-turned sector.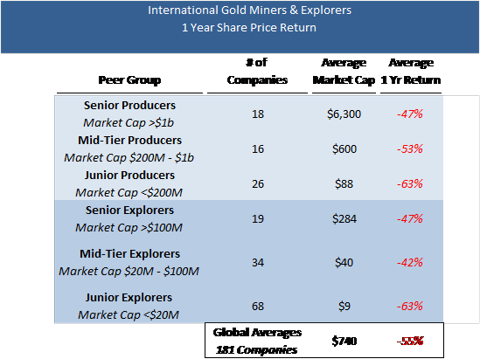 Financial Security
Companies use the term "fully financed" as a way of giving investors a sense of security during this insecure market climate. After digging a little deeper, you may notice that "fully funded" could be defined loosely as having enough cash to keep offices open and advance assets for another year. Understandably, having one year's cash is not too terrible in a market where many are struggling to simply maintain asset ownership! But what if the market doesn't turn within 1, 2 or even 3 years? If the company doesn't offer security of having the capital to advance its asset for at least a few years, it had better overcompensate by offering a solid asset with a substantial discount and very serious upside potential. A well-publicized statistic, published in May of 2013 by geologist & financier John Kaiser, indicated that nearly 700 of the 1,800 mining stocks listed on the Toronto Stock Exchanges were at risk of bankruptcy and had less than $200,000 in working capital (these 1,800 are not just gold companies). According to recent financials, at least for the gold companies assessed herein, cash balances have generally lessened substantially further. Many companies have managed to burn through cash at even faster rates than their falling market capitalizations. While some companies have taken steps to cut costs in the right places, which should include hefty executive salaries, it's not uncommon to see that cash balances have fallen more than 50% from even most recent prior financials. Although there are ways to avoid bankruptcy for explorers, those smaller producers with too much debt are struggling to make monthly interest payments. Beware of companies, which have become significantly overleveraged. This primarily occurs in the case of junior producers who may not have ramped into full-scale production, and may be relying on the production of one marginal asset to meet debt payments.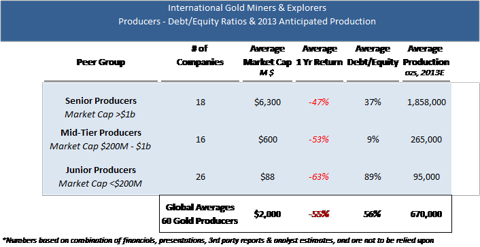 However, with regards to non-producers, what concerns me just as much as possible bankruptcy is that these companies' assets will likely remain stagnant. Indeed, there was an article in the Financial Post this month entitled "Cash-strapped junior miners show resilience, new report suggests" which quoted PwC in saying that only 31 miners on the TSXV were delisted in the 12 months leading to June. "John Gravelle, PwC's global mining leader, said in an interview that many juniors have stopped working on their projects and have raised just enough from private placements and other sources to keep going." Undoubtedly, a beaten down mining asset with no capital for advancement might turn out to be a bargain if the market turns. But why take the risk on a company with no cash and no chance for further advancement when comparable peers are offering similar price discounts, with the security of cash and the upside of further advancing assets along the value chain in the interim of these dreadful markets!
Grade
A "high-grade" deposit doesn't necessarily correlate with an economically viable mine. Let's not forget that grade is best used as one of many indicators for future mining cash costs. However, high grade gold deposits don't always lead to low cost mines. Just look at the Nevada assets recently sold out of bankruptcy. On the other side, many low grade heap leach mines in places like Mexico & West Africa present positive mining economics. Even in the case of non-producers, for whom grade might be a more relevant indicator, I instead prefer to focus more on the cash costs & economics of similar deposit types in the immediate geographical vicinity as a much more weighted indicator. It is very interesting to compare grades of gold deposits across the universe of explorers and developers, through to producers, to see which variables combine to result in long-term cash flowing mines. I think people would be surprised to learn how dependent grade truly is on the host of other important factors. The subject of grades & cash costs could occupy an entirely separate article, but I'll note that cash costs are only truly illustrative in the form of all-in sustaining cash costs. Comparing gold producers' all-in cash costs, with very few below $1,000/oz, is demonstrative just how close to the edge a lot of such companies are balancing!
Conclusion
Despite the fact that gold mining companies have been struck by the uncertain markets and falling gold price, these markets offer interesting investment opportunities for savvy investors to cherry pick those companies with relative security, asset upside potential, and clear sight towards economic mines. For that reason, I believe we'll continue seeing sophisticated private equity firms trying to do just that (see Globe & Mail article entitled "Big names & private dollars circle mining sector"). When evaluating an opportunity, it's crucial to assess the realm of peers in the industry to gain an understanding of value, in order to truly justify a deep value investment. Such efforts may uncover the most attractive investments at potentially deeper discounts.
Isaac currently works with Sunel Securities in Toronto.
Disclosure: I have no positions in any stocks mentioned, and no plans to initiate any positions within the next 72 hours. I wrote this article myself, and it expresses my own opinions. I am not receiving compensation for it. I have no business relationship with any company whose stock is mentioned in this article.