After a tremendous selloff (down 50% in a matter of weeks!), Telestone Technologies (NASDAQ:TSTC) has spent just over 2 weeks building a base, from which it appears to be bouncing off. The volatility in this name is incredibly wicked, making it a very difficult stock to hold onto, but the setup on the chart is looking more promising with today's surge. The company reiterated its sales view on the 5th, which we said would lead to a huge blowout when TSTC reported [Jan 13, 2010: Why Telestone Technologies Should Knock Our Earinngs Socks Off]. But that analysis did not stop the stock from being gutted.
Accounts receivables, which has been a huge sore spot for the company, was also addressed in the press release.
Telestone Technologies Corporation, leading developer of local access network solutions, products and engineering services today reaffirmed its guidance for achieving $70 million in revenues for calendar 2009.
"The pace of network installations for the nationwide 3G roll-out accelerated significantly during 2009," opened Chairman and CEO, Mr. Han Daqing. "The fourth quarter of 2009 was the largest contributor to our revenue for the year and consistent with our expectations. We are confident in achieving our revenue guidance of $70 million for 2009, which will be a record for our company. We also made further progress during the quarter in collecting long-term receivables from our previous customers who were subsequently absorbed by the remaining "Big 3" Wireless Carriers," Han concluded.
A hard name to get one's arms around, as the stock 'action' has been in direct contrast to what I see as a potential enormous beat on the bottom line in the not too distant future. I am not adding to our position, but only because stocks that randomly move up and down 10-15% on single days (or 50% in weeks) with no rhyme or reason are not really consistent with my game plan. This might be a name I am conceptually correct on, but won't benefit much from -- we'll see. (Click chart to enlarge)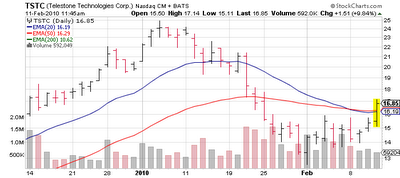 Disclosure: Long Telestone Technologies in fund; no personal position