Eagle Rock Energy Partners (NASDAQ:EROC) has dropped significantly in price due to the dividend reduction announced in October from 22 cents to 15 cents/quarter, a 32% reduction. In the past few years it has have run into some major difficulties largely tied to their having too much exposure to commodity prices. Mainly the problem lies with dry natural gas prices which have been severely depressed in the US. This caused distributable cash flow to fall to 16 cents per share in the 3rd quarter.
EROC hoped to grow their way out of their problems by expanding the midstream business as quickly as possible and by switching their gathering and processing contracts to fee-based as they come up for renegotiation. EROC now has 6500 miles of gathering pipeline in the Texas Panhandle with 11 processing plants. Midstream is now about 46% of the business based on 3rd quarter EBDA, up from 20% only a few years ago, and EROC recently purchased some excellent assets from BP in the Texas panhandle, consisting of approximately 2500 miles of gathering pipeline. The Texas Panhandle system covers parts of the Granite Wash, Cleveland, and Tonkawa fields, accounting for 67% of total gas gathered by EROC. The company has secured rights to 350 000 acres with BP, 106 000 acres with Apache, and 150 000 acres with Monarch Natural Gas, as well as serving Linn Energy, Jones Energy, Mewbourne, and Unit Petroleum. Natural gas volumes are up by around 12% over last quarter, and EROC expects to connect 120 wells this year.
EROC also has a large gathering system in East Texas/Louisiana which accounts for the other 33% of gas gathered. This system has 1600 miles of gathering pipelines with 9 processing plants. This system covers the Austin Chalk play as well as parts of other plays. Volumes in this segment declined about 2% quarter over quarter. The fields in this area have significantly lower NGL volumes than the Panhandle (Panhandle gets about 15bbl/d per mmcf/d gathered, while East Texas gets about 4bbl/d per mmcf/d). However, EROC recently signed an agreement with Anadarko for 1.9 million acres, so, while this is not as important a system as Texas Panhandle, it is still material to EROC. Anadarko is likely to have leases that require a certain amount of drilling to hold onto the lease. This means that despite the lower NGL volumes in the East Texas system Anadarko will continue to drill wells in this area.
EROC's Midstream business still has too much commodity exposure. According to the company's recent presentation, only 40% of their midstream revenues are fee-based, leaving 60% still exposed to commodity risk. This is getting better though; next year EROC is expected to have 43% of their midstream revenues fee-based. While this is not a large change, it is a step in the right direction and shows management knows which direction they should be moving.
In the upstream business EROC does have hedges going out to 2015. Natural gas and ethane are hedged 93% this year and 103% next year. However, the hedge price drops precipitately over the next two years, average hedge price this year is $4.82, next year it's $4.38 and it drops again in 2015 to approximately $4.11.
The graph below shows historic and projected future prices of natural gas liquids (NYSE:NGL). EROC has three major investments in fields with significant NGL levels and has said it will concentrate their drilling in these fields. In a recent presentation EROC identified three basins with net margins between $7.80 and $6.46 per mcfe: Alabama, Golden Trend, and Permian. The other fields EROC lists as investments have lower net margin ranging from East Texas at $4.42 to Arkoma at $1.64 per mcfe. EROC has increased production in its two highest margin fields by 46% over the last 12 months. EROC says that it is actively drilling in the Alabama, and running a two rig program in the Golden Trend as it continues to concentrate on the high liquid plays. EROC is, like most companies, contractually obligated to drill a minimum number of wells in its fields or risk losing the drilling rights. EROC has said it will do the minimum drilling necessary to retain their rights in the fields without significant NGLs.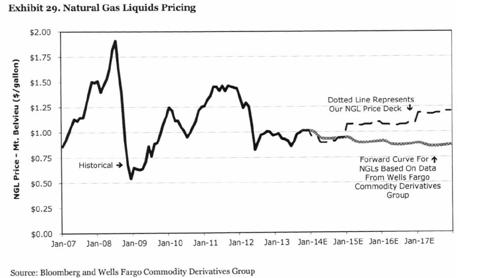 EROC's most serious risk is its high level of debt. Long-term debt is $1,199 million against equity of $764 million. Falling EBITA and rising debt caused the company to ask its banks to raise the total leverage ratio as well as senior secured leverage ratio. The banks have agreed to this, but EROC is required by the lenders to improve its ratios over the next 2 years. Albert Alfonso explores this issue in an excellent article published on Seeking Alpha. Summarizing what he writes, it appears that based on the current payout ratio, after the dividend cut, EROC needs to either reduce debt by $100 000 000 and/or grow its EBITA significantly to comply with its loan covenants. $125 million is needed to pay the current dividend over the next 5 quarters. Unless cash flow improves greatly from the 3rd quarter results, EROC will only realize $125 million in DCF over the next 5 quarters. Management's answer to this is: "...Management expects coverage to increase over the next several quarters". Since the coverage ratio depends not only on the amount of debt but on the EBITA, EBITA growth could bring the company into compliance. The company further states that debt reduction is now its major focus, so it currently expects/hopes to achieve compliance with a combination of EBITA growth and actual debt reduction. This doesn't mean that there couldn't be another dividend cut.
EROC's management has appeared to suffer from an overabundance of optimism. One sign that management is becoming more realistic is the raising of maintenance cap/ex for drilling and midstream maintenance from $14.9 million last quarter to $18.8 million this quarter. This is important since the upstream business requires constant drilling to offset well production decline.
The most important question for EROC is what will happen to natural gas prices. If they stay the same EROC will survive, but it will be unable to raise the dividend for many years. The two graphs below forecast rising natural gas prices. There are three major factors which are responsible for this. First is the expansion of the chemical industry in the US. Chemical companies use natural gas as a raw material in chemical manufacturing. The US has the fastest growing chemical manufacturing industry in the world. Second is natural gas export. The construction of LNG liquification trains is a slow process. Before export, natural gas needs to be liquified which is an expensive and difficult process. However, natural gas outside the US is selling at around 3-4 times the price within the US. Several companies are in the process of building these facilities on the Gulf of Mexico and on the Pacific Coast of Canada. Finally, the majority of power plants now being built in the US run on natural gas. It's cheap, plentiful, and it's considered green so it's easy to get through the permitting process, and the environmental groups don't have any objections.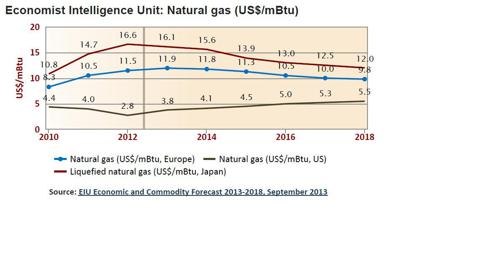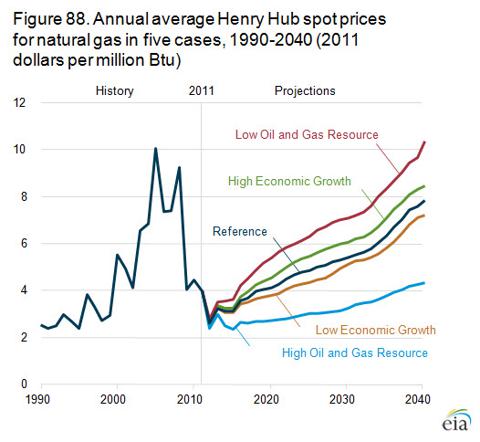 Source EIA 2013 Annual Energy Outlook
I find the last graph the most interesting because it forecasts several scenarios, all of which lead to a rise in the price of natural gas. Increasing natural gas prices would be a great benefit to EROC. The same factors that have caused its recent problems, leverage and too much exposure to commodity prices, would become strengths, changing the whole situation for this company. Further, fields with fewer NGLs per mmcf of natural gas would see higher margins and become useful assets.
EROC is high risk, with high debt and a dividend still at risk. It is still worth considering as an investment for two reasons. First, two thirds of their midstream business is made up of the Panhandle system, a system seeing excellent growth. Second, in the upstream business EROC has the Alabama, Golden Trend, and Permian basins. All three of these fields are highly profitable at today's prices and EROC is taking advantage of this in their drilling program. One point which also has to be made is that a small rise in natural gas prices would raise EROC's cash flow significantly. EROC's assets in the East Texas gathering system and the lower NGL fields would see higher margins and high growth with higher priced natural gas. For the investor who is willing to tolerate its risks, EROC provides a not unlikely scenario for gaining the dividend and appreciation potential of a rise in natural gas prices.
Disclosure: I am long EROC. I wrote this article myself, and it expresses my own opinions. I am not receiving compensation for it. I have no business relationship with any company whose stock is mentioned in this article.