I'm looking for demand for NAND flash solutions to continue to drive SanDisk's (SNDK) earnings growth. Specifically, the industry is forecasted to increase 50% between 2012 and 2016. I think demand for tablet, smartphone, and solid-state drive offerings will slow towards the end of the decade. Consequently, I view SanDisk as having a secular valuation tailwind.
In the near term, SanDisk could underperform earnings expectations as the Street is forecasting 8.4% EPS growth in calendar 2014 after 207% EPS growth in calendar 2013. These would be excellent buying opportunities so long as the fundamental story remains intact. SanDisk operates in a volatile, competitive industry, which is subject to short-lasting fluctuations.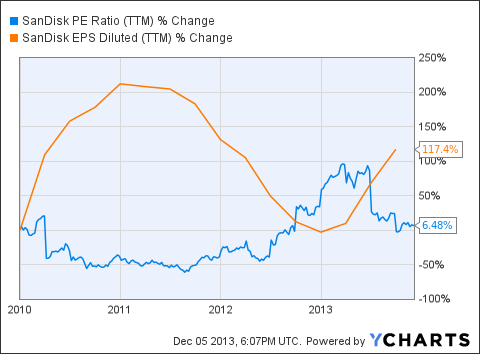 SNDK PE Ratio (TTM) data by YCharts
I think the current intrinsic value is $80.28 per share as the justified P/E ratio is 14.26, and the forward EPS is $5.63; I'm remaining bullish on SanDisk.
Recent Developments
SanDisk invested in Magisto, the creator of the popular video editing app with more than 13 million users on iOS and Android platforms. While this investment could have some long-term benefits for shareholders, I don't see much near-term benefit.

The company announced the pricing of $1.3 billion of convertible senior notes due in 2020. The notes would represent 6% of shares outstanding and are convertible in July 2020. There is an option for an additional $200M offering.

SanDisk announced that Kaminario, a scale-out all-flash array provider, has selected the Optimus Serial Attached SCSI ("SAS") solid-state drive ("SSD") for use in its next-generation K2 all solid-state SAN storage solution.
Fundamental Analysis
From 2008 to 2012, flash grew from a $13 billion industry to a $26 billion industry and is expected to grow to $38 billion in 2016. Within the flash market, SanDisk faces competition from Samsung (OTC:SSNLF) who is offering 3D NAND in 2014, which SanDisk plans to offer in 2015 and/or 2016. Additionally, SanDisk competes with EMC Corporation (EMC), Western Digital Corporation (NYSE:WDC), Seagate Technology PLC (NASDAQ:STX), Micron (NASDAQ:MU) and NetApp, Inc. (NASDAQ:NTAP). Given the amount of competitors in the industry, the volatile supply and demand dynamic within the industry significantly impacts SanDisk's profitability.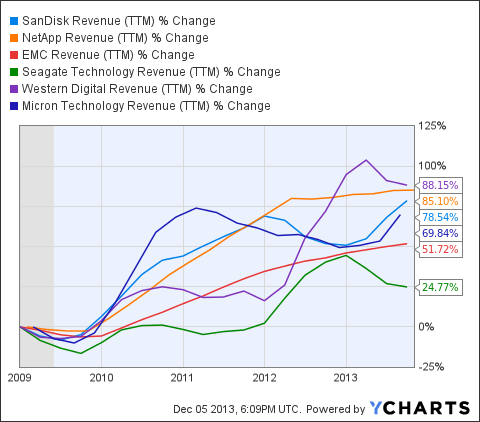 SNDK Revenue (TTM) data by YCharts
Relative to those firms, SanDisk is a competitive investment from a profitability and growth rate perspective. Unadjusted, SanDisk has the third highest revenues growth rate. This could be a consequence of the firm's increased reliance on revenues from Asia and original equipment manufacturers ("OEM"). Or the decreased reliance on revenues from the U.S. and retailers. I view OEMs and Asia as attractive growth opportunities for SanDisk.
For the sake of simplicity, the flash market is growing and SanDisk is competitive in the industry; this should drive earnings and intrinsic value growth. If there is weakness in the financial performance, I could view it as transient.
Valuation
To value the common equity shares of SanDisk, I will use the multiplier models; I will use the S&P 500 and SanDisk's five-year average valuations as comparisons. At an intrinsic value of $80.28 per share, SanDisk is undervalued.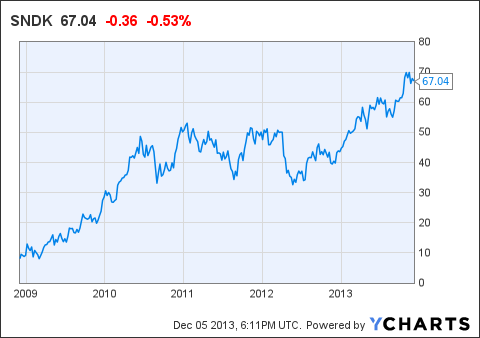 According to The Fed Model, the justified P/E for the S&P 500 is 35.34. The forward P/E for the S&P 500 is 16.5. Thus, The Fed Model suggests that the S&P 500 is currently undervalued by 114%, which means I'm not comparing SanDisk to an overvalued asset. I estimate that SanDisk is trading at 12 times next twelve months earnings, which means that SanDisk is 37.5% undervalued relative to the S&P 500 on a forward basis.
SanDisk's higher trailing twelve months P/E valuation relative to SanDisk's 5-year average valuation is partly attributable to a decline in the financial risks SanDisk equity investors face. Also, changes in the business mix to a higher growth and value composition of revenues explains part of the premium valuation. Consequently, I'm subjectively adjusting the 5-year average P/E valuation up by 15% to 14.26.
Wall Street analysts are forecasting EPS of $5.22 for calendar 2013, which is 207% above 2012 EPS as 2012's Q2 was remarkably weak. The median 2014 EPS forecast is $5.66. Thus, the next twelve months median EPS forecast is $5.63. On a forward basis, I'm valuing shares of SanDisk using this model at $80.28, which is 1,900 basis points above the current share price.
There are a couple of ways to look at the EPS forecasts. Bears might say that the EPS forecasts have increased substantially, which leaves less room for SanDisk to surprise to the upside. And bulls might respond that EPS growth inline with estimates would still produce an intrinsic value well above the market price. I'm going to take the bullish side of the argument as I believe the valuation has a secular tailwind.
Disclosure: I have no positions in any stocks mentioned, and no plans to initiate any positions within the next 72 hours. I wrote this article myself, and it expresses my own opinions. I am not receiving compensation for it (other than from Seeking Alpha). I have no business relationship with any company whose stock is mentioned in this article.