According to its recent financial projections, Kinder Morgan Energy Partners (NYSE:KMP) is likely to post moderate mid-single digit distribution growth in 2014. While this level of growth is rather low compared to other stocks, it is still very important. As shown from the massive decline seen in El Paso Pipeline Partners (NYSE:EPB), some form of annual distribution growth is expected from the market for midstream MLPs. Kinder Morgan Energy Partners last declared quarterly distribution was for $1.35 per unit which implies a forward yield of 6.80%.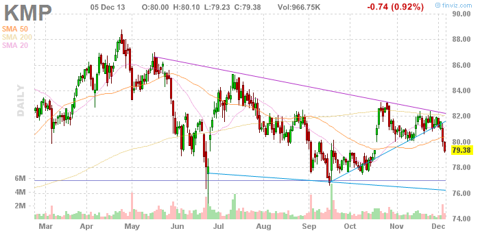 Company Overview
Before I discuss Kinder Morgan Energy Partners' 2014 financial projections, an overview of its asset base is warranted. Kinder Morgan Energy Partners is part of the much larger Kinder Morgan family of companies. These other companies include Kinder Morgan Inc. (NYSE:KMI), which is the general partner, or GP, of Kinder Morgan Energy Partners, Kinder Morgan Management (KMR) and El Paso Pipeline Partners. Also note that Copano Energy's (NASDAQ:CPNO) assets were absorbed into Kinder Morgan Energy Partners in early 2013. Combined, Kinder Morgan is the 4th largest energy company in North America by enterprise value.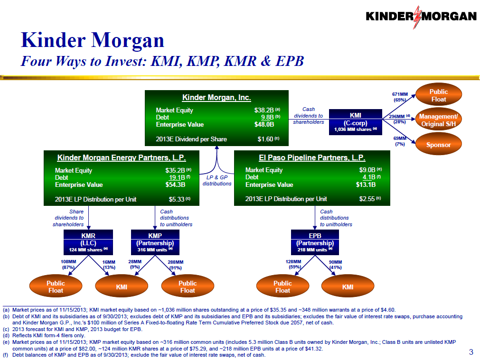 Below is a map of only Kinder Morgan Energy Partners' assets. Do note that the company has pipelines and other midstream infrastructure in place in nearly every large energy play in North America. This gives Kinder Morgan Energy Partners the leverage and scale needed to expand rapidly. Also note that unlike EPB, Kinder Morgan Energy Partners' cash flow comes from a variety of different segments, not necessarily only natural gas pipelines.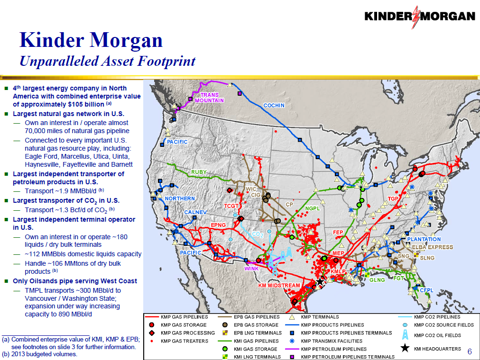 2014 financial guidance: $3.4B in growth capex and 5% distribution growth
On December 3, Kinder Morgan Energy Partners announced its preliminary 2014 projections. Ignoring for a moment the extremely weak guidance for EPB, the outlook for Kinder Morgan Energy Partners was okay.
Kinder Morgan Energy Partners anticipates to declare $5.58 per unit in cash distributions for 2014. This would mark a 5% increase from the currently projected $5.33 in 2013. Do note that the 2013 projection was increased by $0.05 from accretion related to the Copano acquisition.
While 5% distribution growth is hardly groundbreaking, it is still growth nonetheless. In addition, it is firmly inline with Kinder Morgan Energy Partners' previous guidance for a 5% to 6% long-term growth rate. In addition, as I noted in my earlier article on KMI, the company has a history of being very conservative with its projections. Since its 2000 IPO, Kinder Morgan Energy Partners has met or exceeded its projected distribution growth target every year except for 2006.

Growth projects are likely to be accretive for Kinder Morgan Energy Partners
Now let us take a look at the projected growth capex spending for Kinder Morgan Energy Partners. Kinder Morgan Energy Partners current 5 year project backlog is well over $14B. For 2014, the expected capital spending, excluding any potential dropdowns, is about $3.6B. Much of the growth is expected to be in midstream infrastructure, storage and services for the growing North American shale plays and the Canadian oil sands. About $720M of the equity required for these investments is expected to be funded from KMR share dividends.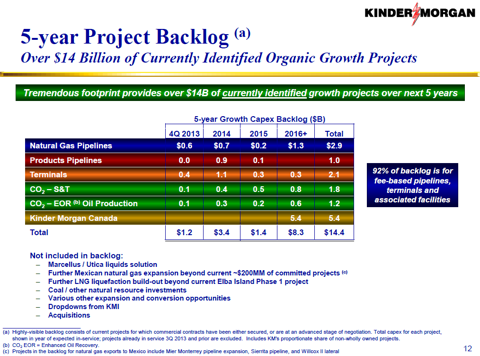 ***Do note that the chart is from the November 2013 Investor Presentation which was published slightly before the current financial projections were released.
Is El Paso Pipeline Partners getting the short end of the stick?
Kinder Morgan Energy Partners is fortunate to have large amounts of internal growth. The same cannot be said for its peer EPB. Besides around $1.0B in expansion projects for current customers, EPB was slated to receive several asset dropdowns from KMI. Do note that asset dropdowns refer to assets held by KMI which EPB then purchases, oftentimes with a mixture of both equity and debt.
In particular, KMI plans to sell EPB the following:
50% of the Ruby Pipeline

50% of the Gulf LNG

47.5% of Young Gas Storage
These assets will likely be sold at relatively attractive multiples as per unit accretion is a key factor for any MLP acquisition. However, as noted in the press release, the positive impact from the dropdowns will be largely offset by expected lower rates on contract renewals for the Southern Natural Gas and Wyoming Interstate Company.
As a result, EPB expects to declare cash distributions of about $2.60 per unit for 2014, which is only a 2% growth rate compared to 2013 and well below the previous guidance of 5 to 6% growth. This level of growth is frankly unacceptable for most investors and is likely to be the cause of the recent share price weakness. As noted above, midstream MLPs are expected to provide moderate distribution growth as the trade off for the slightly lower yield compared to other investments.
Conclusion
Kinder Morgan Energy Partners seems to have come out relatively unscathed from the turmoil surrounding EPB and KMI. The anticipated distribution growth rate is right inline with the previous guidance. While shares are down slightly, this is likely due more to the wider selloff in high yield names. Kinder Morgan Energy Partners remains an interesting choice for income. It along with Kinder Morgan Management appear to be attractively valued at current prices.
Disclaimer: The opinions in this article are for informational purposes only and should not be construed as a recommendation to buy or sell the stocks mentioned. Please do your own due diligence before making any investment decision.
Disclosure: I am long KMI. I wrote this article myself, and it expresses my own opinions. I am not receiving compensation for it (other than from Seeking Alpha). I have no business relationship with any company whose stock is mentioned in this article.