Jason Tillberg is founder and President of Tillberg Capital Management, a Registered Investment Advisory based in New York City.
We had the chance to ask Jason about his single highest conviction holding in his portfolios.
• • •
Seeking Alpha (SA): What is your highest conviction stock position in your fund - long or short?
Jason Tillberg (JT): My highest conviction long investment idea is American Oriental Bioengineering (AOB). The company is in the business of manufacturing and selling Traditional Chinese Medicine, TCM, in China. So this is a pure domestic play on healthcare in China.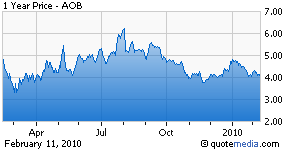 SA: To what extent this an industry pick as opposed to a pure bottom-up pick?
JT: I first found AOB in a stock screen I ran back in 2007 as a value play. The low P/E, low price to book value and high earnings growth is what first led me to AOB. So AOB is a pure bottom-up pick, but the industry and country they are in both offer great growth opportunity.
SA: Can you describe AOB's competitive environment? How is AOB positioned vis a vis its competitors?
JT: The TCM market is highly fragmented in China. It's sort of like the homebuilding industry in the US where you have some big players like DR Horton and Lennar, but you also have thousands of smaller mom and pop type homebuilding companies. There are some 4,000 manufacturers of TCM in China.
The entire market for TCM in 2009 is said to be $26 billion. AOB is expected to have sales of about $300 million for fiscal 2009. The advantage for AOB is their economies of scale and distribution network they have grown. They now have over 2,000 sales reps and have broad coverage over China that reaches not just in the big cities but in the rural areas as well.
Here is where AOB's competitive advantages really shines: In August of 2009, China's ministry of health issued what is known as the Essential Drug List. The list consisted of 307 drugs deemed essential for good health in China and these drugs were to be made available to all the Chinese people at prices which they could afford, by being placed on the National Insurance Catalog.
Of the tens of thousands of drugs reviewed by the ministry, only 307 made the list. AOB had 61 products that made this list. There are also a total of 2,151 drugs on the National Insurance Catalog, and 158 of AOB's drugs are on that list.
SA: Can you talk about valuation? How does valuation compare to the competitors?
JT: It's one of the best values I can find in the stock market today.
The current share price as I write this is $4.54 a share (Ed: AOB shares have since fallen to $4.17). The net tangible book value is at least $2.23 per share, while the book value if you include the goodwill and intangible assets is $4.87. This is as of the Quarter ending Sept. 30th, 2009.
What matters to me most are the "owners' earnings" of the company. You get this by taking the net income + depreciation - capital expenditures and that will equal what's basically left for the owner. For the first three quarters of 2009, the owners' earnings of AOB were $38.3 million. This is based on net income of $29.7 million, depreciation of $10 million and cap ex of only $1.5 million. Q4 of 2009, AOB is estimated to have earnings of $0.16 per share, which would be about $12.5 million.
AOB should generate about $50 million for its owners for 2009. At the current price of $4.54, that makes the market cap $355 million. That makes the P/E about 7.1 for an earnings yield of about 14% relative to price. You're getting a good margin of safety at the current price.
AOB doesn't pay a dividend and instead reinvests its earnings back into the company. That's fine by me, as they have consistently earned at least 10% on their capital employed.
SA: What is the current sentiment on the stock? How does your view differ from the consensus?
JT: Institutions have been selling the stock over the last year. I'd say the sentiment now is where you want it to be: negative. I will add however that Standard and Poor's puts a fair value of the stock at $6.00 a share the last I looked.
SA: Does the company's management play a role in your position?
JT: Always. The CEO, Tony Liu, who is also the founder of AOB, has a little over 14 million of the 78 million shares. He's got skin in the game with respect to creating shareholder value. Management is doing a fine job in my judgement.
SA: What catalysts do you see that could move the stock?
JT: Profit margins have declined in the last two years. This has led to below their average profit growth and that is what I believe has depressed the share price. I can't predict their profit margins, but I can say that I would expect them to not decline so much anymore and may well begin to grow again. The economies of scale continue to grow so that may in turn help margins.
SA: What could go wrong with this stock pick?
JT: My ignorance is the biggest risk factor. I can't possibly know everything about AOB, China, and the TCM industry. I accept this, but at the same time do my best with gaining as much knowledge as I can. So, I acknowledge I could be dead wrong in my assessment of AOB as an investment. If I didn't want to take risk for myself or my clients, I'd be stuck earning .05% in a cash account.
One last thought or suggestion: For those not willing to take as much risk, by selling the January 2011 $5.00 covered call you can reduce your downside risk and still potentially earn far higher than less risky investment like CDs or high quality bonds.
SA: Thank you, Jason
JT: Happy to participate.
• More on Jason's thesis on AOB available here: American Oriental Bioengineering - A Value Investment
Jason Tillberg's disclosure: I own shares of AOB for myself and my clients.