"Pick and shovel" companies are those that provide products that are used by businesses in the course of producing their own products. The term goes back to the days of prospecting, when it was realized that a sure-fire way to make money off a "gold-rush" (or a sudden growth of interest in any precious metal) was to provide the tools used by prospectors and miners searching for a claim to stake. In this article I discuss four "pick and shovel" companies in the biotechnology industry that appear to be solid investment candidates.
On Selling Picks and Shovels
The advantage to the pick and shovel business is that it provides the equipment needed by the prospectors and miners, and provides equipment that is needed even if the prospector/miner fails to find a source to mine. Thus, while the mining process might be risk-laden, there will be a need for the picks and shovels (and camping gear, pack animals, etc.) used in the mining process, and for which there will be a use regardless of the results a particular mining entrepreneur might achieve.
In general, most industries will have their "pick and shovel" operations that specialize in providing the tools used in that industry. Oil companies are dependent upon providers of piping, drilling, transportation, and site management - and will need those products and services even if the wells they drill in an area come up dry. The oil company may take a loss, and that is inherent in any business; but the pick and shovel companies make their money whether oil is found or not.
This is not to say that pick and shovel operations are guaranteed money makers - there are four critical considerations that will make or break any company that tries to make a profit as a pick and shovel:
They need to have adequate supplies to sell - a shortage of goods will not only drive business to their competitors, but may be viewed as an indication of incompetence or unreliability by potential customers;
Their products must be of an adequate quality for companies in the industry to actually put to use with the expectation that the products will serve their function to an appropriate degree;
Their products must be cost effective - if a product is too expensive, the expected returns may not be adequate to make the venture worthwhile;
They face competition from other pick and shovel companies, which acts as a regulator on the other three considerations.
Biotechnology "Pick and Shovel" Companies
My most recent two articles have concerned a set of 15 biotechnology companies that satisfied a set of criteria intended to identify companies that were effectively managed, efficient, and financially sound. In "5 Biotechnology Bargains With Attractive Fundamentals" I identified the five companies that were currently priced the lowest priced; in "5 Revenue-Growing Biotechs With Attractive Fundamentals" I identified those companies that have been growing revenues at a noteworthy rate.
In this article, I wish to discuss four companies that seem well positioned as "pick and shovel" biotechnology companies. All four companies satisfy the same fundamental criteria described in the articles mentioned above; indeed, one of the companies (Repligen Corporation (NASDAQ:RGEN)) was included in the first article; I will not simply repeat what is said there, however, but will discuss how well Repligen satisfies the four constraints on pick and shovel operations. The other three companies (and where they placed among the fifteen companies overall) are:
Techne Corp. (NASDAQ:TECH) [7];
Charles River Laboratories International, Inc. (NYSE:CRL) [13];
Illumina Inc. (NASDAQ:ILMN) [15].
(Repligen ranked nr. 6 on the list.)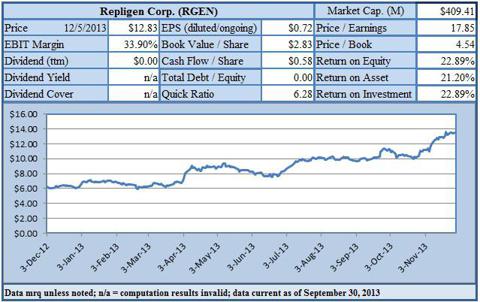 Repligen is engaged in the development of products consumed in the process of manufacturing biological drugs. Founded in 1981 - and going public with its IPO in 1987 - Repligen has a history of promoting research in biological processes, its interest reflected in the Repligen Corporation Award in Chemistry of Biological Processes, established in 1985 and administered by the American Chemical Society.
The Company's commitment to bioprocessing over biopharmacy is reflected in the fact that, in 2012, Repligen decided to withdraw from the direct development of drugs and treatments and candidates for such in order to focus exclusively on its bioprocessing products.
In January, 2013, Repligen entered into an exclusive worldwide licensing agreement with Pfizer (NYSE:PFE) for Repligen's RG3039, a treatment for spinal muscular atrophy. The agreement is worth as much as $70 million plus royalties - Pfizer paid $5 million up front, with the remainder of the $70 million payable upon achieving specified milestones; the first milestone was achieved in September, whereupon Repligen received a payment of $1 million.
Repligen is also actively seeking partnerships with other companies for the development of its orphan drugs. Currently, it has two remaining candidates for which it is looking for partners:
RG1068 (SecreFlo), a synthetic form of human secretin designed to improve pancreatic imaging;
RG2833, a phase 1 treatment for Friedreich's Ataxia.
At present, the foundation of Repligen's bioprocessing business is its technology surrounding Protein A, a substance valuable in biopharmaceuticals due to its ability to bind with immunoglobulins. The Company is a leader in the manufacture of three products centered on recombinant Protein A:
In addition to the technology it has developed surrounding Protein A Repligen is a significant supplier of cell culture growth factors used for stem-cell, vaccine, and cell culture applications:
The Company also manufactures a Long® R3IGF-1 ELISA Kit for detection and quantitation of R3IGF-1.
A third product that is being prepared for marketing by Repligen is its line of OPUS Pre-Packed Columns. As much a process as a product, the OPUS columns are designed for use in manufacturing processes requiring disposable containers for chromatographic purposes. The end-user determines the pertinent specifications for its resin-filled columns, including size, application, resin, resin manufacturer, etc. and the completed product is produced by Repligen. The technique enables the end-user to fill its column needs through Repligen in a one-step process, making the product more economical than other techniques.
Since its decision to focus on bioprocesses Repligen has realized a significant growth of revenue; its revenue from 2012 was $62.27 million - nearly 166% higher than that of 2011 - and revenue from the first three quarters of 2013 are already at $52.79 million - which is projected to result in 2013 revenues of $65 - $68 million.
The revenue growth Repligen is experiencing appears to be sustainable; despite the fact that royalties from Bristol-Myers Squibb (NYSE:BMY) are scheduled to end on December 31, 2013, the Company already has the above-mentioned agreement with Pfizer in place, and is actively seeking partners on its remaining two drug candidates.
Moreover, Repligen expects its bioprocessing products to account for roughly two-thirds of its revenues for this year - before the release of its OPUS line - a fact which presages a substantial increase in revenue from bioprocessing once the OPUS Pre-Packed Columns are available (scheduled for 1Q 2014).
Planning for the increased operations that the OPUS line will impose on the Company, Repligen recently completed a 9,000 square-foot expansion of its headquarters facility in Waltham, MA, doubling production suites and tripling warehouse space. The company also has 17,000 square feet available for further expansion at that facility. Added to this is the earlier (December 20, 2011) acquisition of Novozymes Biopharma Sweden AB to facilitate production in the European market.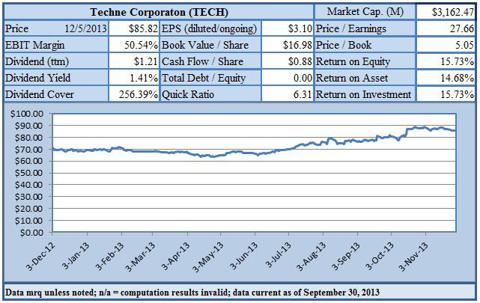 TECHNE Corporation is technically (so to speak) a holding company with no employees, and which wholly owns two subsidiaries: Research & Diagnostics Systems, Inc. (R&D Systems) and R&D Systems Europe Ltd. R&D Systems itself acquired two subsidiaries: BiosPacific (2005) - which consists of the overall company's sales force - and R&D Systems China Co. Ltd. (2007) - which produces, warehouses, and distributes R&D Systems products in China. In 2011, TECHNE - through R&D Systems - acquired two more companies: Tocris Bioscience (aka Tocris Cookson Ltd.) - a United Kingdom company with a broad spectrum of biotechnology products - and Boston Biochem - a leading producer of ubiquitin-related research products.
R&D Systems operates in two areas: hematology and biotechnology. The hematology division develops and manufactures controls and calibrators used in hospitals and laboratories to insure accurate testing results. Equipment developed by R&D Systems is manufactured with the cooperation of such companies as Abbott Laboratories (NYSE:ABT), Siemens AG, and other leaders in biotechnology manufacturing.
R&D also produces and manufactures products for cell biology research. Their biotechnological products include:
Proteins, including animal-free proteins;
Antibodies;
ELISA and ELISpot and FluoroSpot Kits;
Biomarker testing;
Stem cell and cell culture products;
Luminex Screening and Performance Assays;
Proteome Profiler antibody arrays;
Activity assays and reagents.
Its revenues have grown over 15% from June, 2010, through June, 2013, and 95% of TECHNE's overall revenues are derived from products directly developed and manufactured by its subsidiaries. This makes its EBIT margin of more than 50% significant - TECHNE is an efficient company, enabling it to be one of the few biotechs to offer a dividend and to be able to more than cover that dividend with its EPS.
The Company's price-to-earnings and price-to-book are a touch high, but I do not believe the company to be overbought as yet - there is a significant growth potential for a company with as diversified a product line as TECHNE's, and this looks to be a company led by people who know how to actualize that potential.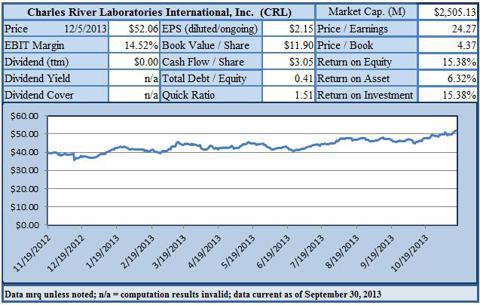 In my article "Simulations Plus, Inc.: Enhancing Ethical Biomedical Research" I discuss a company - Simulations Plus, Inc. (NASDAQ:SLP) - that provides one of the holy grails in biological research: a software means of testing the effects - and efficacy - of prospective drug candidates and consumer products on human beings without endangering (or even involving) a living organism.
Regardless of how elegant, how definitive, the software may be, however, one adage remains true: "the proof of the pudding is in the eating." That is to say, before a chemical substance can be marketed for general consumption, it must be shown to be harmless to living organisms. It is morally wrong (at least, to many) to use humans as test animals for something that has not been tried on other (lower) living organisms. Thus, animal research is an inescapable part of biopharmaceutical research.
If animal research is an inescapable part of biopharmaceutics, then, too, is the involvement of groups seeking to protect the "rights" of the animals used in such research - groups such as "People for the Ethical Treatment of Animals," aka PETA. Such groups constitute an often antagonistic reviewer for animal research, and a project that uses animals - if it is in any way known to the public - is perceived to be fair game for often unfair treatment.
Enter Charles River Laboratories.
Since its founding in 1947, Charles River has focused on the use of animals in research - not just as tools, but as living organisms deserving of treatment as such. The care and treatment of the animals used by Charles River has impact on virtually all medical research benefitting humans:
Bone and skeletal disease;
Cardiovascular;
Central nervous system;
Inflammation;
Metabolic disease;
Oncology;
Ophthalmology;
Respiratory disease.
Charles River is, as a result of its commitment to the use of animals, involved in every area of the biotechnological industry:
Basic research;
Drug discovery;
Safety assessment;
Clinical support;
Manufacturing support;
Operations and staffing support.
At the heart of the Company is the Charles River Humane Care Initiative, a world-wide effort by the Company's Animal Welfare and Training group to secure the humane treatment of research animals by assisting research laboratories in determining the proper facilities needed for animal subjects, training the researchers and staff in proper animal subject handling, and even directly assuming responsibility for the care of research animals.
The services of a company such as Charles River is needed at every phase of the biopharmaceutical industry, resulting in a revenue flow that has settled between $1.1 and $1.2 billion per year (from 2009 through 2012), and appears to be maintaining that pace for 2013, with nearly $880 million in revenue through the first three quarters. Its EBIT is modest, just barely qualifying as a PIC, and its returns are likewise modest. However, its P/E and P/B would seem to indicate a company that is reasonably priced at present.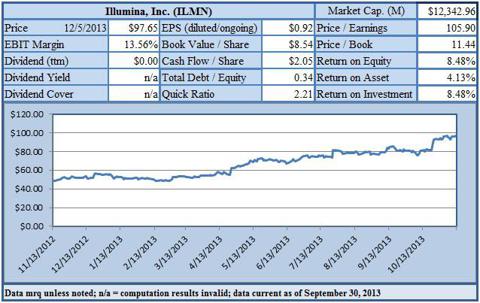 Illumina ultimately becomes something of a paradox for the investor. The Company is a leading developer and producer of the technologies that further researchers' understanding of, and analysis of, genetic sequencing. The Company's offerings in the areas of applications, systems, clinical and other services, as well as customer support, are based on the following core technologies:
As mentioned above, Illumina is something of a paradox for investors: certainly, as studies of the human genome increase and as stem-cell research continues to ramp up, there will be increased demand for the sort of technology the Company brings to the table; at the same time, I believe it is clear that Illumina seems to be overpriced by a significant margin. Its price to book value is nearly 40% below industry average; it offers no dividend, compared to an average yield of 1.7% for the industry; its net profit margin is nearly 200 basis points below industry average.
Yet Illumina's price-to-earnings ratio is 103.36, compared to an industry average of 72.9. To be sure, the Company has a favorable debt/equity ratio of 0.34 (83.1, industry average), and a favorable quick ratio. Its total revenues for 2013 YTD are $1,033.85 million putting it on a pace to exceed 2012 revenues, which were $1,148.52 million for the entire year, but that does not seem to justify such a lofty P/E - particularly in light of the fact that its PCR technology is at the end of its scheduled life span.
Appraisal
I believe that the companies presented here are very promising prospects, with the exception of Illumina, which strikes me as being overbought by a substantial amount. "Pick and shovel" companies may not be the meat-and-potatoes of the biotechnology industry, but they are the "vegetable side dish" that makes the meal complete. I just do not think one pays premium price for a pile of peas.
Disclosure: I have no positions in any stocks mentioned, and no plans to initiate any positions within the next 72 hours. I wrote this article myself, and it expresses my own opinions. I am not receiving compensation for it (other than from Seeking Alpha). I have no business relationship with any company whose stock is mentioned in this article.