From the very first article I wrote on retirement portfolio management, I have suggested that investors seeking income buy on the dips when the opportunity arises. With the development of our 2 Team Alpha Portfolios (here are the latest updates), Team Alpha Retirement and Team Alpha Dividends And Income, there are 2 stocks that have dipped to a point just in the last 5 days that offer investors with dry powder an opportunity to either fill a position, begin a new one, or add to a full one.
These are not momentum hot stocks, but they are dividend champions with more than 30 consecutive years of increasing dividends. Johnson & Johnson (JNJ), and AT&T (T). While I do not expect any earth shattering increases in share price, I do feel fairly certain that each of these mega cap blue chip stocks will rebound to at the very least, the prices from a week ago.
Let's Take A Look At These Stocks' Recent Dips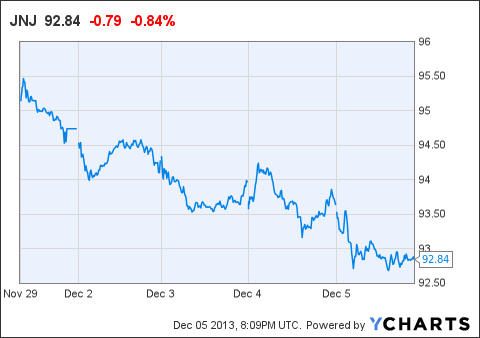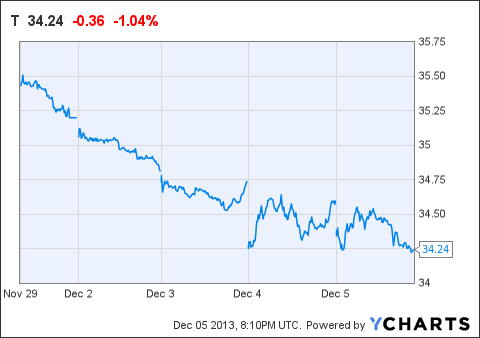 While roughly 5% dips does not seem like that much, when combined with the dividends these stocks pay, I believe they are fair purchases to make during this bull market. We do not know when this dip will end but if you were looking to complete a position in these two stocks, or begin one, now is a good time to do it.
How Are The Experts Rating These Stocks?
Both of these stocks are rated by the Fidelity ESS rating system and these are an actual snapshot of each company's rating as of today: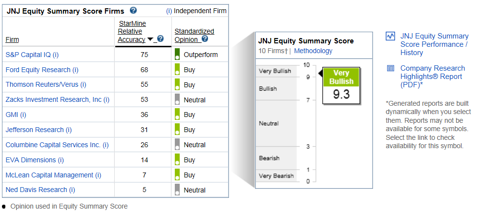 Click to enlarge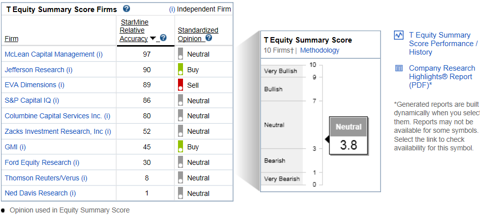 Click to enlarge
While JNJ is rated significantly higher, it is my opinion that T will have a solid holiday season with sales of phones and tablets, so I also believe that the rating will move higher over the next month or two.
Some Basic Fundamentals That Make These Stocks Appealing
JNJ has a current dividend yield of 2.90%, and a payout ratio of just 57%.
T has a current dividend yield of 5.20%, and a price-to-sales ratio of just 1.42 and a price-to-book of 2.13.
Both of these stocks' forward PE ratios are below the average S&P 500 stock ratio. I believe that makes them either undervalued or at a minimum fairly valued.
Both of these stocks have delivered positive EPS and revenue growth in the previous earnings reports.
Both of these stocks are Dow bellwether stocks and I believe that they will at the very least, rebound to previous price levels as the bull market continues.
The Bottom Line
The dips that the market has had have not lasted very long. This 5-day drop has given investors an opportunity in some solid stocks. JNJ and T are two of my favorites and they are core holdings in both Team Alpha portfolios.
Since we have full positions in these portfolios, we will not be adding shares, but encourage investors to consider adding if they need to fill a position or begin one they might have missed.
Disclaimer: The opinions of the author are not recommendations to either buy or sell any security. Please remember to do your own research prior to making any investment decisions.
Disclosure: I am long JNJ, T. I wrote this article myself, and it expresses my own opinions. I am not receiving compensation for it (other than from Seeking Alpha). I have no business relationship with any company whose stock is mentioned in this article.