I reiterate my bullish stance on Target Corp. (NYSE:TGT), as I believe the company is likely to benefit from solid customer loyalty and a strong franchise. Also, the company's strong plans to expand its operations in Canada and the U.S. remain key drivers for future growth. However, the company's aggressive measures to expand its operations in Canada are likely to have an adverse impact on consolidated financial performance in the near term, but will have a positive impact on the long term performance. Moreover, TGT's safe dividend yield of 2.7%, attractive valuations and potential price appreciation of 20% (based on my calculations) make me bullish on the stock.
Financial Performance and Expansion Plans
The company reported a soft financial performance for the recent third quarter. TGT reported an adjusted EPS of $0.84 for 3Q2013, down from $0.90 as compared to the corresponding period last year. Total revenues for the company surged 1.9% in the recent third quarter to $17.3 billion, slightly below consensus estimates of $17.4 billion. Financial results for the quarter were adversely affected by slower sales growth in Canada, intense competition and soft consumer spending.
U.S. Operations
The company's U.S. segment's sales increased by 2% year-on-year to $16.9 billion, whereas gross and operating margins for the segment contracted 0.30%ops and 0.80%bps to 30% and 5.8%, respectively, in the recent third quarter. The company was successful in increasing its same store sales by 0.9% in the quarter, which was primarily driven by a 2.2% increase in ticketing, and partially offset by a 1.3% decline in traffic. The industry in which TGT operates faces intense competition and e-commerce expansion is having an adverse impact on store traffic. However, in the challenging retail environment, TGT continues to experience same store sales expansion in recent quarters, and same store sales growth for TGT is better than its competitor Wal-Mart (NYSE:WMT). The table below shows same store sales growth trend for TGT and WMT in the last three quarters.
| | | | |
| --- | --- | --- | --- |
| | 1Q2013 | 2Q2013 | 3Q2013 |
| TGT | -0.6% | 1.2% | 0.9% |
| WMT | -1.4% | -0.3% | -0.3% |
Source: Companies Report
As the e-commerce platform continues to grow and remain a threat to retail store traffic, TGT continues to expand its online presence. The company has undertaken three strategic acquisitions this year so far to expand its online presence and keep up with the changing industry trends.
As I mentioned above, TGT plans to expand its operations in the U.S. and Canada, which remains a key growth driver in the long run. Consistent with its growth plans, TGT opened 9 new stores in the U.S. in 3Q2013. Recently, the company updated and increased its long term margin guidance for its U.S. retail segment. TGT now expects its EBITDA and EBIT margins to expand to 10.3% and 7.8% by 2017, up from the prior guidance of 10% and 7.5%, respectively.

Canadian Operations
TGT has been aggressively working to expand its operations in Canada; as it is on track to open 124 stores in Canada by the end of 2013. I continue to believe, as I discussed in my last article on TGT, that expenses and investment incurred in relation to operation expansion in Canada will have an adverse impact on the company's near term earnings; however, once the expansion phase in over, its large and diverse operations will fuel long term bottom line earnings growth. TGT opened 32 new stores in 3Q2013; earlier in 2Q2013 the company opened 44 new stores in Canada. Recently, TGT disclosed that it expects Canadian operation's sales to increase to $6 billion and that its EPS will be $0.80 by 2017.



Source: Company's Presentation
Lately, the expansion phase in Canada for TGT has remained a struggle. Due to excess inventory, the company took an inventory charge in the recent third quarter, which resulted in the gross margin in Canada dropping to approximately 15% in the quarter, as compared to 31% in 2Q2013. I believe that pressure on Canadian operation's margins will continue in the ongoing fourth quarter, but will improve sequentially as excess inventory issues are resolved. Expansion in Canada will portent well for the company's financial performance and the stock price in the long term, and strengthen TGT's market share. Canadian operations are expected to comprise approximately 7% of total revenues by 2016.
Dividend and Cash Flow
The company has been consistently sharing its success with shareholders through dividends and share repurchases. Currently, TGT offers a decent and safe dividend yield of 2.7%, backed by its solid free cash flows. The chart below shows a healthy comparison between annual dividend payments and free cash flows.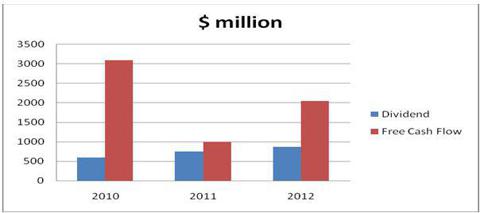 Source: Company Reports and Calculations
Share repurchases have been another medium through which the company has been sharing its success with shareholders. TGT has repurchased $1.4 billion worth of common stock YTD; since 2010 TGT has repurchased approximately $7.57 billion worth of common stock, which is 19% of its current market cap of $39.69 billion. As the company continues to repurchase its shares, it will fuel EPS growth and boost ROE. The following table shows the expansion in ROE for TGT since 2009.
| | | | | |
| --- | --- | --- | --- | --- |
| | 2009 | 2010 | 2011 | 2012 |
| ROE | 15% | 18.5% | 19.5% | 19.1% |
Source: Ycharts.com
Conclusion
TGT has delivered a healthy financial performance in recent years. Also, TGT's expansion plans and shareholder-friendly return policies make it an attractive stock for investors. Moreover, TGT has attractive current valuations as it has a cheap forward P/E of 13.4x in comparison to competitors' average of 17x. TGT has a high dividend yield and the next five years growth rate of 2.7% and 11.2%, in contrast to its competitors' average of 2% and 10% respectively.
| | | | | |
| --- | --- | --- | --- | --- |
| | TGT | WMT | Costco (NASDAQ:COST) | Average |
| Dividend Yield | 2.7% | 2.3% | 1% | 2% |
| Next 5 Year Growth Est. | 11.2% | 8.5% | 12% | 10% |
| Forward P/E | 13.4x | 14.4x | 22.3x | 17x |
Source: Yahoo finance
Target Price
| | | |
| --- | --- | --- |
| Forward P/E S&P 500 | CY 2014 EPS Est. | Target Price |
| 16.23x | $4.70 | $75 |
I calculated my price target of $75 for TGT, using the forward P/E of the S&P 500 of 16.23x and CY 2014 EPS estimate for TGT of $4.70. Based on my price target of $75, the stock offers potential price appreciation of 20%. Therefore, I reiterate my bullish stance of the stock.
Disclosure: I have no positions in any stocks mentioned, and no plans to initiate any positions within the next 72 hours. I wrote this article myself, and it expresses my own opinions. I am not receiving compensation for it (other than from Seeking Alpha). I have no business relationship with any company whose stock is mentioned in this article.