This article is very loosely a response to Michael Blair's, "Is Qualcomm Volume Slipping?." Indeed, the main thrust of Mr. Blair's piece is that Qualcomm's silicon did not power the list of best-selling devices over Black Friday, and as a result, the company's quarter is set to disappoint.
I respectfully disagree.
Qualcomm's Cash Cow Isn't Chips
A quick look at Qualcomm's (NASDAQ:QCOM) income statement shows something particularly interesting,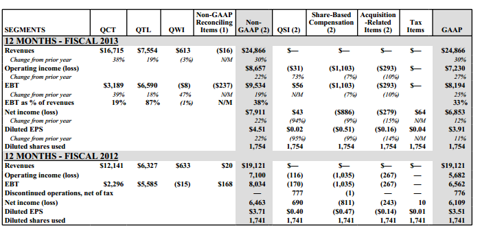 Click to enlarge
In the chart above, note that "QCT" represents "Qualcomm Communication Technologies" or essentially modems and apps processors (among other things such as connectivity). "QTL" represents the company's technology licensing arm - in essence, the company has a boatload of fundamental wireless technology patents and enforces them quite well. For each 3G and 4G/LTE device sold, Qualcomm sees royalties of somewhere between 3.25% and 5%. That's of the selling price of the device. Yes, so for each $650+ iPhone sale, Qualcomm not only gets paid the modem/RF content (~$30/piece) but it gets to collect a nice check to the tune of $33+ per unit sold. I don't know about you, but has got to be one of the best business models I've ever seen.
Basically, during FY2013, the company earned $6.6B before tax from its wireless patent licensing and then from all of its chips earned an additional $3.2B before tax. That's right, the vast majority of Qualcomm's operating income comes from patent licensing and not from selling mobile SoCs and modems.
As long as it's cellular, Qualcomm profits
Mr. Blair notes that since Qualcomm silicon was not prominently featured in the list of hot Black Friday items that the company's quarter could disappoint. I don't think so. First off, Qualcomm owns >50% of the smartphone apps processor business, so the odds are good that if somebody is buying a smartphone (and these aren't the types of items one just buys on Black Friday - one usually goes through a carrier), they're putting money into the pockets of both Qualcomm QCT and Qualcomm QTL. Note that this market share percentage refers to worldwide smartphone sales - Black Friday is a distinctly US-centric affair.
On top of that, Qualcomm's presence in tablets is growing: the Kindle Fire HDX (a best seller) features a top-shelf Qualcomm Snapdragon 800 (that's ~$43 worth of chip content, and then additional QTL royalties if a cellular version is sold). All in all, I would say that Qualcomm's chip business and its licensing/royalty business is doing quite well and that looking at Black Friday sales (again, not going to see too many smartphones or more expensive cellular-enabled tablets sold here) is not a good way to check up on how Qualcomm is doing.
The Real Risk To Qualcomm
The real risks to Qualcomm are as follows:
1. When/if the world shifts from multi-mode 3G/4G LTE networks to LTE-only, Qualcomm's royalty percentage per device goes down from about 5% to 3.25%.
2. If handset ASPs continue to decline, then at worst blended royalty rate (and thus profit per unit) will decline offset by the growth in handset units. Indeed, I do not believe that the ASP decline is due to handsets just getting cheaper, but due to the fact that cheaper handsets are finally becoming 3G/4G capable. So, Qualcomm still wins, albeit in a less explosive way.
3. If Broadcom (BRCM) and Intel (NASDAQ:INTC) deliver on their promises of competent LTE-Advanced solutions by Q3 2014 and 1H 2014, respectively, then this could drive a price-war in the LTE baseband/transceiver space, leading to share loss and/or lower gross margins per unit on modem and/or apps processor side. These two companies will eventually deliver, but the question is whether it's actually in 2014 or if they end up dropping the ball and then delaying again into 2015.
4. On the handset apps processor side, Qualcomm is unlikely to lose meaningful share during 2014, but by 2015 when/if Intel has its act together, there could be more meaningful competition (again ASP erosion/share loss type of deal) here. Of course, this is decidedly 'wait and see.' I personally believe that Intel's 'Broxton' and next generation XMM 7360 (or whatever the company's 3rd generation LTE modem is called) will probably be extremely competitive with Qualcomm's best, but this is of course just my view and it is subject to even more risks and uncertainties than a forward-looking statement from a publicly traded corporation!
Conclusion
The problem with being really bearish on Qualcomm is that it's not expensive, has a very nice royalty stream, has a great (and growing fast) chip business, and is exceptionally well run. The only snag is that its FY2014 guidance suggests a significant slowdown that actually comes in below CEO Paul Jacobs' 5-year double digit revenue and EPS growth CAGR projection. Is he lowballing? The market thinks so as the shares are now trading at multi-year highs following that "disappointment."
The bottom line is this: if Qualcomm sees meaningful competition in its QCT business at the high end from Intel/Broadcom/Whoever during 2014, then the shares could be due for a breather (but I wouldn't really see any meaningful downside). If these players show signs that they will disappoint, then Qualcomm will probably begin to be viewed as unassailable and as a result could be rewarded with a richer multiple.
Right now, I'm on the sidelines on Qualcomm as I believe that I've missed the bulk of the run, but if I still owned shares at a ~$61 cost basis as I had previously, I'd probably not be too tempted to jump off quite yet, especially not due to a lack of presence in Black Friday deals.
Disclosure: I am long INTC, BRCM. I wrote this article myself, and it expresses my own opinions. I am not receiving compensation for it (other than from Seeking Alpha). I have no business relationship with any company whose stock is mentioned in this article.