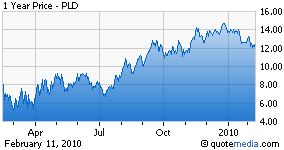 ProLogis (NYSE:PLD), one of the leading global providers of distribution facilities, showed continued signs of stabilization in the industrial property market fundamentals in its fourth quarter 2009 results.
Funds from Operations (FFO), a widely used metric to gauge the performance of REITs, and obtained after adding depreciation and amortization and other non-cash expenses to net income, was 13 cents during the quarter excluding significant non-cash items, compared to 56 cents in the year-earlier period.
ProLogis' non-development portfolio leased at quarter end marginally decreased to 92.4% from 92.7% in third quarter 2009. The company's static development portfolio was 68.2% leased at year-end 2009. With global economies emanating positive signs of revival, ProLogis remains optimistic about its future performance and anticipates strong market occupancies in 2010.
Furthermore, ProLogis has witnessed a growing customer interest in new build-to-suit development projects across the globe. In addition, leasing decisions that were earlier postponed due to volatility in the markets are gradually coming off the shelf. In order to decrease the risk associated with cyclical local real estate markets and economies, and increase the stability and predictability of the earnings, ProLogis has drastically reduced its non-income producing assets on the balance sheet.
During the quarter, development starts included a 667,000 square feet facility for a major home improvement retailer in Southern California and a 504,000 square feet facility for a leading UK retailer in Scotland. Including joint venture partner capital contributions, total expected investment for all build-to-suit developments started in the second half of 2009 is $336 million.
ProLogis expects to start $700 million to $800 million of new developments in 2010, primarily in Europe and Asia. The company also expects to monetize approximately $350 million to $400 million worth of land in 2010. For full-year 2009, ProLogis completed gross asset sales and property contributions of $1.53 billion, which was well within its original target of $1.5 billion to $1.7 billion.
With improving property values and growing institutional demand for quality properties, ProLogis expects to generate $1.3 billion to $1.5 billion of proceeds in 2010 from sales of existing assets and contributions to funds primarily in the U.S. The company intends to utilize the proceeds to fund its existing development portfolio as well as development starts in 2010.
For full year 2009, ProLogis reduced its overall debt by $2.7 billion. During the fourth quarter, the company issued $600 million of 10-year senior notes and closed on a $108 million secured financing deal in Japan. The company has effectively reduced its 2010 debt maturities in its European funds to approximately €327 million from over €1.8 billion at the beginning of 2009.
For full year 2010, ProLogis expects FFO, excluding significant non-cash items, in the range of 74 cents to 78 cents per share.