I'll be the first to admit, I hate shopping. Maybe it's because I have a wife and four daughters but shopping is just not in my DNA. However that's a completely different story when it comes to shopping centers - that's in my wheelhouse.
My first job was bagging groceries, except I had a different title than the others; I was a "courtesy clerk". Yep, I bagged groceries for an hourly wage but I built my business model on customer service. I had many clients who would seek out my grocery line just so they could escort me through the parking lot and of course I collected a handsome tip.
Then in college I worked in the hardware store. What a job. I would wake up at 5 am every Saturday and stock the store with every kind of screw imaginable. That was hard work but I enjoyed the discount on the pocket knives. I guess every job has its perks.
My first job out of college was as a real estate broker. I helped lease up a brand new power center with some of the newest category killers like Home Depot (NYSE:HD), Michael's Crafts, and T,J. Maxx (NYSE:TJX). What a fascinating time to learn about retail. It seemed that every retail concept imaginable became a multi-million dollar success story.
I wanted to be a part of that success and so I decided that I would began building retail stores. So in 1990 I went to work in the trenches, literally. I started modestly finding sites and building stores for retailers like Advance Auto Parts (NYSE:AAP), Blockbuster Video, Hollywood Video, and Payless ShoeSource.
Then, a few years later, I decided to graduate to shopping centers so I started building and leasing stores out to a host of retailers like Wal-Mart (NYSE:WMT), Bi-Lo, Dollar Tree (NASDAQ:DLTR), PetSmart (NASDAQ:PETM), OfficeMax (NYSE:OMX), Party City, Eckerd Drug, CVS (NYSE:CVS), Cato (NYSE:CATO), Hibbett Sports (NASDAQ:HIBB), Barnes & Noble (NYSE:BKS), La-Z-Boy (NYSE:LZB)
Life was good. I remember building a shopping center in a small rural town spec (no tenants) and although I was hoping to land a few tenants, I had the entire project finished before a lease was signed. I can't imagine why any bank would have financed such a risky deal and I can't believe that I signed up to build it. That was dumb!
Then, we all know what happened in 2008. The party was over. The music stopped. The crazy money disappeared.
The Music is Over
I hung up my developer boots in 2009. I watched retailer after retailer go out of business. Some of the tenants that I leased stores to included Blockbuster Video, Hollywood Video, Movie Gallery, Goody's, Econo Lube n' Tune, Sam Goody's, Barnes & Noble, and The Athlete's Foot.
It became survival of the fittest. The retailers that survived the Great Recession were the ones with the most enduring models of repeatability. The focus became necessity-based and the retailers that did not have a recession resistant business platform became extinct. Meanwhile many of the banks who financed the "crazy" consumer loans started to drop like flies.
So did the developers. Without developers like me, there was no new construction. That means that the mass over-building of retail space was slowly absorbed and instead of being vacant, shopping centers started filling up - at least in core markets.
I'm Always Looking for Bargains
As I mentioned, I'm no shopper. In fact, one of the most valuable lessons that I learned during the Great Recession is how to become conservative with my spending habits. My wife often gives me a hard time because I am now such a cheapskate when it comes to consumerism. I call it the Kingdom of Thing-dom.
As most of you know, that behavior has also spilled over into REIT-dom. I'm just not willing to overpay for anything and that includes Shopping Center REITs.
So it's that time of year - 'tis the season - and I want to find a few gems for my kids' college fund. Having deep roots in the Shopping Center industry I believe that I can weed out some of the best Retail REITs in hopes of finding a bargain or two. Let's review the list of 20 Shopping Center REITs:
The above list includes almost $50 Billion (in Market Cap) of Shopping Center REITs. Let's find the cheapest - based on Price to Funds from Operations (P/FFO).
Now let's look at the peer group based on dividend yield.
From all of the REITs referenced on the above list I like Excel Trust (NYSE:EXL) the best. The $571 million (market cap) REIT doesn't have the highest dividend yield; however, I consider the company's 5.91% yield to be attractive. In addition, and as illustrated below, the San Diego-based REIT has an attractive P/FFO valuation of 13.3x.
Here's a snapshot of Excel's 1-Year dividend history:
In closing, you now know that my ultra conservatism habits are now my guiding investment strategies. Accordingly, it's because of my serious concern for money that I have decided to pursue a writing career that is both instructional and motivational. In addition, it should be no surprise that I am always looking for value and much like shopping, it's important for me to filter out the best candidates for my investment portfolio.
I encourage you all to be disciplined investors and as the legendary Ben Graham defined the margin of safety always find a "favorable difference between price on the one hand and indicated or appraised value on the other." Happy Holidays.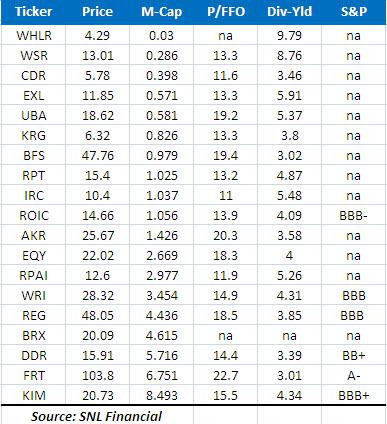 Source: SNL Financial, FAST Graphs.
Disclaimer: This article is intended to provide information to interested parties. As I have no knowledge of individual investor circumstances, goals, and/or portfolio concentration or diversification, readers are expected to complete their own due diligence before purchasing any stocks mentioned or recommended.
Disclosure: I am long ARCP, O, CBL, DLR, GPT, HTA, MPW, ROIC, STAG, UMH, VTR, HCN. I wrote this article myself, and it expresses my own opinions. I am not receiving compensation for it (other than from Seeking Alpha). I have no business relationship with any company whose stock is mentioned in this article.