This investor has contemplated taking a long position in J.C. Penney Company Inc. (NYSE:JCP) since before it released its Q3 2013 results. Although JCP's Q3 2013 results showed some promise regarding revenues, this analyst shares the concerns of other investors in that JCP is out of control, has lost its way, and has no adults in charge of its destiny. Kyle Bass of Hayman Capital recently announced that he sold his 5.7M share stake in JCP. However, he still maintains a holding in JCP's debt. This ended up overshadowing JCP's good news in that its November 2013 same-store sales increased by 10.1%.
JCP's recent same-store sales growth of 10.1% in November 2013 was a mix of good news, and bad news. The good news was that JCP had significant growth in its same-store sales after months of sharp declines, which finally ostensibly stabilized in October at +0.9%. However, investors expected JCP to see a significant increase in November 2013 versus November 2012 as November 2012's results were negatively impacted by $25M due to Hurricane Sandy based on estimates that the storm trimmed about 2% from November 2012 sales published by Swampscott, Massachusetts-based research firm Retail Metrics. I also expect that JCP generated an additional $40M-$60M in estimated incremental revenue in November 2013 versus November 2012 as it opened later than its peers on Black Friday in 2012 and opened at the same time as its peers on Black Friday in 2013. I conclude that of the 10.1% in reported same-store sales growth, about 5.75%-7.5% was "built-in gains" that investors should have embedded into their growth forecasts.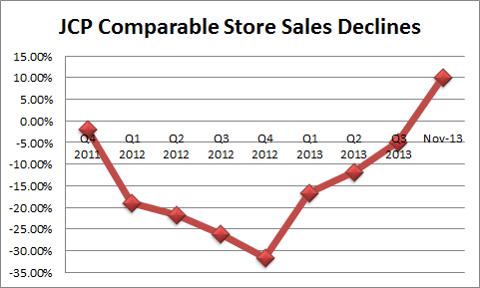 Click to enlarge
Source: J.C. Penney's Last 5 Quarterly Results and November 2013 Sales Report
Analysts had a mixed reaction to this news. JCP's 10.1% same-stores sales growth was in line with Wells Fargo's expectations. Wells Fargo cautioned that promotions drove JCP's sales results and effectively transformed Cyber Monday into a weeklong event. Wells Fargo maintained its $4-$5 target price for JCP's shares and an Underperform rating. Maxim Group analyst Rick Snyder pointed out that even if JCP achieved a 10% comp for Q4 2013, JCP's Q4 2013 sales would still be 24.3% below Q4 2011 levels. On the other hand, Oppenheimer analyst Brian Nagel maintained his Perform rating on JCP but increased its target price from $9 to $11. Nagel also added that although JCP is not out of the woods yet, JCP's new back to basics strategy is enabling it to reconnect with its core customers. Sterne Agee maintained its Neutral rating and $9 share price and RW Baird maintained its Neutral rating but increased its target share price from $10 to $11.
I previously discussed the many institutional investors that currently hold a position in JCP as well as notable former shareholders in JCP. Kyle Bass remains a stakeholder in JCP, as he is one of JCP's debt holders. However, his recent decision to throw in the towel and sell his equity stake in JCP helped contribute to JCP's share price declining by 8.4% on December 5. Ironically, Bass was one of the managers that purchased shares of JCP after Bill Ackman decided to liquidate Pershing Square's entire position. It was surprising that Bass announced that he was selling his shares because in October, he said he would sell the stock at the first sign of a turnaround. When asked about JCP at the iCIO Investment Summit, Bass was quoted as saying "they are based in our backyard, and with everything that happened we were just betting on stabilization (not turnaround) and you saw that in comps yesterday. We missed one thing which was 40% dilution." Heyman took an 11.4M share in JCP in August but cut his position in half after JCP announced its secondary share offering.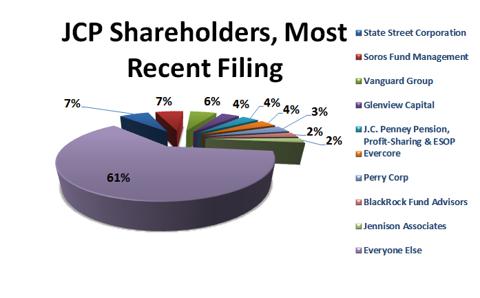 Click to enlarge
Source: Morningstar Direct
In conclusion, it is still too early to take a position in J.C. Penney. It is intriguing that JCP's largest shareholders are a "Who's Who" of deep value investing. JCP is not a company we would not have ordinarily pursued due to its underwhelming brand name, shopping experience and financial performance. While I believe that JCP's revenues have bottomed out, now it must ensure that it does not burn through its remaining cash holdings. Former Saks CEO Stephen Sadove recently joined JCP's board after selling Saks to Hudson's Bay Company for $2.9B. Macquarie Group analyst Liz Dunn suggested that Sadove might be a potential successor to JCP's Interim CEO Myron "Mike" Ullman. Regardless of whoever may succeed Ullman, JCP is still struggling to regain its relevance in the retail industry. It remains to be seen if Kyle Bass sold his shares too early or if he was prescient in cutting his losses.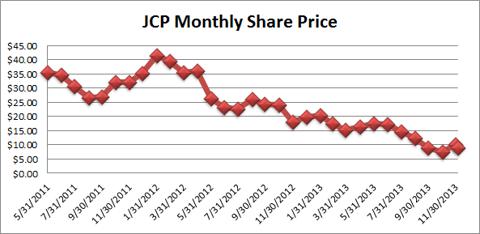 Click to enlarge
Source: Morningstar Direct
Disclosure: I have no positions in any stocks mentioned, and no plans to initiate any positions within the next 72 hours. I wrote this article myself, and it expresses my own opinions. I am not receiving compensation for it (other than from Seeking Alpha). I have no business relationship with any company whose stock is mentioned in this article.