More good economic news today and investors for once are not getting worried and selling off. We have been living in a market where good news is bad and bad news is good simply because it keeps us within the realm of what we have known for the past few years. We have found this fear to be puzzling, but more importantly an opportunity because we think that higher rates will help to further cure the financials and lead to another leg higher. That leg higher applies to both the stock market as well as economic data and although we have been trending higher for the past few years with ever slightly higher gains (discussing the economy here) we think that the economy may be hitting an inflection point and may soon really take off. Silicon Valley is minting millionaires and billionaires every day and really propping up the California economy and there are other green shoots popping up around the country, most notably the shale drilling in areas such as North Dakota, Ohio, Texas, Oklahoma and Colorado.
Our view is that this has not been a time to run for the hills, but an opportunity to run to the front of the line while everyone else retreated. So any further selling should be met with buying.
Chart of the Day:
There may be questions about the fall in the unemployment rate, but there should not be any questions about the growth in hourly earnings, which shows steady gains from the lows and an upward trajectory. From time to time this figure will come under pressure, but it sure appears that the US consumer is getting healthier.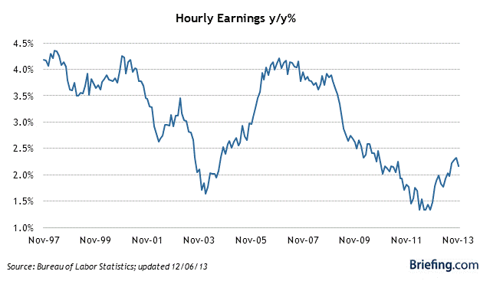 Click to enlarge
(Click to enlarge)
Source: Briefing
We have economic news today and it is as follows:
Nonfarm Payrolls (8:30 a.m. EST): Est: 188k Actual: 203k
Nonfarm Private Payrolls (8:30 a.m. EST): Est: 200k Actual: 196k
Unemployment Rate (8:30 a.m. EST): Est: 7.2% Actual: 7.0%
Hourly Earnings (8:30 a.m. EST): Est: 0.2% Actual: 0.2%
Average Workweek (8:30 a.m. EST): Est: 34.5 Actual: 34.5
Personal Income (8:30 a.m. EST): Est: 0.3% Actual: -0.1%
Personal Spending (8:30 a.m. EST): Est: 0.3% Actual: 0.3%
PCE Prices - Core (8:30 a.m. EST): Est: 0.1% Actual: 0.1%
Michigan Sentiment (9:55 a.m. EST): Est: 75.1
Consumer Credit (3:00 p.m. EST): Est: $15.8 B
Asian markets finished lower today:
All Ordinaries -- down 0.23%
Shanghai Composite -- down 0.44%
Nikkei 225 -- up 0.81%
NZSE 50 -- down 0.14%
Seoul Composite -- down 0.22%
In Europe, markets are trading higher this morning:
CAC 40 -- up 0.06%
DAX -- up 0.40%
FTSE 100 -- up 0.27%
OSE -- down 0.12%
3D Printing Stocks In The News
We had two pieces of news regarding the 3D printing stocks that investors got to react to yesterday that we think are significant. First, 3D Systems (NYSE:DDD) announced after the close on Wednesday that they purchased a company called Figulo that focuses on the ceramic 3D printing market. The company is a service provider to professionals and consumers alike, offering their product online via a cloud based system. The acquisition is another bolt-on for 3D Systems and offers another service they can offer customers while also bolstering their offerings, which will eventually draw in the mass market consumer. Investors shrugged off the deal yesterday but we think long term this might be one of the keys to getting inside the home, especially if the art and educational fields begin to adopt these machines for practical purposes. The company has thus far shown an ability to be a smart acquirer and we think that this acquisition is no different. Although yesterday the market appeared underwhelmed by the announcement, as more details come out down the road it should begin to excite investors.
Investors barely reacted to 3D Systems' purchase this week, but some consolidation might be necessary after its recent run. We like the move and think any acquisition, which helps expand upon your product offerings, which are relevant to the home, is a positive moving forward.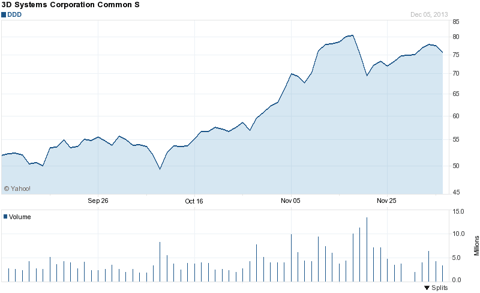 Click to enlarge
(Click to enlarge)
Source: Yahoo Finance
Also in the news was Stratasys (NASDAQ:SSYS), which had an analyst note out yesterday following a Q&A session at the industry trade show EuroMold which has been going on. The research note came from Canaccord Genuity, and in it they discuss how important they believe the introduction of the new Nylon 12 material will be for the Fortus machines. Canaccord Genuity believes that the new material will enable Stratasys to expand capabilities and draw more customers into their ecosystem. Another important note is that the firm came away with the feeling that Stratasys is close to introducing a new machine for full color plastics, which will further drive growth.
Intel, Not Inside ... Still
We took a lot of heat a few months back when we were laying out the reasons to be bullish of ARM Holdings (NASDAQ:ARMH) after it had been sold off by investors rather than going long Intel (NASDAQ:INTC). We have a hard time believing that Intel is all of a sudden going to figure out the mobile business, something that they have been attempting to do for about a decade now, all of a sudden. Intel has thrown many billions of dollars, and assigned some of the smartest minds in the business, at their mobile problem but just cannot crack the code. Mobile is the key to the future but right now Intel has no answer to the superior technology that ARM Holdings has.
We have been reading some interesting technology articles recently and it seems that everyone is of the same opinion on Intel right now. It is a compelling buy with the 4% dividend, but the only thing that it really has going for it is that 4% dividend right now. The thinking is that they are at least a few years off from having a competitive mobile offering and even when they do figure mobile out they will come in and have to destroy the margins, which will make some of these bullish estimates out there look not so great.
Intel did get upgraded at Citi today, but that was due to a change in outlook for the PC market and not due to mobile.
Disclosure: I have no positions in any stocks mentioned, and no plans to initiate any positions within the next 72 hours. I wrote this article myself, and it expresses my own opinions. I am not receiving compensation for it (other than from Seeking Alpha). I have no business relationship with any company whose stock is mentioned in this article.