Bubbles in the market come and go. Even with the Keynesian methods of managing the economy that are in place in the U.S. and drifting throughout the world's central banks now, there's still going to be bubbles that - for lack of better words, come from human stupidity and not paying attention to the fundamentals.
The type of inflationary bubble that QE is presenting us through devaluing the currency is very different, but will likely contribute, to the next bubble that's going to sink the market.
As we saw during the subprime mortgage crisis, it's simply going to be a problem in a concentrated sector, stoked by ignorance and focus on immediate profits without an eye on the future, that will bring the market into correction mode again. The only question that remains is whether or not this bubble will come from healthcare, banking, social media, technology - or perhaps through some alternate commodity that we're not even expecting.
I've long advocated the strategy of "always taking profits"; I even wrote about it in "My 17 Definitive Cardinal Rules for Investing Success", one of my first articles I published here on Seeking Alpha. My argument was as follows:
You don't lose money any time you take profits. Read it again : You don't lose money ANY time you take a profit. Novice investors see profit in their account sometimes and proceed to just stare at it, allowing this unrealized gain to sit, gestate, and eventually disintegrate. Too many people wait fruitlessly for their profits in one position to make them their entire fortune. This almost never happens.

No matter what an investor or analyst tells you, we're all guilty of it. Starting out, with no basis in reality, you wait and wait and wait for stocks already in green to make even bigger percentage gains, never pulling the trigger to sell. When you see enough green to meet your preset caveats, pull the trigger and sell. Make your moves with discipline and precision; the investor with a plan makes money while the meek and unplanned are annihilated.
2013 has been an excellent year for investors, but as early as May of this year, I have been advocating to take a second look at positions that have been profitable and to consider realizing them. Every day that we move forward without volatility or a correction represents one day closer to the next (inevitable) bubble.
Aside from an unknown global catalyst, a technical correction or a sector wide bubble bursting, Here's some reasons that 2014 may not be as lucrative:
The Fed is likely to start tapering. Last year, when Bernanke mentioned the taper at first, long-term rates were up and stocks fell off quick.
Valuation of stocks, especially social media stocks, remains extremely speculative.
Interest rate hikes, which are traditionally not great catalysts for stocks.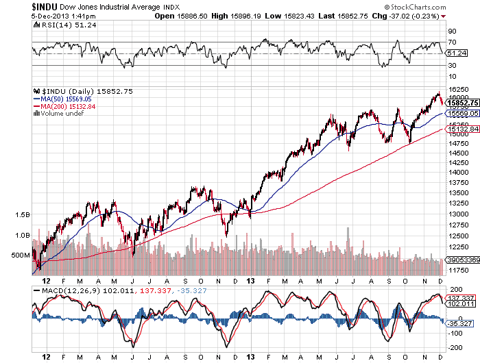 Click to enlarge
And, in addition, here's three methodologies I recommend for convincing yourself to take some profits before the year ends.
1. As a Hedge
In life, we hedge. We carry car insurance, homeowners insurance and life insurance. We want to be prepared for type of disaster that life may throw at us. It's important to take this concept and carry it over to your investing portfolio.
When hedging, it's important to understand your potential loss in each situation. There are no real situations where you're guaranteed to make money, unless you're already in the money on a position. Things like options spreads offer the feel of guaranteed wins sometimes, but the seductive nature of those positions often leads to people scratching their head when occasionally their entire position is wiped out.
Taking profits in some of your current investments is a great way to alleviate risk of non-liquidity and hedge against potential coming losses in 2014.
2. As a Way to Reposition
Thought about moving around the way that your portfolio is structured? Have you considered, over the last year, eventually repositioning yourself and where you stand in the market?
Well, when one door closes, another one opens. Look at the chances that realizing some of your profits can give you with regard to repositioning. First, being liquid offers you incredible flexibility. Second, getting ready to potentially re-invest forces you to sharpen up your due diligence skills and perform DD. Third, it leaves the window of opportunity for continuing to gain on your already profitable trades as time progresses.
3. As a Way to Gain Perspective
Cashing out and realizing some gains offers a lovely way to step back and really take a birds-eye view of the market that you may be missing.
Realizing some gains and stepping back offers some opportunity to take a look at broader market trends, potentially allowing to you weather any short term bumps before finding a chance to reinvest.
Additionally, in order to gain perspective or hedge, you don't necessarily have to liquidate your entire position.
If you're simply looking to continue to position yourself conservative and not liquidate entirely before 2014, here's how I'd do it:
Small 5%-10% long position in dividend paying staple stocks like (PG, MMM, KO, GE, WMT) and (NASDAQ:AAPL)
Medium-sized position in actual gold or silver bullion, and small long positions in gold and silver trusts (GLD, SLV)
Medium-sized cash position in FDIC insured account (or several FDIC insured accounts). Small to medium "insurance" cash position available in person somewhere.
Small positions in fundamental shorts that could benefit from a macro pullback like (NYSE:P), (NASDAQ:SHLD), (NYSE:JCP).
Medium-sized long positions in inflation-adjusted Treasuries (AAA rated)
Especially with Janet Yellen coming down the pipe, investors seem to be blindly confident going forward - more the reason for you, the retail investor, to take some caution and consider pulling back a bit. Remember what Buffett said, "we try to be fearful when others are greedy, and greedy when others are fearful."
I wish everyone the best of luck through 2013 and into 2014.
Disclosure: I have no positions in any stocks mentioned, and no plans to initiate any positions within the next 72 hours. I wrote this article myself, and it expresses my own opinions. I am not receiving compensation for it (other than from Seeking Alpha). I have no business relationship with any company whose stock is mentioned in this article.