With the solid economic numbers we received today we are feeling much more bullish than we have in recent weeks as it pertains to commodities. Yes, it is true that the dollar will probably gain strength as the easy money policy winds down in the next few months but also true is that demand for physical commodities will pick up. We find that enticing, especially as it pertains to copper, oil and natural gas. If China and Europe also follow suit, then we would expect a much broader rally, which would include iron ore and steel names.
We will talk about the winter storm working its way across the country today as that is having a serious impact on commerce and infrastructure. We can only imagine that it is also affecting drilling plans too and will probably see that be a theme in the corporate updates and production reports as E&Ps release data over the next quarter.
Chart of the Day:
Copper sure appears ready to break out of its recent downtrend, but one has to wonder whether the economic data out of the US is enough. We think it could be and that news will follow out of China and Europe in the next 6-12 months to move the market higher.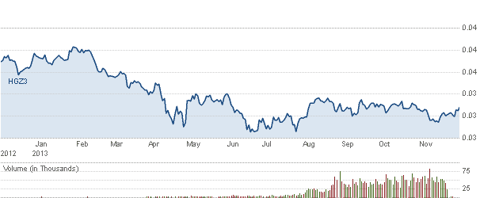 Click to enlarge
Source: CNBC
Commodity prices this morning are as follows:
Gold: $1,228.90/ounce, down by $3.00/ounce
Silver: $19.49/ounce, down by $0.08/ounce
Oil: $97.26/barrel, down by $0.12/barrel
RBOB Gas: $2.7294/gallon, up by $0.0167/gallon
Natural Gas: $4.155/MMbtu, up by $0.023/MMbtu
Copper: $3.2805/pound, up by $0.019/pound
Platinum: $1,353.30/ounce, down by $10.30/ounce
Chinese Energy
We have long focused on energy in China and the country's need for various sources of energy. With our focus a decade ago on uranium we had to pay attention to China's energy needs because they are building what will be the largest fleet of nuclear generators in the world. Before that we were investing in small E&P companies, which were developing oil fields in the country with the likes of Apache (NYSE:APA), and that deal went bad rather quickly.
Much like the delays Apache forced down on smaller partners that forced projects to come to a standstill Chevron (NYSE:CVX) and PetroChina (NYSE:PTR) are seeing a complex project come to a halt over disagreements in development. We are talking about the Chuandongbei project in China, which is a sour gas project. These projects are more difficult to develop due to the sulfur that is also present and the risks that one faces if an accident does occur. Hydrogen sulfide is deadly and from what we have been reading there is a bit of reluctance from Chevron to go along with some ideas due to their wanting to preserve their status in the country and not face huge penalties should an event occur.
It is not obvious that the project will not be producing by the end of 2013 and this is angering the Chinese. The government has essentially forced both Chevron and PetroChina to figure this out before they can move forward elsewhere so it will be interesting to watch this unfold. Chevron needs PetroChina and PetroChina and the Chinese need Chevron's expertise so cooler heads will prevail, the only question is how long it will take to come to an agreement over development plans.
Natural Gas
As the tail end of this chart shows natural gas is rallying strongly with this winter storm upon us. The East Coast had record highs in places yesterday and the West Coast record lows.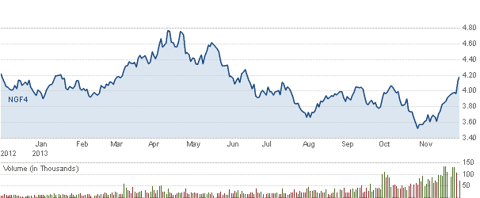 Click to enlarge
Source: CNBC
With the winter storm that is hitting the western half of the country and working its way toward the east natural gas prices are heading higher. Much higher in fact than we thought they would. We still think that there will be a pullback in the next week or two but with the ice and other issues hitting areas like Dallas and big natural gas producing areas we wonder if production will actually be affected. That is a big question, which could alter the formula here as winter storms have impacted producing areas before, including last year. As far as companies with low cost natural gas production go, we like Cabot Oil & Gas (NYSE:COG) and Rex Energy (NASDAQ:REXX) as names to play with Rex offering what we believe to be considerable value at these levels.
Disclosure: I have no positions in any stocks mentioned, and no plans to initiate any positions within the next 72 hours. I wrote this article myself, and it expresses my own opinions. I am not receiving compensation for it (other than from Seeking Alpha). I have no business relationship with any company whose stock is mentioned in this article.