Looking for high dividend stocks with dividend growth? Although this week's focus stock isn't in our High Dividend Stocks By Sector Tables yet, that may soon change.
Blackstone Mortgage Trust (NYSE:BXMT) is a real estate finance company that focuses primarily on originating mortgage loans backed by commercial real estate assets. BXMT is managed by Blackstone, (NYSE:BX), which has nearly $70 billion in assets under management and over $120 billion of owned real estate. In addition, BX's Blackstone Real Estate Debt Strategies and its Blackstone Real Estate divisions will also benefit BXMT. As such, BXMT benefits not only from BX's real estate connections, but also from its financial strength in receiving competitive financing rates. Indeed, with its LIBOR-based funding and lending model, BXMT actually benefits from rising short-term interest rates.
BXMT did a recapitalization public offering in May 2013, and has been taking advantage of a growing demand for commercial real estate loans: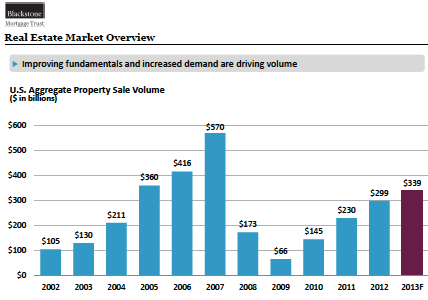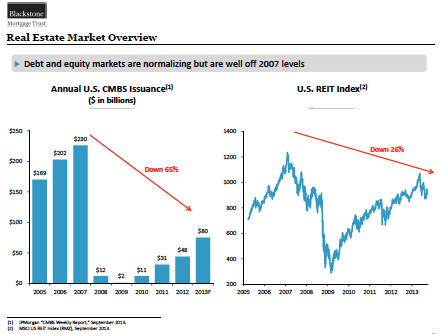 Since its May 2013 offering, BXMT has been on a torrid pace of loan origination, closing over $2 billion in loans as of 10/31/13: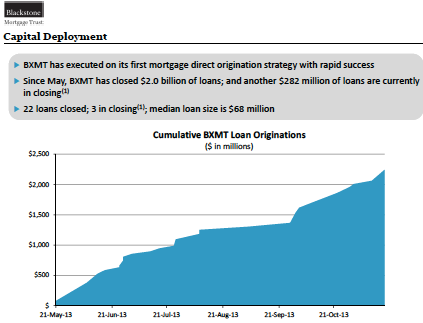 In addition to the US, Europe presents strong growth opportunities for the company as European banks are very reluctant to lend further due to much more over-leveraged exposure than US banks. On the latest conference call, BXMT's CEO Plavin stated, "As we mentioned last quarter, we are going to lend in Europe as Blackstone's presence there is particularly strong. We have a well established debt investments team in London and expect to close our first BXMT loans and credit facilities in the U.K. in the fourth quarter further expanding our loan origination business."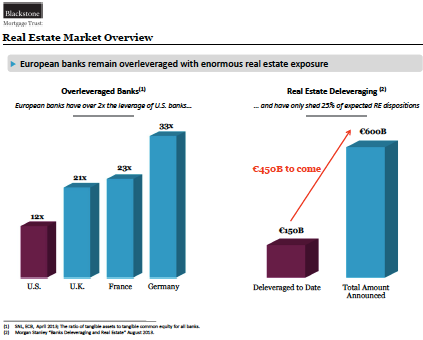 BXMT's portfolio is mainly a mix of multi-family, office and hotel properties, with NY and California representing 62% of its US originations thus far. Its portfolio has a weighted average Loan-To-Value of 65% and all‐in yield of Libor + 4.88%: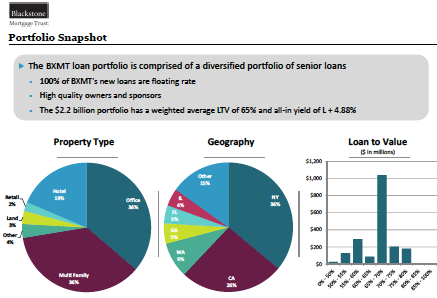 Earnings: On its Q3 2013 earnings release, CEO Plavin commented, "we are confident in our ability to further advance our dividend ramp and run-rate yield. In just five months, the association with Blackstone has delivered what was intended in terms of unparalleled sourcing, intellectual capital, funding and global reach. As of today, we have closed or committed to $2.2 billion of loans, which would generate $0.44 of quarterly core earnings per share on a run rate basis. Looking forward, our pipeline remains strong."
Analysts seem to agree with CEO Plavin - taking just the $.51 in Q2 and Q3 earnings as a basis for its 51.76 P/E, BXMT still looks undervalued on a 2014 PEG basis. If you add in the average $.38 Q4 2013 estimate, this brings the P/E down to 29.66, and would result in even lower 2014 PEG of 24.90, vs. the .43 PEG in the table below: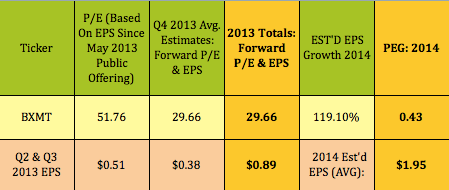 Dividends: We've taken BXMT's EPS since the May 2013 recapitalization, and compared it to management's $0.44 Core EPS statement, to see how this would affect future dividends. Based on that $.44 figure, if they maintain their 1.04 dividend coverage, their quarterly dividend could rise over 55%, to $.42/quarter. This would jump their dividend yield to 6.41%
They haven't announced for the Q4 dividend yet. They declared their 1st dividend in October, so its unclear when exactly the next ex-dividend date will be.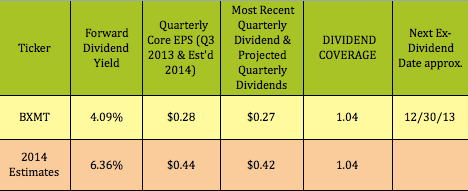 Options: Although BXMT has options, they're very thinly traded, and not very attractive at present, so we haven't added them yet to our free Covered Calls Table and Cash Secured Puts Table.
Financials and Additional Valuations: BXMT's management efficiency, Debt/Equity and Operating Margins all look much better than industry averages. (The Operating Margin figure is from their Q3 2013 earnings.)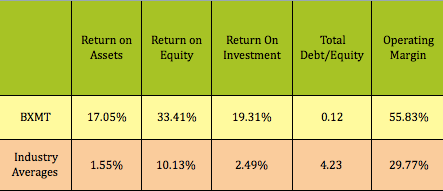 To be sure, BXMT doesn't look undervalued yet, based solely upon just 2 quarters of earnings, but its P/E should become much cheaper in coming quarters as it gets more earnings under its belt: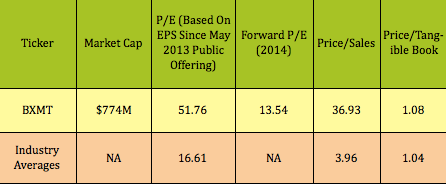 Performance: BXMT's May public offering was at $25.50/share. As of 12/5/13, it was up $.90, 3.53%, to $26.40.
Disclosure: Author had no positions at the time of this writing.
Disclaimer: This article was written for informational purposes only.
Sources: The real estate charts in this article were sourced from BXMT's investor presentation materials.
Disclosure: I have no positions in any stocks mentioned, but may initiate a long position in BXMT over the next 72 hours. I wrote this article myself, and it expresses my own opinions. I am not receiving compensation for it (other than from Seeking Alpha). I have no business relationship with any company whose stock is mentioned in this article.