Recently, I came across Stryker (NYSE:SYK) on Eddy Elfenbein's excellent Crossing Wall Street blog. It has been part of his Buy List for several years and he always praised Stryker for consistently churn out profits. I was not familiar with the company, so decided to do a quick analysis of its business and current market valuation.
Stryker, a medical technology company, is a leading provider of reconstructive, medical, surgical and neurotechnology and spine products.
Its primary strength is in reconstructive implants, such as knees and hips. Both of these markets are roughly 75% controlled by three major players - Johnson & Johnson (NYSE:JNJ), Stryker and Zimmer (ZMH) - with each holding roughly equal shares. Long-term growth prospects driven by aging and increasingly obese population, significant. International revenues, about 35% of the total, are well behind that of peers and are another area for future growth. Beyond implants, Stryker offers a diverse range of operating-room equipment, instrumentation, hospital beds and neuro-vascular products.
By all accounts, it is a great business that is less susceptible to negatives with healthcare reforms and has good earnings visibility, solid balance sheets, strong free cash flow generation and high-recurring revenue models. The management also has a sound capital allocation strategy focused on acquisitions, dividends and share buybacks.
Stryker recently announced that it raised its quarterly dividend by 15.1%. The company has increased its dividend every year for the past 10 years, and almost tripled it in the last 5 years (26% compounded annual rate) - a period that includes The Great Recession.
Shareholders have been rewarded handsomely with an annual return of over 14% during the past 15 years (compared to just 5% for S&P 500).
Let's take a deep dive into the financial data and try to understand what makes Stryker such an exceptional business. First, the company is growing its key operating metrics (sales, operating income, net income, cash flow and book value) at a healthy clip of 10-12% CAGR for past decade. It is also worth nothing that the company did very well on these metrics even through The Great Recession.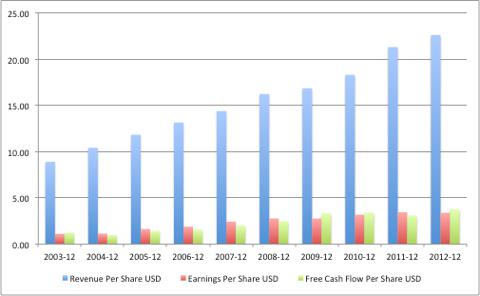 During this period, Stryker has achieved not just revenue growth but also increased free cash flow at a same rate. Further, the capital expenditure to fund this incredible growth is very low (about 2% of sales). In fact, the company has been able to convert about 15 cents of every $1 of sales into free cash flow (2003 to 2012 and TTM in the figure below).

The company has gross margins in the 65-70% range and operating margins of 20%. TTM margin has dropped sharply due to a one time charge related to a voluntary recall of the Rejuvenate and ABG II modular-neck hip stems and the recall of the Neptune Waste Management System. The margins going forward should be much closer to their long-term historical numbers.
These numbers certainly indicate the presence of a strong economic moat. Stryker's book value per share has grown at a spectacular 17% annual rate over past 10 years even after the generous dividends and stock buybacks. Certainly barriers to entry in reconstructive implants and operating room equipment are high.

Stryker is a very asset-light business with an average total fixed asset of 10-13% of their total assets. Liabilities are about 35% of total assets with increase in long-term debt in the past two years likely to take advantage of the low interest rate environment. The company is very liquid with over $13.50 cash per share (about 35% of its total assets). There is no concern about the company being able to fulfill its debt obligations.
Its return on equity is in the solid 18-20% during the last decade. The recent drop in its ROE is due to the one-time charge associated with the voluntary recall mentioned earlier and should not be considered representative.

Stryker has a track record of growing its business through smart acquisitions. In February 2013, it acquired Trauson Holdings Company Limited, a China based spine-products manufacturer, for $765M. The acquisition should help Stryker expand its footprint in China and help contribute to its international growth. In September 2013, it acquired MAKO Surgical, a manufacturer of robotic arms for orthopedic and other types of surgery for $1.65B.
The mean analyst estimate for 2014 earnings is $4.63. At a 16x multiple and adding back net cash of $13.50 per share, the shares are worth $87.50 - a 20% upside to the current price of $73. The stock is not a screaming buy that it was a few years ago, but they are still a good purchase as a long-term holding. Their current P/E of 31 is inline with industry average, but is still lower than the 10-year peak P/E of 38-40 in 2003-2004. Looking at cash flow, Stryker trades at a P/FCF of 15 that is much lower than their peak P/FCF of 33 (in 2004).
In summary, Stryker is an exceptional and well-managed business in an industry with secular growth available at a small discount to their fair value.
Disclosure: I have no positions in any stocks mentioned, and no plans to initiate any positions within the next 72 hours. I wrote this article myself, and it expresses my own opinions. I am not receiving compensation for it (other than from Seeking Alpha). I have no business relationship with any company whose stock is mentioned in this article.