Chesapeake (NYSE:CHK) still has debt levels that are more than double the industry average. However, it is changing its image from a company that was previously known to grow by acquiring assets. Thanks to the involvement of Carl Icahn that began in 2012 and the retiring of Chesapeake CEO the company is on its way to positive change. Hence, the term "growth by development" officially replaced "growth by acquisition".
Since then, Chesapeake has shed 10% of its workforce. Additionally, the new CEO is ensuring Chesapeake is focused on becoming a return generating business. He has sold nearly $4 billion of assets that were not in line with the company's long term strategy. With these initial steps, the company is heading towards becoming more attractive in the eyes of the shareholders.
Perhaps this positive sentiment is being observed in the stock value as it has surged by more than 60% to a present $27 within the span of one year.

Source: Morningstar
Performance
Chesapeake reported a good third quarter in 2013. Revenue growth is one of the most reliable performance indicators but that's not the case for energy and gas where higher production means higher profits only if the company is able to control its costs. Nonetheless, for those who like to see revenue growth, Chesapeake reported a 64% increase this quarter compared to results of the previous year.
Marketing and gathering operations saw a 119% increase in revenue. However, the segment only reported profits of 0.7%. Similarly, the oil and natural gas segment reported a gross margin of 82% with a 15.5% increase in revenues! The increase was related to higher oil and gas prices along with greater production reported this quarter.
Profit was $0.24 per share in the third quarter compared to a massive loss of $3.19 per share back in 3Q12. The loss was a result of write-downs of some of the natural gas assets and the ongoing restructuring that Chesapeake was involved with in 2012. Excluding asset sales and restructuring charges, earnings of $0.43 per share matched the analysts' consensus estimates this quarter.
Daily total production of oil and gas dropped by 2% due to asset sales mentioned earlier; however, on a segregate basis the daily oil output rose by 23% this quarter.
Price Effect and Competitors
Price has had a significant effect on Chesapeake's revenues and cash flows. In the current quarter, an increase of $0.10 per mcf of natural gas sold resulted in an increase in revenues and cash flows of approximately $27 million. Similarly, an increase or decrease of $1.00 per barrel of liquids sold resulted in an increase or decrease in revenues and cash flows of approximately $16 million (excluding the effect of hedging activities).
In the third quarter, the market price of natural gas increased by 23% but the company's realized price increased by 15% and revenues by only 3.7%. The hike in natural gas price was offset by the 10% drop in natural gas production.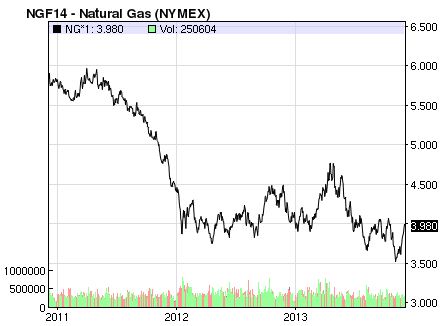 Source: NASDAQ
Long term, however, gas prices are declining owing to the shale gas revolution. Therefore,increases in profitability cannot be relied upon higher prices. Since Chesapeake mainly deals in gas operations with the majority of its revenue coming from those operations, increasing future reserves is the only way to sustain gas margins.
The price of oil also rose by 15% during the quarter but similar to gas the company's realized price increased by a mere 1.4%. This was also the case for the company's competitors. Exxon's (NYSE:XOM) realized oil price grew by 5.6% and Chevron's (NYSE:CVX) by 7% and both were below the average market price. However, as discussed earlier, competitors' revenues decreased or remained stagnant whereas Chesapeake's revenue showed improvements.
How Can the Stock's Value Increase in the Future?
This quarter, Chesapeake plans to operate an average of 59 rigs and complete about 14 fewer wells compared to the third quarter. The company has also reduced its outlook for drilling and well completion expense from $5.7 - $6 billion to $5.5 - $5.8 billion for 4Q13. The reduction in wells is forthcoming as Chesapeake moves to a pad-based program, "which could lead to improved cycle times and improved project economics" as told by Chesapeake's CEO in the latest earnings conference.
Leaving all the cost efficiencies aside, I believe that the newer management is putting investors' money to better use. The asset sales and reduction in quarterly capital expenditure means that Chesapeake is not letting itself become involved in acquiring unnecessary assets. It is using these sales proceeds to reduce its highly geared status. In the third quarter, Chesapeake reduced more than half of a billion dollars' worth ($584 million) of its debt net of unrestricted cash bringing it down to $11.75 billion in 4Q13. Although the figure is still high, according to the industry, future asset sales are likely to help Chesapeake decrease this figure even further.
Based upon planned activity levels for 4Q2013, the 2013 full year drilling and completion costs are expected to decrease by 36% to $5.5 to 5.8 billion from the previous 2012 cost of $8.8 billion. With no intentions to increase equity, as stated by the CEO, it is evident that these higher profits and cost efficiencies will be passed onto investors in terms of dividends and higher share value.
Conclusion

The stock value is gaining momentum and Chesapeake is currently undervalued compared to the S&P index. Its previous fundamentals were significantly below the industry levels, specifically its P/E and the 3-year average growth. All in all, I believe that Chesapeake's current management policy of shedding assets to reduce gearing makes it a worthy investment.
Disclosure: I have no positions in any stocks mentioned, and no plans to initiate any positions within the next 72 hours. I wrote this article myself, and it expresses my own opinions. I am not receiving compensation for it (other than from Seeking Alpha). I have no business relationship with any company whose stock is mentioned in this article.