It has been a really tough week for Standard Chartered (OTCPK:SCBFF) and its shareholders. Shares are down 8% (seep graph below) since Wednesday, after the company warned that it has to deal with problems in some of the emerging markets. After years of double digit earnings growth, Standard Chartered expects flat earnings in 2013. The profit warning raises concerns about the company's growth potential, potential write-offs and dividend payments in the future.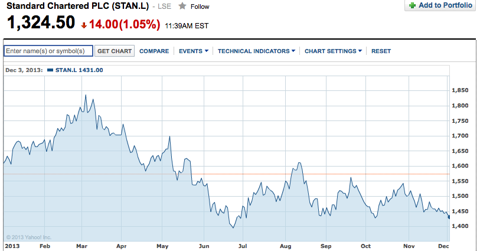 Most of the problems occur in South Korea, where retail earnings are likely to fall 15% year on year. Standard Chartered is working hard to restructure the business in South Korea; however, this is no guarantee that earnings will recover in this market where Standard Chartered holds around 10% of its total assets. It is very unlikely that the company will be able to return to double digit earnings growth in South Korea in the near future.
Standard Chartered stated that it has confidence in the other key markets, like Hong Kong and India. These markets will continue to deliver strong earnings growth in the near future, according to this press release. Despite the company's statement, I recognize several risks which could threaten Standard Chartered's earnings growth in the emerging markets. For example the slowing economic growth in China and increasing competition from local banks.
The current dividend yield is 4.7%, which is still an attractive for dividend for investors. However, regulators will most likely increase the capital requirements for financial institutions. Together with the slowdown in earnings growth, this could be a major threat to Standard Chartere's dividend payments in the future. The company could announce a dividend cut next year or could raise additional equity to meet the capital requirements.
According to a Berenberg Bank report, Standard Chartered trades at 1.5 times intangible book value. This is a nearly 40% premium compared to European peers (Standard Chartered is primarily listed on the London Stock Exchange). Considering the doubts regarding the growth potential in emerging markets, the higher capital requirements and a potential dividend cut, the 40% premium is not justified any more. So, there is a significant downside risk for the stock.
I bought some shares of Standard Chartered in May and suffered a 12% loss ever since, excluding the 2013 interim dividend payment. I sold all my shares, because I do not see any significant upside potential and I expect a dividend cut in 2014. I would consider Standard Chartered again if shares fall to 1,050p ($17.11) a share in the next months.
Disclosure: I have no positions in any stocks mentioned, and no plans to initiate any positions within the next 72 hours. I wrote this article myself, and it expresses my own opinions. I am not receiving compensation for it (other than from Seeking Alpha). I have no business relationship with any company whose stock is mentioned in this article.