Bakken producer Oasis Petroleum (NYSE:OAS) has pulled back some 20% from recent highs over the last month or so. With the market up some 25% for the year overall, finding undervalued equities is getting harder and harder. The recent sell-off in Oasis should be viewed a great entry point to an undervalued energy play.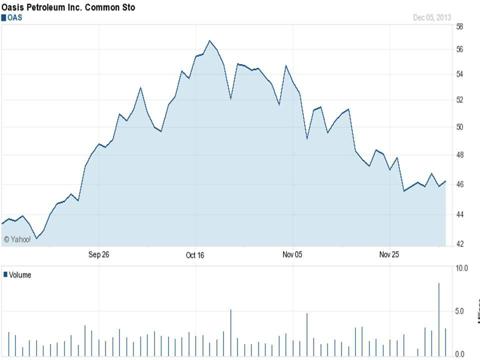 Click to enlarge
Company Overview:
Oasis Petroleum is an independent exploration and production company that engages in the acquisition and development of oil and natural gas resources in the Montana and North Dakota regions of the Williston Basin. With its recent purchases of ~160,000 net acres, the company now has almost 500,000 net acres in this key energy producing region.
Part of the decline was triggered by a just announced secondary offering. The company will issue some 7mm new shares. It should be noted the new shares will amount to just ~8% of the company's overall float. The proceeds will be used to retire debt which will lower interest expense as well. A lot of the company's debt was taken on to significantly expand the company's acreage in the Williston region of the Bakken formation.
Oasis is also operating from a position of strength. The company has beat on top and bottom line expectations in each of its four quarterly reports delivered in 2013. The median price target on Oasis held by the 26 analysts that cover the firm is $59.50 a share, ~30% above the current stock price.
It is easy to see why analysts hold Oasis in high regard. The company is tracking to double its earnings this year to ~$3 a share. Analysts believe earnings will increase more than 25% on consensus in FY2014 as well. The stock goes for just over 12x forward earnings, which is a significant discount to its five year average valuation (21.7).
Revenues should increase some 70% this fiscal year and analysts have over 40% growth penciled in for FY2014. OAS sports a minuscule five year projected PEG (.40) as well. Finally, with an enterprise value of under $7B, Oasis would make an attractive acquisition target for a major energy concern that wanted exposure to one of the fastest growing energy regions in the country.
For growth investors looking for a great entry point to a rapidly growing energy play, Oasis' pullback is not a "mirage" but a buying opportunity.
Disclosure: I am long OAS. I wrote this article myself, and it expresses my own opinions. I am not receiving compensation for it (other than from Seeking Alpha). I have no business relationship with any company whose stock is mentioned in this article.