Recently Barrick Gold (NYSE:ABX) announced that it is changing up its board and upper management - in particular the company's chairman is resigning and it is hiring a new COO. This comes as no surprise given the shares' lackluster performance. The following two charts illustrate this, with the first showing the performance of Barrick shares relative to the HUI Gold Bugs Index, and the second showing the shares' performance relative to the gold price.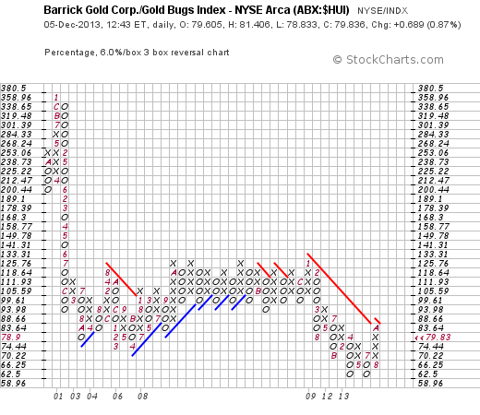 Click to enlarge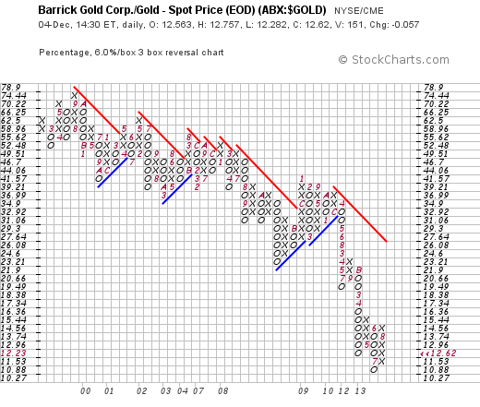 Click to enlarge
This underperformance is warranted given management's abysmal performance over the past several years, as I have pointed out. Here are just a few of management's missteps in the recent past that have lead to such value destruction in the face of a bull market in gold.
As gold ascended in the early 2000s Barrick hedged its gold exposure. It finally gave up this losing strategy in 2009, taking a $5.6 billion write-down in the process.
In 2011 the company purchased Equinox - a copper miner. Shortly afterwards, in 2012, it disclosed that it overpaid for Equinox and it took a $4.4 billion write-down.
Earlier this year the company suspended its development of the Pascua Lama mine in Argentina/Chile. Production was supposed to begin this year according to the property's Sedar filings. Furthermore the company overestimated the value of Pascua Lama and the estimated cost of developing the project. As a result it took a $5.1 billion write-down.
Earlier this year the company sold Barrick Energy for $455 million (Canadian) despite carrying the asset on its books at nearly $1 billion. The result was a $500 million write-down.
The company sold its Yilgarn South assets in Australia to Gold Fields (NYSE:GFI). These are quality, producing, profitable assets in a mining friendly jurisdiction, and the sale of these assets with the price of gold depressed makes little sense.
Clearly there is a pattern of poor stewardship of shareholder capital at Barrick, and this has materialized in the above-illustrated underperformance of the company's shares. It has also resulted in a recent dividend cut, a recent equity offering and a troubling debt load.
Given these grievances it is no wonder that there is a substantial shake-up of management.
Is Barrick Now Worth Owning?
In the past I have recommended that investors avoid owning Barrick shares due to poor management, although I have acknowledged the quality of the company's assets. Barrick produces over 7 million ounces of gold annually. Much of this production is low-cost, and while the company operates all over the world it has noteworthy assets in Nevada, which is one of the safest places in the world to mine.
If we couple this with the company's lousy share price performance it makes sense that gold bulls might consider owning the shares at $15.50 if management is really different. But we have to keep in mind that while several board members are leaving, including John Thornton, the management shake-up isn't so dramatic. CEO Jamie Sokalsky is remaining at the helm, and while he is relatively new he did preside over the Yilgarn asset sale. Furthermore before he became CEO in 2012 he was CFO of Barrick, which means that he was in charge of the company's finances during several of the aforementioned poor financial decisions.
The truth of the matter is that Barrick's management has to prove itself through value-generating decisions, and right now it doesn't have the benefit of the doubt. Before I become interested in owning Barrick shares, I need to see steps in the right direction, which would include the following:
Barrick needs to pay down a great deal of its debt, of which it had over $15 billion as of the end of the third quarter.
Management needs to express its belief in the value of gold to shareholders. Investors buy gold mining companies because they believe that the price of gold is going to rise. Lots of companies devote part of their investor presentations or their websites to explaining the merits of investing in gold. Barrick doesn't do this, and given its history of hedging and its shift into copper I am not sure that management believes in gold's value. Similar remarks can be made about copper and silver - the company is expanding into copper and yet it doesn't explain why.
Management needs to clearly address its plans for the Pascua Lama project. Furthermore it needs to update its technical report - the same one that now says that the mine is beginning production in 2013.
Management needs to outline a clear expansion plan. The company has uncertain projects such as Pascua Lama and long-term projects such as Donlin, but the path towards rising production is uncertain. There are several large undeveloped properties available on the market for next to nothing in the context of Barrick's balance sheet (e.g. Midas Gold's (OTCQX:MDRPF) Golden Meadows, Chesapeake Gold's (OTCQX:CHPGF) Metates) that it can purchase and use to meaningfully expand production.
Management needs to assure (potential) investors that the assets on its balance sheet have been appropriately valued. We saw above that the company has taken an unacceptable amount of write-downs, and there is certainly enough of a pattern to generate suspicion as to the value of the company's other assets.
Upon addressing these concerns I think Barrick can become a leader in the industry once again. Doing so will enable it to bring out the value of its assets and generate shareholder enthusiasm that is presently lacking. But until then Barrick has a lot to prove, and prudent investors are advised to err on the side of caution and look elsewhere for opportunities.
Disclosure: I have no positions in any stocks mentioned, and no plans to initiate any positions within the next 72 hours. I wrote this article myself, and it expresses my own opinions. I am not receiving compensation for it (other than from Seeking Alpha). I have no business relationship with any company whose stock is mentioned in this article.