Most of the water and sewer systems in the world were built 60 years ago. They were supposed to last 50 years.
Local governments around the world have been postponing maintenance on their pipes. Out of sight… you know the rest.
But engineers know the chickens will roost. And Pentair (NYSE:PNR) is just one of the companies that wants to be there when it happens. This company makes valves and filters and lots of other good things that people need for clean water and treated sewage.
And with everyone living closer together, that means water has to be cleaner when you treat it and put it in the nearby river or bay or oceans.
They used to say "The solution to pollution is dilution."
No more. Today the motto is "We are all downstream."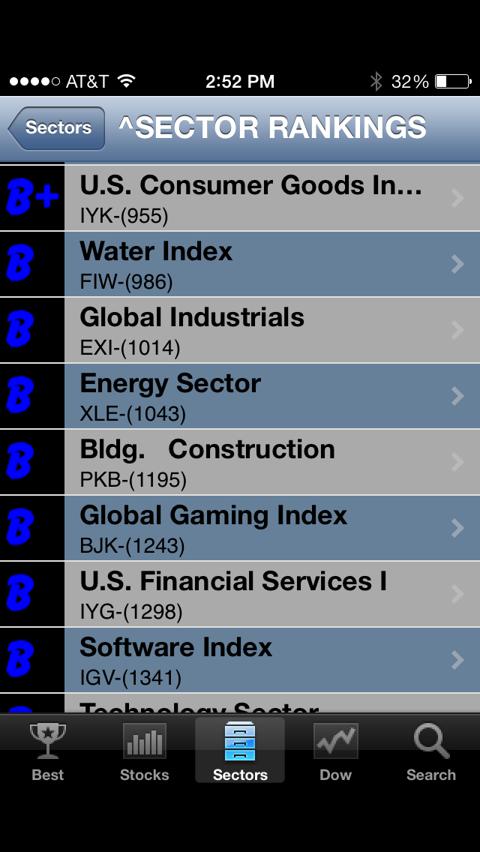 Click to enlarge
Data from Best Stocks Now App
That's all good. But being good is not good enough for the market. Let 's take a look at this global leader in supersized plumbing fixtures:
Pentair, LTD. is a global water, fluid, thermal management, and equipment protection partner. Recently Pentair has been buying and selling assets. To pretty good effect: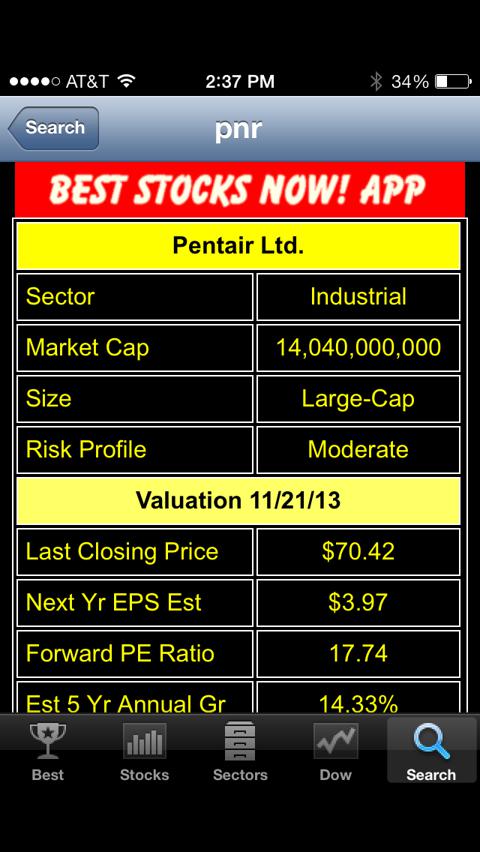 Click to enlarge
Over the last four quarters, sales were up 102%! And PNR continues to look forward to more growth. Analysts estimate earnings will grow 34% next and 24% after that.
When I put PNR through my Best Stocks Now filters, it comes out pretty good. Let's take a closer look.
Performance
Over the past 10 years PNR has almost tripled the returns of the market. Over the past five years it has delivered 32% per year. Over the last three years PNR has more than doubled the returns of the market. And over the last 12 months, it is up 55%.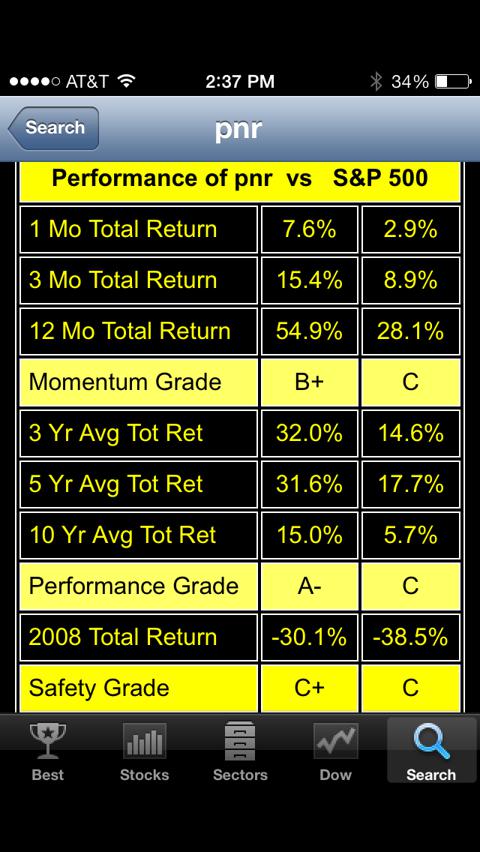 Click to enlarge
The stock gets a performance grade of A- when I compare it against the other 3,700 stocks I track in my app.
Valuation
From a valuation point of view, PNR passes the test. It is currently trading at 17.7 times forward earnings. It is expected to grow these earnings by 14.3% per year over the next five years. It has a PEG ratio of 1.24.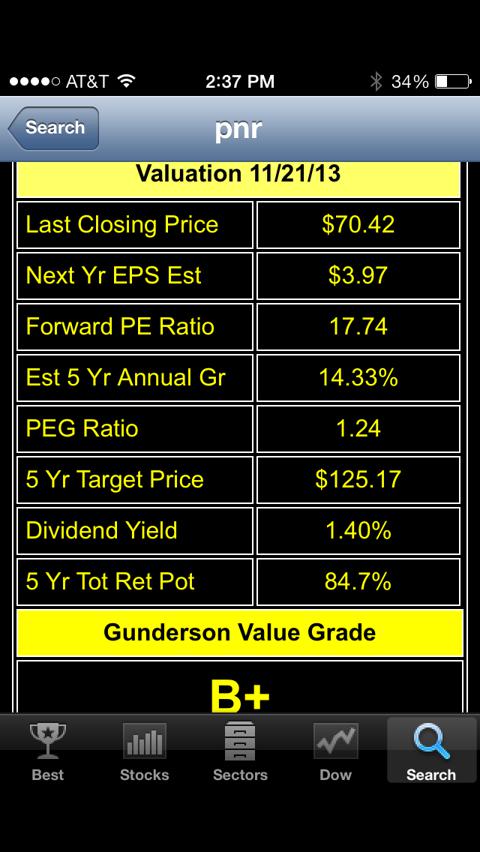 Click to enlarge
Now this is not a screaming bargain, but when I take the earnings estimates, carry them out over the next five years, and then apply a multiple on them, I come up with a $125 target price five years from now. The stock is currently trading at only $70.
PNR passes my both my performance and value test.
Stock Chart
What is the last test? It is the all-important eyeball check of the stock chart.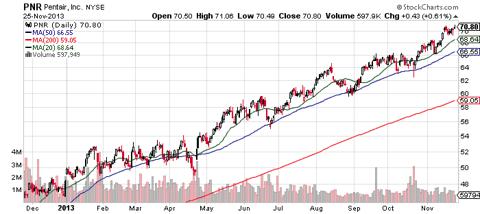 Click to enlarge
How does the chart look? It's in a strong uptrend hitting new highs!
I only have two words to say about this chart: Hubba hubba.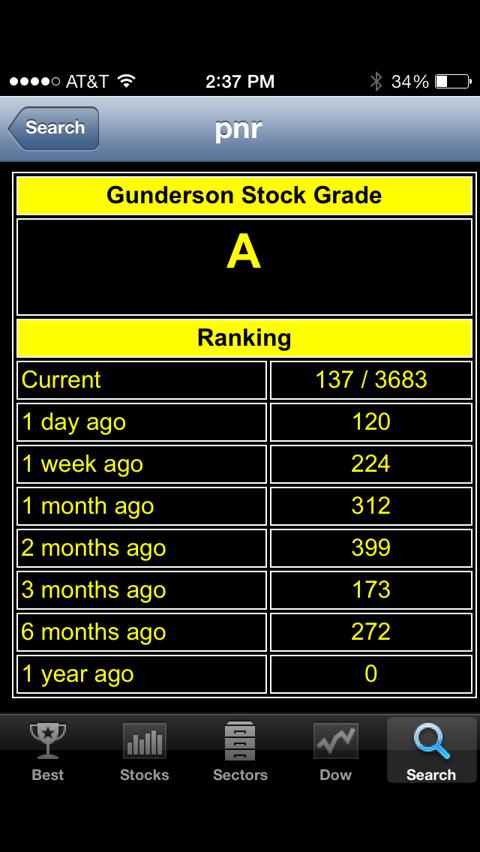 Click to enlarge
Out of the nearly 3,700 stocks I track in my database, PNR comes in at #137 and it is a stock that I own at Gunderson Capital Management.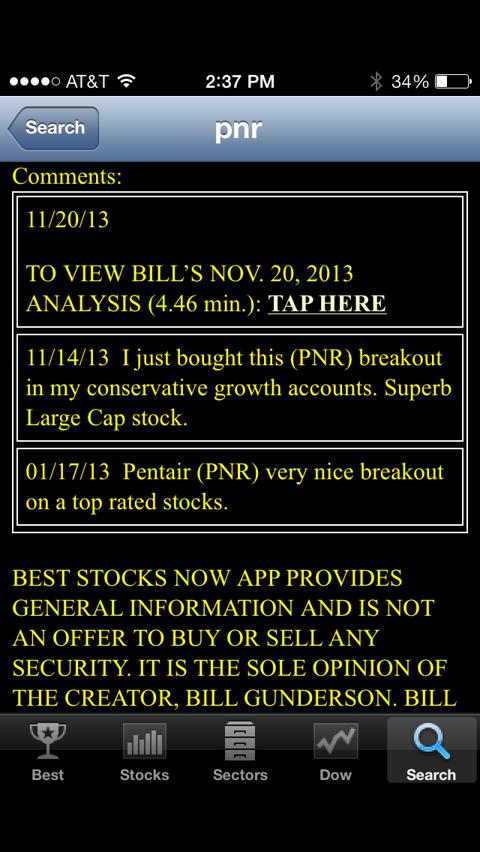 Click to enlarge
Disclosure: I am long PNR. I wrote this article myself, and it expresses my own opinions. I am not receiving compensation for it. I have no business relationship with any company whose stock is mentioned in this article.