By David Urani
Lost in the hoopla of the November jobs report, we also got a surprisingly strong result from the University of Michigan consumer sentiment index. The mid-December reading came in at 82.5, which is a big jump from the 75.1 posted in November. It was also well above the 75.5 consensus estimate. This marks the highest reading since July, following a lull that became exacerbated by the government shutdown in October. We do have to note, however, that of course this is an early December reading and it's only now just December 6th, while The final November reading was released just last week so this is somewhat of a small sample and we'll want to see it hold up for the final December reading.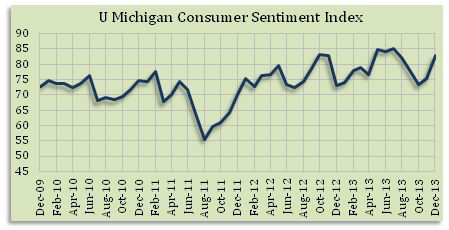 Looking at the components, the current conditions reading continued to strengthen, up almost 10 points to 97.9. Perhaps most interesting was that while the expectations component remained relatively muted, up to 72.7 from 70, the 12-month outlook really surged from 79 to 95. In recent times, consumers' present conditions have been firming up but outlooks have been tempered; this pop in expectations is a welcome turnaround.
The timing of the sentiment bounce, if it holds, is also very good as we head further into the holidays and could be a good sign for retail spending this year, with 20-40% of any given retailer's sales being generated around this time.