Depending on the horizon you choose to focus on, your opinion of how well Argan Inc. (NYSEMKT:AGX) has been doing in the market will vary quite a bit. On a YTD basis, Argan's shares have remained fairly stagnant, and by the start of September, they were actually down from where they opened for the year in January. Looking at the bigger picture, Argan's aggregate performance over the last three years reflects an entirely different story. In terms of its stock price, this time period displays a slow progressive upward trend with the exception of the small dip it took in 2013. Looking at the graph below, you will see that AGX rebounded fairly well from what was right above its 52-week low. Now having gained a fair amount of stability, Argan's stock price appears to be back on track.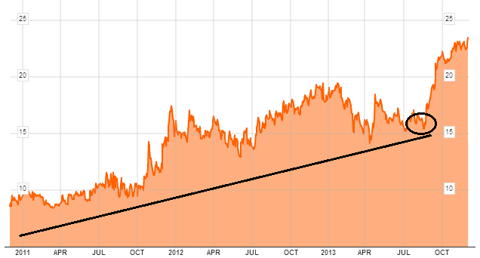 (Source: Argan's 3-Year Price Graph from Bloomberg Market Data)
Since January of 2011, its market capitalization has more than doubled, and despite the fact this is fairly common for small capitalization companies, its operations support a favorable level of profitability and its balance sheet eliminates any concerns surrounding its financial health. While abnormal growth is often associated with smaller companies, these two attributes are not, and are actually advantageous from an investor's position. Before jumping into the specifics pertaining to its business, its important for investors to realize that the success of Argan's business is directly linked to the individual growth and development of its subsidiaries. Operating as a holding company, Argan identifies companies in high growth industries and utilizes the underlying growth potential within these industries to add value for investors. The combination of Argan's robust portfolio of companies positioned in keen industries along with the fact the market has priced in a significantly lower valuation than its intrinsic value makes a strong case for investing in Argan. With its performance back on track, Argan has returned roughly 35% YTD, and even with this increase, the undervalued nature of its shares still offers plenty of room for aggressive investors to make a profit. Being a small capitalization company, there are several concerns that investors need to bear in mind, which will be addressed later. But albeit the risks, the risk to reward profile is fairly attractive. With that being said, here's an overview of its business.
Background
Founded as a Delaware corporation in 1961, Argan operates today as a publicly traded holding company where it utilizes the operations at its subsidiaries to add value to the firm. Being a publicly traded holding company, Argan is focused on acquiring companies that provide products and services to high growth industries, including the engineering and heavy construction industry. The core of Argan's business lies within the operations under its two subsidiaries, including Gemma Power Systems, LLC and Southern Maryland Cable, Inc.
Gemma Power Systems holds a top tier position in the engineering and construction industry for its high level of expertise in design, procurement, and construction. Gemma Power Systems generates its revenue from executing a wide range of projects. A major portion of its revenue comes from developing power plants, but other types of projects include, simple cycle, combined cycle, solid fuel, alternative fuels, wind, and solar projects. A detailed overview of the individual projects under each of the classification types above can be retrieved here.
Southern Maryland Cable is engaged in the construction industry as well, however its primary focus lies on the electrical engineering side. The livelihood and well being of its business greatly relies on the comprehensive technology wiring and utility construction solutions it provides to a wide range of customers. More specifically, some of its services include furnishing inside premise wiring services to the federal government. Within the federal government, some of its projects include military installations at government office sites that require a high-level security clearance, underground/aerial construction services, and splicing to utility, telecommunications, construction as well as local government clients. Right now, you can see that Argan greatly depends on the operations at these two subsidiaries for augmenting the value of the firm as well as providing value for shareholders'. In addition, Argan continues to actively search for potential acquisition opportunities, but regardless, its current operations have outperformed the industry average. Below is a graph retrieved from Morningstar showing the relative returns over time for an initial investment of $10,000 in Argan in relation to what investing across the industry as a whole would yield.

(Source: Argan's Performance Growth Chart from Morningstar)
Broadly speaking, it's fairly typical for small, fast growing firms to outperform the industry average, but whether or not this a firms can sustain this growth for a significant period of time is the question. After we finish taking a look at its operating performance, you will see that there's actually a favorable chance Argan is capable of maintaining its current growth rate.
Operating Performance
Since 2009, you will see its revenue has fluctuated quite significantly, and just as its stock price, we can see there was a strong decline in its revenue during the same time period. The slowdown in its business is clearly reflected through the decline in revenue, but more importantly, this shows its revenue and stock price are fairly correlated. While a correlation as such can be detrimental in times when its operations are under a lot of stress, it does provide room for accelerated growth when a firm's turning over a adequate profit. On a positive note, Argan's profitability was quick to recover, and although its trailing twelve months figure is slightly down from the revenue reported for 2013, I anticipate its total revenue for 2014 to play out favorably.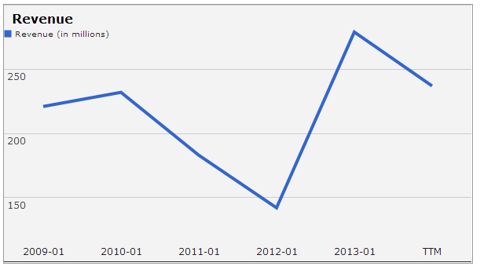 According to Argan's management, the majority of its net revenues from continuing operations related to engineering, procurement, and construction services were provided by its subsidiary Gemma Power Systems to the power industry. According to Argan's 10-Q, its net revenues from the power industry accounted for approximately 96% of consolidated net revenues for the first six months (January 1st -July 31st) of 2013. So far in 2013, its revenues from the power industry have be generated off only three customers, and although these customers have been reliable in previous years, investor's need to bear in mind that losing one of these customers could negatively impact its revenue growth over the next year.
Before we look at Argan's operating income, there's one balance sheet item related to its revenue from projects that needs to be addressed, which is the cost for estimated earnings in excess of billings. From looking at Argan's balance sheet, you will notice there's a fairly large amount recorded under this account. While the accumulated sum lying in this account can be attributed to the fact that Argan utilizes a percentage-of-completion method in its accounting procedures, it's important to understand what this account means because the timing of when its projects are billed versus completed has an impact on when revenues are recorded, and ultimately, influences its valuation. Looking below, you will see a table consisting of Argan's aggregate costs incurred and earnings accrued on uncompleted contracts compared with the billings for the contracts through July 31, 2013 as well as January 31, 2013. The account below titled "Costs incurred on uncompleted contracts" includes all direct costs, such as materials and labor, and those indirect costs related to contract performance such as payroll taxes, insurance, as well as equipment charges. While costs are expected to be billed and collected in the normal course of business, Argan does permit unapproved changes orders, however there were not significant unapproved changed orders during these periods. In other words, the billings in excess of costs an estimated earnings account is the amount invoiced to the customer in excess of revenue that has actually be earned. Therefore, until those revenues are earned, they are recorded on Argan's balance sheet as a liability. Over the last six months, you will see this number dropped quite a bit, and if you refer back to its stock price, you will realize it did merely the opposite. This trend can be attributed to the fact market participants knew its balance sheet was going to see a favorable decrease in liabilities as contracts became completed throughout the quarter. The fluctuations in this account also have an effect on financial leverage, which we will see later on.

(Source: Argan's 10-Q from sec.gov)
As previously mentioned, Argan has a sound foothold within its industry for being a small capitalization company. While its peers continue to exist as a competitive threat, its operating margin gives Argan a serious edge over its competitors. and interestingly enough, Argan has the highest operating margin in the heavy construction industry. Unlike the large variation we saw in its revenue, the its operating income is way less volatile, and you will see it's been growing at a fairly steady rate since 2009.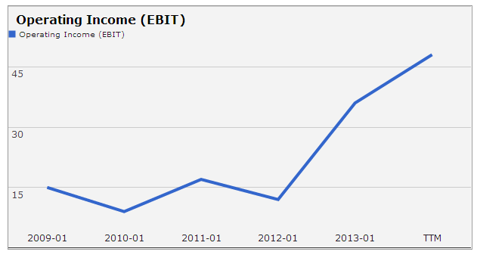 Recently, you will see its operating income has experienced rapid growth since 2012. As a result, its increasing level of operating income has allowed it to sustain a higher operating margin, which is operating income (or EBIT) divided by revenue. On a trailing twelve month (NYSE:TTM) basis, you will see its EBIT margin comes out to 20.25%, which is extremely favorable. According to a recent report, Argan's EBIT margin surpasses all of its peers in the heavy construction industry. Several of its peers ranked right directly below include Empresas (NYSE:ICA), MasTec (NYSE:MTZ), and Dycom Industries (NYSE:DY), which all had EBIT margins 7.45%, 6.88%, and respectively. For the most part, these companies are larger in nature, however they are not currently able to compete with Argan's level of profitability, which also implies investors are exposed to a lower return on capital invested.

Now that we've established Argan's capability of generating an economic profit, it's time we focus on the growth in total assets. Over time, the change in a firm's total assets can provide insight on a wide range of factors, but for Argan in particular, it serves as a good primer for showing how Argan's subsidiaries are fully capable of expanding their footprint within the engineering and construction industry. Generally speaking, the aggregate growth in its total assets can be attributed to the rather perpetual growth of its cash balance as well as for additions made to its property, plant, and equipment (PPE). And after factoring in depreciation, the net figure for its PPE is still attractive at exactly 9x what it was at the beginning of 2009. With a current cash balance of about $157mm, its cash position has increased by more than 100% since 2009, and from looking at the graph below, you will see its total assets have nearly doubled in the same time.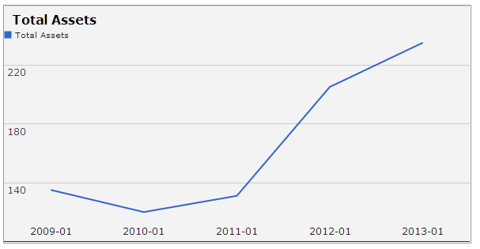 Furthermore, it's important to understand that the amount on the line graph for Argan's total assets under "2013-01" reflects the account balance for the end of its first quarter in 2013. If you take a deeper look into its filings with the SEC, you will see that Argan reports on a non-standard fiscal calendar year, and because of this, Argan has reported earnings for two more quarters in 2013 so far. According to the Argan's 10-Q's for the periods ending April 30, 2013 and July 31, 2013, its total assets reported were approximately $197mm and $182mm, respectively. Compared to the figure reported in the first quarter for 2013, its total assets have declined by more each quarter since. While initially this may seem discouraging, it's not what it seems. If you take a closer look at its balance sheet, you will notice that there's a slight reduction in its fixed assets and a drop in its receivables that does not appear to be sustainable. On the other hand, the decline in its fixed assets is not, and given its accumulated depreciation account has experienced relatively no change in the last five years, this indicates there was an asset sale. By looking at Argan's the PPE balances on its most recent 10-Q, we can understand how this change in fixed assets occurred, and as you will see, the large difference within the six month period can be attributed to project costs of variable interest entities. In other words,...

(Source: Argan's 10-Q from sec.gov)
As you're starting to see, Argan's overall financial position is strong, but I would like to address the recent decline in Argan's liquidity. Based upon the changes in Argan's current account balances over the last two years, you will see there's been a reduction in the level of its current assets relative to current liabilities, which can be seen through the trend in its current ratio. While this decline is rather small and is unlikely to impact its business in the long-run, it's important for investors to keep an eye on. Also, you will notice the deviation between the its current and quick ratio has diminished since 2011. From an investment standpoint, this is a positive indication, and can be attributed to the changes management has implemented regarding its inventory policies.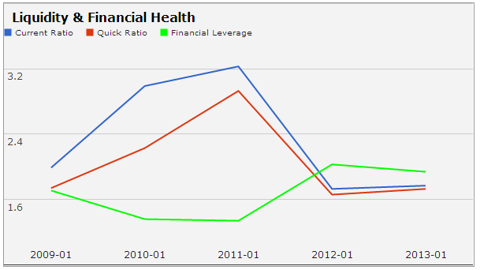 Last, you will see that Argan's degree of financial leverage has seen a sizable decline over the last year, which indicates that there's a lower level of sensitivity in Argan's EPS to fluctuations in EBIT. The fluctuations are created from uses a higher level of fixed costs from the precious year, which translates into a lower EBIT figure for the year of interest. So in other words, the decline in Argan's degree of financial leverage tells us that Argan's is now using a lower level of fixed costs in financing its operations. In the short-run, fluctuations in this computation are less relevant, but in the long-run, an increasing degree of operating leverage will magnify the underlying volatility of a firm's EPS and place downward pressure on valuation. Therefore, it's important investors make an effort to watch out for major changes in Argan's financial leverage YoY.
An Efficient Capital Structure Keeps Its Costs of Financing Low
Before we can place a fair value on Argan's common shares, we must evaluate its capital structure to understand the costs incurred in finance its operations. The most effective way to do this is to compute its Weighted Average Cost of Capital (GM:WACC), or what is also referred to as the risk-adjusted discount rate. The WACC is an essential part of any discounted cash flow model because it incorporates a firm's capital structure in the form of a weighted average that factors in the costs associated with each form of financing, including equity, debt, and preferred stock. In other words, the WACC reflects the overall required rate of return on a firm as a whole, and being a weighted average, this computation also tells us the amount of interest the firm has to pay for every dollar it finances. While normally we would be required to determine the cost associated with each source of financing to compute the WACC, Argan's balance sheet says otherwise. As you will see below, Argan's capital structure reveals its operations are financed with 100% equity, and therefore, the cost of equity will be the WACC in this case.
To cost of equity, I used the Capital Asset Pricing Model (CAPM), which is the Risk Free Rate plus the product of the firm-specific Beta and the Market Risk Premium. To provide a more realistic discount rate, the Risk Free Rate used was not the standard 4-week T-Bill, but instead, the 10-year Treasury yield. Using Argan's Beta of 0.44 and the current market risk premium, its cost of equity is 5.178%.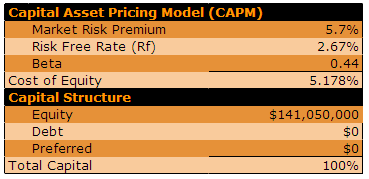 From an investor's perspective, the absence of long-term debt on Argan's balance sheet is appealing, but its important to know that Argan has a line of credit to draw against if capital adequacy ever required doing so. According to multiple fillings with the SEC, Argan maintains financing arrangements with Bank of America (NYSE:BAC), and as amended in the agreement, Argan has access to a revolving loan with a maximum borrowing amount of $4.25mm at Libor + 2.25%, which will remain available until May 31st of 2015.
Conclusively, with a WACC of only 5.178%, Argan's cost of financing is extremely low in comparison to both, the industry standard and its top competitors. According to a recent industry report from IBISWorld, the average WACC for the heavy construction industry and engineering industry is 12.5%, which is nearly 2.5x Argan's WACC. Even compared to the big players competing against Argan directly for market share, Argan still has the upper edge with a cost of financing that nearly 300 basis points lower than competitors pay. So far, Argan's capital structure has effectively catered to all of its financing needs, and as of now, capital adequacy does not seem to be an issue. While there's a high probability Argan will not have any need for drawing against its credit line, Argan always has a second option if need be. With a very low cost of financing and considering the return on capital invested into its operations, Argan's capital structure provides a higher level of value to investor's than its peers. Also, the fact it has access to debt financing eliminates any liquidity concerns that we previously saw through its declining current ratio. Going forward, in the case Argan were to ever use debt financing, its WACC would still remain lower than its peers, and the normal risks for investors that come from an increase in a firm's cost of financing would be insignificant.
Valuation
Argan's primary source for creating value right now lies at the heart of the return on capital invested in the operations at its subsidiaries, and with such a low cost of financing, its capable of generating significantly higher margins than its peers. Currently, Argan's free cash flow figure trailing to maturity is negative. Given its previous level of free cash flow generated in 2012 and 2013 were $77mm and $25mm, respectively, I'm fairly confident that we will see a sharp turn around before the end of the year, however it's important we do not solely rely on historical data to make future estimates. With that being said, I've eliminated the use of growth rates in instances that simply involve compounding a historical figure forward to derive an estimate, and instead have selected to use Argan's most recent financial data as well as relevant operating news. The conservative nature of these estimates provides investors with a reliable, yet realistic forward looking view at what to expect over the next year. Even with using the most conservative growth rates in projecting the intrinsic value of its operations, you will not only find the final intrinsic share price estimates intriguing, but so favorable they surpass the price targets initiated by the over optimistic sell-side analysts.
Using Argan's WACC and perpetual growth rate in conjunction with the free cash flow estimate for 2014, we can model the fair value on the Argan's operations. Given Argan has not yet reached its mature operating stage and has a fair amount of growth ahead, I have reduced the perpetual growth rate quite a it from what it should be. After projecting the value of operations, you will see the relevant sources of financing have been subtracted from its total value to arrive at the intrinsic value of its equity. But as we saw earlier when evaluating capital structure, Argan only engages in equity financing. Therefore, you will see the account balance subtracted from its total value was the minimal amount of minority interest outstanding on its balance sheet. As a result, the intrinsic share price the model derived was $34.30, which reflects the true value of what Argan is actually worth on a per share basis given these assumptions. In other words, this model implies Argan is trading in the market at a discount of close to 60%. Clearly, financial models are only as reliable as the underlying assumptions in the model. While this estimate may appear extremely optimistic, it coveys the message that Argan's undervalued, and at a bare minimum, there's excess value at investor's disposal than what has been priced into the market.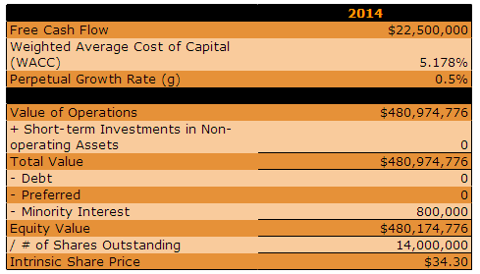 Investors are in an excellent position to benefit from the potential value to be added through Argan's engagement in high growth industries. Reflecting back on the industries its two subsidiaries target, there's a favorable amount of market share for Argan to acquire, and while its operations remained undervalued, its common shares offer pretty solid value at under $22 per share.
Investors Concerns & Final Thoughts
The largest risks at stake derive from the various business risks associated with the operations at Argan's subsidiaries, but it's important investors realize this also has its advantages. The fact Argan maintains control over two key subsidiaries that each generate a sizable amount of revenue allows the risks to be divided respectively and helps diversify the underlying risks investors take on by purchasing its common shares.
As mentioned earlier, Argan's customer base is quite extensive, and while this provides plenty of work for its subsidiaries to engage in, it's client base is high specialized. Its customer make up a niche group, and therefore, investor's are faced with the risk of its customer base potentially shrinking due to the limited number of these clients. On the upside, Argan's select client base also serves as a small barrier to new firms trying to enter the industries. A portion of its clients will only conduct business with Argan because it has certain project managers and other individuals working on the projects that hold security clearances. Argan is not the only firm with this luxury, but there is a limited amount of firms that do. Another potential risk for investor's to consider is margin compression. With the highest EBIT margin in the heavy construction industry, it would take quite a downfall in its business to have a significant impact. However, in order for Argan to continue growing at an abnormal rate, it will need to sustain its high margins. In the case its margins shrink, the downside risk is minimal, and in the worst case, I see its stock price remaining stagnant.
Argan's business is no where near a mature stage, and as its subsidiaries gain further traction within their industries, shareholders' will surely be rewarded. Argan's financial position is strong and its large cash balance on hand serves as an excellent source for funding future projects. In addition, the recent growth in its margins have enhanced its market share, and as its margins continue to expand, its intrinsic value will start to become priced into the market. Conclusively, the reward is high, yet the risk is minimal. The deviation in Argan's market valuation from its intrinsic value provide plenty of room for investors to make a profit.
Disclosure: I have no positions in any stocks mentioned, but may initiate a long position in AGX over the next 72 hours. I wrote this article myself, and it expresses my own opinions. I am not receiving compensation for it (other than from Seeking Alpha). I have no business relationship with any company whose stock is mentioned in this article.