Diageo plc (DEO) engages in producing, distilling, brewing, bottling, packaging, distributing, developing, and marketing spirits, beer, and wine. The company offers a range of premium brands comprising Smirnoff vodka, Johnnie Walker scotch whiskies, Captain Morgan rum, Baileys Original Irish Cream liqueur, J&B scotch whisky, Tanqueray gin, and Guinness stout. Diageo is an international dividend achiever, which has raised distributions for over a decade.

The company has delivered annualized total returns of 12.4% on average.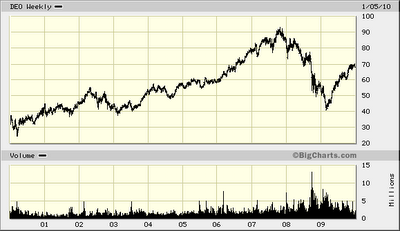 Earnings per share have increased by 10% on average since 2000. EPS growth has been aided by a decade of share buybacks, which shrank the number of outstanding stock by a quarter. Emerging markets account for one third of company's revenues. This is where many brand name consumer companies are currently experiencing growth. In 2009 Diageo earned $4.14/share. Analysts expect the company to earn $4.62 and $5.04 per share in 2010 and 2011 respectively.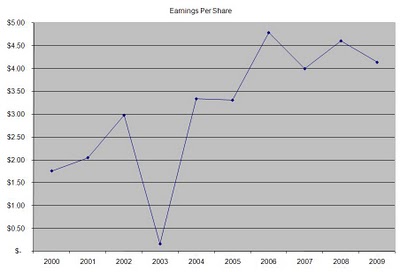 The annual dividend payment has been increased by 6.80% on average, which is lower than the growth in EPS.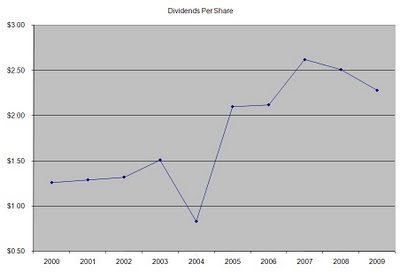 Return on equity has increased from 22.30% at the beginning of the study period to a very impressive 42% in 2009.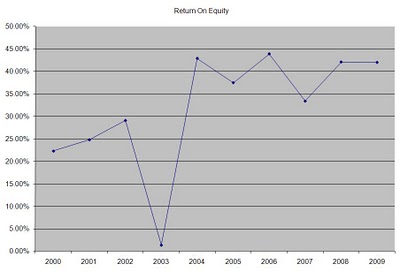 The dividend payout ratio has been volatile, and largely remaining above 50% during our study period. Currently this indicator sits at 55%.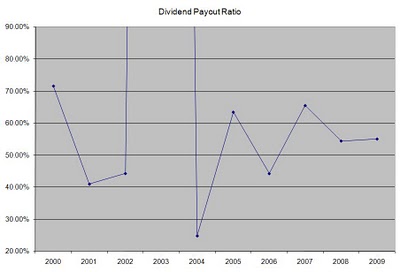 Diageo currently trades at a P/E of 16, yields 4.20% but has a dividend payout ratio of 55%, which is a little bit higher for my taste. Other than that I like the company, the strong brand names it owns and its ability to raise dividends through thick and thin. I never really pulled the trigger on Diageo (
DEO
) since I
analyzed
it in 2008. I would try to initiate a position in the company on dips as soon as I have funds available.
Full Disclosure: None