I laid out my argument for going short on Questcor Pharmaceuticals (QCOR) in late October of this year, citing insider selling and questionable items that had been pointed out by Citron Research prior to my article.
After having a quality year and yielding just over 100% for its investors, the last three months have seen Questcor pull back around 20%. Some of that pullback continued this week, as Citron Research vowed to continue publishing pieces on the company, and pointed out on Friday that Michael Banigan, founder and President of the Chronic Disease Fund, seems to have disappeared.

Click to enlarge
(Click to enlarge)
If you don't know who or what the Chronic Disease Fund is, and how it's intermingled with Questor, I highly recommend you read this piece by Ikarian Point Research, who does a fantastic job explaining the links. On getting towards the end of that piece, you'd start to realize that Banigan's vanishing comes at a very interesting time.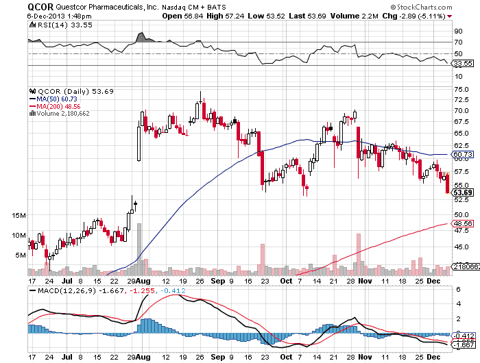 Click to enlarge
(Click to enlarge)
Having said that, it really becomes harder and harder for me to piece together an argument for going long QCOR; which is, in turn, why I'm short.
Much like I feel about Herbalife (NYSE:HLF), it seems that a lot of the cards are already on the table here, and I find myself baffled by people that continue to stake long positions in companies that are under this type of scrutiny, as there's so many more non-volatile instruments to put your money into.
Having said that, if you're looking to go long in Questcor and are seduced by the company's financials, here's 4 other fairy tales you're going to have to force yourself to believe and get behind.
1. A $100,000 Drug Can Be Secretly Worth $3,500,000,000
This one just boils down to common sense 101 for me. I discussed it at length in my last article, but, put simply, when was the last time you bought something that appreciated in value 35,000 times in the matter of less than 15 years?
Citron, in 2011 pointed out that QCOR is far from a "traditional" pharma company due to the fact that it was simply founded on being a sales channel for Acthar. Citron's argument was that the company had "all of its eggs in one basket" - an argument that holds true now as Acthar still is the company's primary breadwinner.
And, this particular egg, Acthar, was apparently found at a biopharma garage sale. Citron then goes on to point out that Questcor acquired the rights to the 60 year old drug, Acthar, from Aventis in 2001 for $100,000. They claim the market for the drug was dwindling at the time.
How bout that old saying, "one man's trash is another man's treasure?" So, if what Citron says to this point is true, we have a company valued at $3.6 billion based on a drug that was purchased as "one man's trash". Since then, Questcor has focused on implementing Acthar for numerous other indications, with plans of building the company around it, as they seemingly have.
2. Four Regulatory Agencies Are Wrong
The FTC has joined in the party of agencies that are now investigating Questcor, including two U.S. That would mean, to be a long, you'd have to convince yourself that the FTC, DOJ, SEC and two U.S. attorney generals offices are investigating Questcor for seemingly no reason.
What are the odds of that? I'll tell you - if it walks like a duck and talks like a duck, it's probably a company doing something shady enough to warrant five separate departments of the government to look at it. But, I digress.
Citron research tells you everything you need to know about the FTC joining in the investigations. For this, it's with regards to acquiring the rights to Synacthen - other agencies are looking into Questcor's promotional practices.
Citron reported:
On June 11, Questcor (NASDAQ) surprised the investment community with news that it had acquired rights to Synacthen for the United States and up to 40 countries from Novartis. Within weeks the stock had doubled on that news, adding 1.75 billion in market cap. Why?

Simple. Synacthen is a synthetic version of ACTH, the sole labeled active ingredient in Acthar, which is Questcor's only source of revenue. Synacthen has been prescribed in Europe for well over a decade for the same general spectrum of indications that Acthar is labeled for in the US - but at 1/1000th the price.

So when Questcor, which previously had no pipeline, no investigational efforts, and no significant double-blind studies proving efficacy of Acthar vs Synacthen, acquired these rights, the analyst community went all giddy - fawning all over how this move protected Questcor's barrier to competition with regard to the pricing of Acthar. Questcor postured the deal as if they bought Synacthen just because they wanted to acquire a new drug, but anyone with half a brain knew that was bullshit.

And thank God the FTC has more than half a brain … sorry, Questcor.
3. Michael Banigan Leaving CDF is a Coincidence
If you go to this link, you'd see a placeholder where "Our Founder's Story" used to be, dictating the story of Mr. Banigan and the fund he started. Now, it leads to a page that gives an Error 404.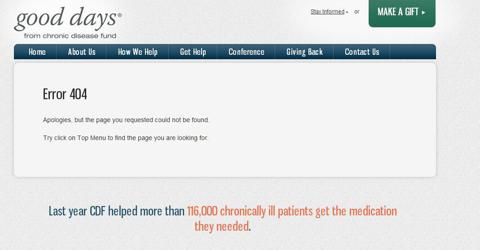 Click to enlarge
(Click to enlarge)
If you look hard enough, you can find the YouTube video that used to be on that site - as through the magic of the internet, the WayBack machine has saved an archive of the site here.
Good Days™ is the fundraising arm of Chronic Disease Fund-which was founded in 2003 by Mike Banigan. Diagnosed with Crohn's disease in 1992, Mike became all too familiar with the high cost of specialty therapeutics needed to treat and control chronic disease. Mike founded Chronic Disease Fund so that underinsured patients could have access to the new breakthrough medications and treatments that help patients live longer, happier, more productive lives.
So, the question remains - why would Banigan, who has been with CDF since its inception, is founder and was in full control of the Board of Directors - making millions a year - leaving just this moment?
Is it coincidence that after 11 years heading the ship, it's now - in the midst of regulatory scrutiny that he decides to seemingly pick up and leave town, sans any type of public explanation?
4. Insider Selling with Little or No Buying Is Bullish
Well, Questcor's insider trading log shows nothing short of what QTR would call "massive insider dumping". Let's see if you agree with me.
According to Yahoo! Finance, over the last 6 months, there have been zero insider purchases, and a total of 414,687 shares sold. At today's price of around $60/share, that's about $24 million worth the stock in the last six months.
Not more than three weeks ago was Don Bailey unloading stock in the $61 to $63 region, netting him $2.4 million simply on his sale from November alone.
As I stated in my last article on Questcor, looking into the last two years gives us even more insight as to just, exactly, how Don Bailey has been faring personally while his company is under investigation and his shareholders are at risk. I'll give you a hint: he's probably not having trouble making ends meet in the last couple of years - between October and November of 2013 alone, he's cashed out over $4 million.
If shareholders are hit hard, whether it's from regulatory investigations or otherwise, I hope they remember how well off QCOR has made Mr. Bailey.
Conclusion
The short conclusion is that Questcor remains a "too good to be true story" for me, and I'm remaining short. I added a little bit short today on the news, but this and Herbalife (HLF) remain my two fire at will shorts, because I believe that the fundamentals are due to catch up to both of these companies. If you can be so seduced by the numbers to convince yourself to go long in the midst of the 4 items above, I don't know what to tell you - except good luck and Godspeed.
Disclosure: I am short QCOR. I wrote this article myself, and it expresses my own opinions. I am not receiving compensation for it (other than from Seeking Alpha). I have no business relationship with any company whose stock is mentioned in this article.