Reliance Steel & Aluminum (NYSE:RS) is North America's largest metals service company. It operates in almost 300 locations in 39 states and overseas. Reliance processes and distributes a full array of metal products, including steels (hot and cold rolled, galvanized, stainless and alloy), aluminum, brass, copper and titanium. End users include manufacturing, commercial and industrial construction, transportation, aerospace, energy, electronics, semiconductor fabrication and mining. Since its IPO in 1994, Reliance has completed over 55 acquisitions and is committed to further consolidation. The company's performance in a subdued metals price environment is encouraging.
Reliance's income statement, given declining steel prices this year, is extremely strong. Its acquisition of Metals USA proved to be timely in that it helped provide Reliance greater revenues in spite of weak prices. A steady increase in its annual top line since 2009 is set to continue this year. In fact, tonnage sold in the third quarter increased slightly, an unusual aberration given seasonal factors.
As would be anticipated immediately following a relatively large acquisition, operating efficiencies were slightly upset during the second quarter. These effects disappeared the following term as cost of revenue and SG&A metrics, along with income margins, reverting to pre-acquisition levels. This almost seamless transition speaks well of Reliance's management.
On the balance sheet, the company has consistently increased its cash position over the past five years. This lends support to its strong current ratio, now greater than four. Financing for the Metals USA purchase naturally has expanded Reliance's long-term debt profile, but already it has paid off five percent of its total liabilities during the past quarter.
Two items on Reliance's balance sheet, both key elements of its working capital, warrant future monitoring. First, is its inventory turnover. Although by no means dramatic figures, inventory levels compared to revenue have increased by sixteen percent in a linear fashion over the past three years. The decline in steel prices over the same period has ameliorated Reliance's turnover in dollar terms, in effect masking its physical inventory. Second, its receivables compared to revenue this year gained fourteen percent on an annualized basis. The company may be allowing customers to extend their credit in order to recognize greater top-line sales.
In terms of DCF valuation, a modest earnings growth rate of only five percent would imply a discount rate of 11.2 percent to value this equity at its current price. The discount rate seems reasonable, but average analysts' estimates for Reliance's earnings next year indicate a 34 percent increase. Of the fifteen analysts, the lowest estimate is for a 21 percent increase. Given Reliance's commitment to increasing its market share, its ability to increase revenues with weak product prices, and indications that steel prices might have bottomed, its current share price seems undervalued.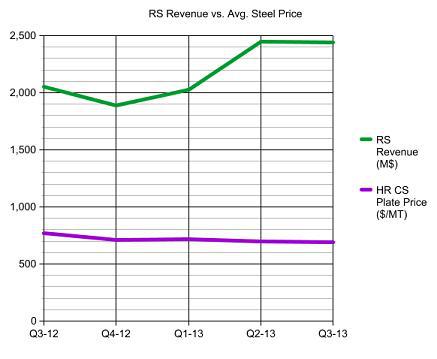 For income investors, Reliance is an attractive proposition. Its board this year twice increased quarterly dividends to shareholders, first in February from $0.25 to $0.30 and then in July from $0.30 to $0.33. Reliance has increased its dividend twenty times since its 1994 IPO, and the company has paid regular quarterly dividends to its shareholders for 54 consecutive years.
Overall, Reliance's performance in a challenging price environment and its drive to acquire new assets make it a compelling long-term opportunity. However, prospective investors should pay attention to its inventories and receivables. This writer would recommend waiting for fourth quarter results before making a final decision, as seasonal factors could affect its revenues and lower its share price in the short term.
Disclosure: I have no positions in any stocks mentioned, and no plans to initiate any positions within the next 72 hours. I wrote this article myself, and it expresses my own opinions. I am not receiving compensation for it (other than from Seeking Alpha). I have no business relationship with any company whose stock is mentioned in this article.