By Michael Kanellos
Overall, you have to say it was a good year.
EnerNoc (NASDAQ:ENOC), which provides demand response services and other energy management services, reported a revenue of $26.7 million for the fourth quarter, a 36 percent jump from the $19.7 million reported for the same year-end quarter in 2008, and $190.7 million in revenue for the year, a whopping 80 percent increase from the $106 million reported in 2008. The megawatts that the company controls rose to 3.55 gigawatts by the end of 2009, up from the 2.05 gugawatts it controlled at the end of 2008.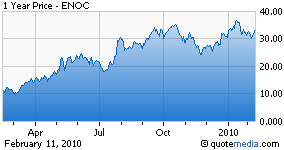 Profit, though, remains elusive. Fourth quarter net losses came to $15.7 million, or 64 cents a share, and net losses for the year came to $6.8 million, or 32 cents a share. Even if you take out non-GAAP costs for acquisitions and other non-recurring events, the fourth quarter net loss for 2009 came to $11.9 million. In the third quarter, EnerNoc reported a profit, its first ever.
The picture could change in 2010, the company said. Revenue will grow to $255 to $268 million in the year and net income will come to 24 to 34 cents, EnerNoc said. Those profits will come later in the year. First quarter revenue is slated to come in at around $24 to $26 million and net losses to come to 70 to 76 cents.
Profitability in part has been weighed down by acquisitions. For the past year, EnerNoc has begun to expand out of demand response services, i.e. providing so-called negawatts to utilities by turning down air conditioners and industrial equipment at large industrial sites, to providing building management services and carbon accounting software.