Polypore (PPO) is a global-high technology filtration company that develops, manufactures and markets membranes used in separation and filtration processes. It is my personal opinions that any long investors should separate themselves from this company, as soon as possible. The company has negative and bearish signals over a spectrum of fundamental and technical indicators that warrant longs to exit their position or to initiate a short position.

Disinvestment Overview:
Analysts are negative
Insider selling
Institutional selling
Very high valuation
High short interest
Negative growth
Don't bet on debt
Death cross
Net income downtrend
Stagnant balance sheet
Polypore has had an excellent run over the past few years, but in recent time an investment in the company is no longer warranted as the fundamentals and technicals have changed for the worse. The company offers a diverse nature, with operations ranging four main segments:
Electronics and EDVs
Transportation & Industrial
Healthcare
Industrial and Specialty Filtration
As an introduction, I would like to demonstrate how the company's divisions have not been performing well.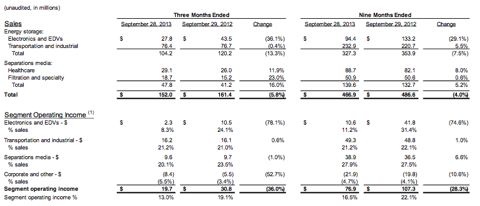 On a nine-month basis, the company's operating segments are either negative or only modestly positive:
Electronics and EDVs: (29.1%)
Transportation & Industrial: 5.5%
Healthcare: 8%
Industrial and Specialty Filtration: 0.6%
These numbers represent a total net sales change of negative 4% and segment operating income down 28.3% over the nine month period in comparison to the prior period. On a three month basis, net sales were down a total of 5,8% across all segments and total segment operating income was down 36%. No one division of the company is sinking it, or keeping it afloat - although I have a sell rating on the company not only for these results, but those discussed below.
Disinvestment Thesis Expanded:
1: Analysts Are Negative: Analysts have not been thrilled with Polypore's recent performance. The main analysts covering the company have negative outlooks on the company moving forward.
Thomson Reuters: Negative
SmartConsensus Report: Sell
Market Edge Second Opinion: Avoid
2: Insider Selling: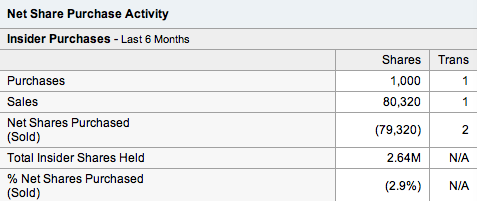 Insiders, who have a clear view into the company's operations and future, have been less than entertained by Polypore's performance as well. Insiders have sold 2.9% of their net shares over the past six months.
3: Institutional Selling:

Following in the path of insiders, institutions have decreased their shares by a rather large stake. Institutions have decreased their positions by 45.56% over the past quarter.
4: Very High Valuation: Polypore is not exactly undervalued in terms of its valuation. Right off the bat, the company's price to earnings ratio is greater than 86% of the other companies in the Electronic Instruments & Controls industry. Polypore's price to sales is higher than the industry's average of 1.5x and its price to cash flow is higher than the industry's average of 14.4x. On a less negative note, the company's price to book is only .01 higher than the industry average's 3.01x. These overvalued metrics signify a company that is overvalued and for the negative growth that will be explained later, the risk of investment in this overvalued company is just not worth it.
P/E (TTM): 43.01x
P/S 2.55x
P/B: 3.01x
P/Cash Flow: 21.74X
5: High Short Interest: On target with insiders and institutions, investors have been shorting shares of Polypore at an increasing rate. With a 45.50% short interest and an increasing number of shares short, investors have expressed their consensus that shares are due to move lower.

6: Negative Growth: Polypore is not experiencing the high growth that could be linked to metrics that warrant such growth - such as a high P/E ratio. Polypore has several key areas with negative growth that are hard to look past.

Keep in mind the company's last earnings call marks its sixth consecutive earnings miss as sales and margins have continued to come in below analyst estimates. Recent earnings came in at an EPS of $0.18, lower than the Street's estimate of $0.30. Sales came in at $152 million, down $9 million from the year-ago reported period.
Quarterly Earnings Growth (YOY): -50.70%
Quarterly Revenue Growth (YOY): -5.80%
EPS Growth : -44.2%
Sales Growth : -4.5%
7: Don't Bet On Debt: Polypore has been very aggressive in using debt to finance growth. Looking deeper into the company's liquidity, Polypore has $26.91 million in cash and $652.16 million in debt. Looking into the metrics, Polypore packs a debt/equity ratio of 1.18x - above the middle range of 0.3x - 0.59x. Moreover, the company has a debt/assets ratio of 0.43x, above the mid range of 0.25x - 0.38x. With regard to Polypore's debt/equity ratio, the company has been more aggressive than 79% of its peers in the Electronic Instruments & Controls industry. Looking at this another way, the company has 1.6% of its share price in cash.
8: Technical Analysis: On a technical analysis basis, a very negative event occurred just recently in late November. An extremely bearish signal known as a "death cross" occurred as the 50 day moving average crossed below the 200 day moving average.

9: Net Income: Polypore has had a pretty substantial decline in net income, and in turn EPS, over the past nine month period in comparison to the last period. For the nine months ending September 28, 2013 Polypore reported a net income per share of $0.68. This is in comparison to the nine month period ending September 29, 2012 where net income per share was $1.13.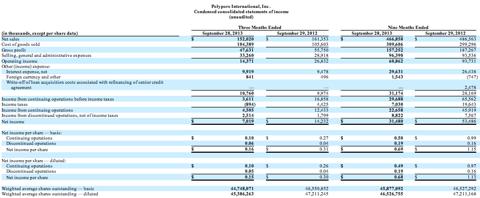 10: Stagnant Balance Sheet: Polypore's total assets have been on the decline over the past four quarters. Total stockholder equity has improved over the past quarter, although is still much lower than the two quarters ending December 29, 2012 and March 30, 2013. Furthermore, no marked improvements to Polypore's balance sheet have taken place.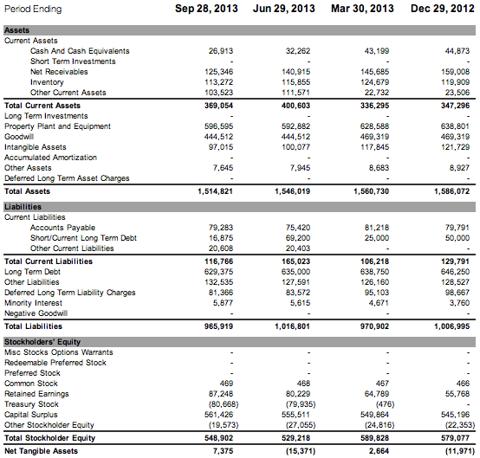 Conclusion
Polypore has too many reasons that warrant an investor to exit any long position they may have in the company. The company is facing a multitude of negative factors, not just a few, which are intertwined and raise some serious red flags. On a short and long term basis, it is difficult to justify the initiation of an investment in Polypore or holding on to an investment in the company.
Insider and institutional selling demonstrate two key parties that are exiting their positions in Polypore. Analysts are also aware of the lackluster company performance and have branded the company with negative outlooks.
Having a high valuation would warrant investment in a high growth company, and that is not the definition of Polypore. The inflated multiples surrounding the stock demonstrate that the market is overvaluing the company. This is demonstrated by the high P/E ratio as earnings have fallen and the high P/S and P/Cash flow ratings as sales and cash have fallen. These metrics demonstrate that an investor is paying more for the negative growth that Polypore is seeing.
A high short interest number is not to be overlooked, as it portrays the market's negative outlook on the company. Having an extremely high float demonstrates that traders and investors are betting on the company's downturn. Over the last month, this short interest has tipped up 0.19 million shares.
The high valuation at Polypore comes along with negative growth the company is seeing with regard to earnings and revenue on a Quarterly YoY basis. Earnings per share growth and sales growth both on a TTM basis are negative as well. Recent earnings came in way below estimates and marks the sixth consecutive earnings miss by the company.
Polypore has a large amount of debt that could hamper future growth, or end the company's attempts to raise more debt if it has to in the future. With over $650 million in debt and only $27 million in cash, the company has a debt load that needs to be paid down. This can become difficult if earnings and revenue growth are on the decline as operational income, and in turn cash flow, would be used to pay down debt.
Traders who see a death cross, 50 DMA slumping under the 200 DMA usually run for the exits on a company they are trading, or short the shares instead. This bearish technical indicator demonstrates a negative sentiment moving forward on a technical analysis basis.
Polypore's net income has had a substantial decline in the nine month period ending September 28, 2013 in comparison to the prior year's period. Moreover, shareholder equity has improved over the past quarter, although has not reached levels seen in earlier quarters.
Polypore may be an idle company that is hiding deep in your portfolio, attempting to avoid being seen. It is time to filter out your shares of Polypore, and separate yourself from the company as it continues to make membranes utilized in separation and filtration products.
Investors looking to enter the diversified machinery industry should instead park their money in General Electric (NYSE:GE). GE has a P/E ratio of 20.26x, a P/B ratio of 2.18x and a P/S of 1.85x that makes it a more attractive investment with regard to valuation. Moreover the company has a solid dividend of 2.80%, and is not facing the problems seen in Polypore.
For the reasons justified above, I recommended exiting any long investments in Polypore - and for those inclined to weigh the benefits of initiating a short position.
Disclosure: I have no positions in any stocks mentioned, and no plans to initiate any positions within the next 72 hours. I wrote this article myself, and it expresses my own opinions. I am not receiving compensation for it (other than from Seeking Alpha). I have no business relationship with any company whose stock is mentioned in this article.
Additional disclosure: Always contact a financial professional before executing any trades. This article is in my own personal opinion and is informational.