The purpose of this series is to highlight stocks that are undervalued, profitable, underperformed the market, and have a favorable technical outlook. The stock that I will be covering for my undervalued series this week is Oasis Petroleum (NYSE:OAS). OAS stock has fallen 9.52% in the last month compared to the S&P 500 (NYSEARCA:SPY), which has gained 2.01% in the last month. I believe Oasis Petroleum is a solid undervalued long-term choice to gain exposure to the growth in oil production in the United States. Oasis Petroleum operates in the Bakken oil field, which is one of the largest and fastest growing oil fields. Recently in September, Oasis announced that they had acquired 161,000 net acres in the Bakken for $1.5 billion, bringing the total acreage Oasis owns to 492,000 acres. The region within the Bakken formation that Oasis operates is called the Williston Basin, and the chart below from the Oasis shows this region is right in the middle of the Bakken formation. In a recent investor presentation, Oasis estimated that the present value of proved reserves is at $5.0 billion which is more than the current market cap of Oasis, meaning Oasis is trading at a 13.64% discount to its proved reserves. With the acquisition of new acreage, proved reserves should continue to increase along with drilling, and I believe the share price will follow as well.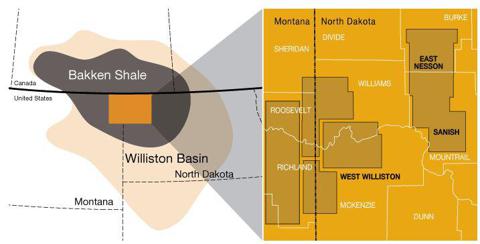 Value
To value OAS, I will be using a DCF calculator, with data for earnings and growth coming from Zacks.com, benchmark data from longrundata.com, and CPI data from the BLS. The DCF table below shows shares of OAS is undervalued by 140.90%, which represents a significant opportunity for price appreciation for shares of OAS.
EPS [ttm]: $2.61
Long-term Growth Rate: 30.00%
Earnings grow for next: 5 years
Level off: to 1% after
Benchmark return: 10 yr annualized SPY return of 7.44%+1.00% inflation= 8.44% benchmark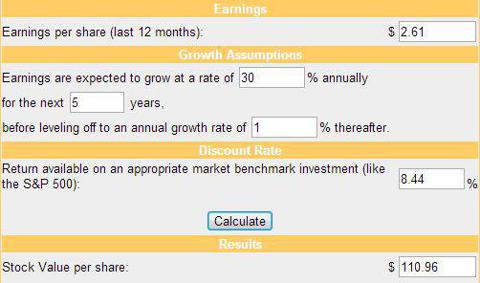 Technical Outlook
The chart below shows that shares of OAS have been steadily rising this year, until shares hit an all-time high of just over $57 in mid-October. Since then, shares have been in a steady decline to current levels of just over $46, and after this recent fall, shares of OAS are near two levels of support. The first level of support that is important for OAS is its upwards trending support level [Red Line] that has been support this year. The more important support level is the horizontal level [Blue Line], which is at just over $44, and recently tested this level at the beginning of this month. The horizontal level of support is important because this is the level where shares failed to close above at the beginning of August, and the early part of September. Shares of OAS broke out above this level on September 18th, and rose steadily to its all-time high of just over $57. With shares of OAS having pulled all the way back to this level of support, I believe going forward that these support levels will hold, and OAS will continue to follow its upward trending support towards making new highs in the long-term.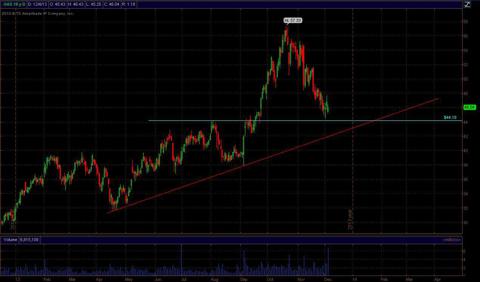 Catalyst
The biggest catalyst for Oasis Petroleum going forward is the continued development of acreage that Oasis owns. The chart below from a recent investor presentation shows Oasis has been increasing its production and reserves significantly with production estimated to be between 42-46 MBoepd, which represents a 27%-39% increase in production quarter over quarter which is a significant amount of growth. In addition to increased production growth, Oasis has been transitioning drilling sites to "full pads" which increases operational efficiency, and thus reduces operating costs for drilling. Secondly, Oasis is well positioned with the existing infrastructure that is in place, which allows oil that has been drilled to be shipped by pipeline or rail to processing facilities. The cost savings measures combined with the increased production and scale of Oasis operations should be a strong driver for the price of the stock going forward.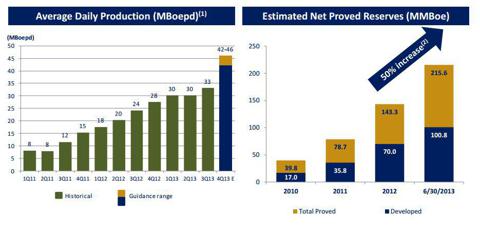 Risks
The biggest risk to Oasis is falling oil prices. If oil prices fall, that would cut into the margins and cash flow of Oasis. Another possible risk that is likely to affect operating costs is increased regulatory costs if there are new rules for hydraulic fracturing. As any other business or individual, when the government creates new rules & regulations there will be added costs to comply with those regulations, and thus will cut into margins. There is uncertainty around this issue because it is not known what the regulations will be or how restrictive they will be, and this is a risk because of the uncertainty around this issue.
Closing thought
I believe shares of OAS are poised to move higher from current levels, because the stock is undervalued, the stock recently was near support and bounced off, and the company is well positioned to take advantage of the growth in oil production from the Bakken formation. Going forward, the addition & development of new acreage in the heart of the Bakken formation, along with efficiency measures should drive earnings for Oasis in the long-term. I believe going forward, shares of Oasis Petroleum in the long-term will move higher to my fair value estimate of $110.96.
Disclosure: I have no positions in any stocks mentioned, but may initiate a long position in OAS over the next 72 hours. I wrote this article myself, and it expresses my own opinions. I am not receiving compensation for it (other than from Seeking Alpha). I have no business relationship with any company whose stock is mentioned in this article.