In one fell swoop, four earnings reports after Thursday's closing bell gave investors a clear message regarding the state of the all-important U.S. consumer: they are home eating pasta. With investor's expecations already running very high ahead of their respective reports, Chipotle (NYSE:CMG), Buffalo Wild Wings (NASDAQ:BWLD), Panera Bread (P, and BJ's Restaurants (NASDAQ:BJRI) each reported very disappointing numbers that will be sure to cause even the staunchest of restaurant bulls to throw the towel in on this "valuation stretched" group.

Over the past few weeks, the strength in BWLD, CMG, and PNRA was nothing short of impressive. While BJRI did not come across our relative price screens, BWLD, CMG, and PNRA each showed up on a daily basis. As most stocks were busy breaking below their respective 50 and 150 day SMAs, all of these names were busy holding their respective 20 Day SMAs, just shy of their respective 52 week highs. That is, until today's reports.

Of the four reports, Buffalo Wild Wings' numbers were by far the most disappointing. The company's Q4 earnings of $.46 per share missed expectations by $.05 a share. While revenues rose 19.6% year-over-year to $145 Million, they came in almost $4 million shy of revenue estimates. 2010 EPS guidance also fell short - the company is now looking for EPS of $2.02, as opposed to the $2.14 that analysts had been expecting. Shares dove in after-hours to the tune of almost $6.

PNRA and CMG did not disappoint to nearly the degree that BWLD did. Both companies registered relatively in-line numbers, with CMG beating on the bottom-line and meeting top-line numbers and PNRA meeting numbers on both fronts.

Although the least well-known of the four, brewer BJ's Restaurants offered what may have been the most revealing comments on the state of the consumer during their conference call with investors. According to the company's CEO:
We don't expect to see meaningful and sustainable increases in our guest traffic and comparable sales metrics until the overall job market begins to improve in our country.
As we ponder these respective reports, one thing remains clear: despite the occasional bursts of consumer activity here and there, the U.S. consumer will remain under severe pressure until sustainable job growth reappears.

From what we can tell, maybe the best way to get a true read on when the U.S. consumer is ready to spend again will be to watch the action in American Italian Pasta Co. (AIPC). One of the few shining stars to flourish during the brutal bear market of 2007-2008, AIPC represents the eating habits and necessities of the current consumer who must scrimp and save while under-employed, over-worked and under-paid in this brave new world of ours. Observe how AIPC has been basing out during the entire 11-month mini-bull and how it has recently broken out to new highs: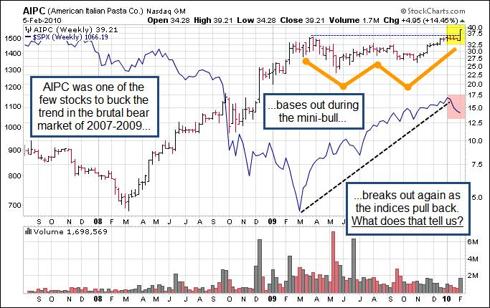 Click to enlarge
Source: Stockcharts.com

AIPC's recent push to new highs appears sustainable. Our guess is that it hangs in there just fine and maybe even moves higher as these other over-valued restaurant names break lower.

Looking ahead, keep an eye on AIPC. Any move back into the low $20s and high teens in the next 1-3 years would imply that the consumer is once again willing to spend in a big way on such discretionary items as those tasty chicken burritos at CMG and the wings at BWLD. Until then, it seems clear to do one thing: sell all and any rallies in the coming weeks and stick a fork in them - the upside in the restaurants is over.

Disclosure: No positions in any of these names.