Enbridge Energy Partners (NYSE:EEP) is a North American pipeline company, structured as a master limited partnership, and has a market capitalization of $9.3 billion. Enbridge transports crude oil via long-haul pipelines and operates crude oil storage and natural gas midstream gathering and processing facilities in the US. Enbridge Inc. (NYSE:ENB) is the general partner of Enbridge Energy Partners and holds 21% of the outstanding units. The company has been doing poorly over the last four quarters as its natural gas business posted declining operating income but Enbridge Energy Partners achieved a minor turnaround in this segment with an adjusted operating profit of $17.3 million in Q3 2013 vs. $15.7 million in Q2 2013. The MLP invests massively in expansion projects and strengthens its balance sheet which should support distributions going forward.
Share performance
Enbridge returned minus 4% over the last two years and has been trading in a relatively narrow trading range of $27-33 per unit without significant impulses for any upside or downside movement.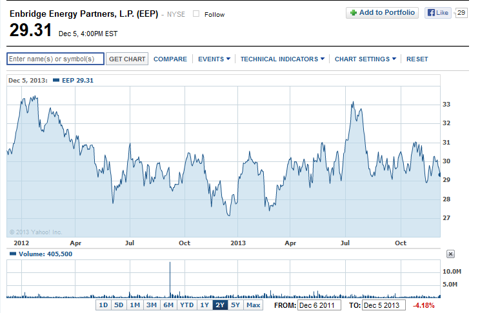 Click to enlarge
Over the last five years Enbridge Energy Partners returned about 110% vastly outperforming Kinder Morgan Energy Partners (NYSE:KMP) which gained 62%. Plains All American Pipelines (NYSE:PAA) produced unit gains of 198% over the same time period.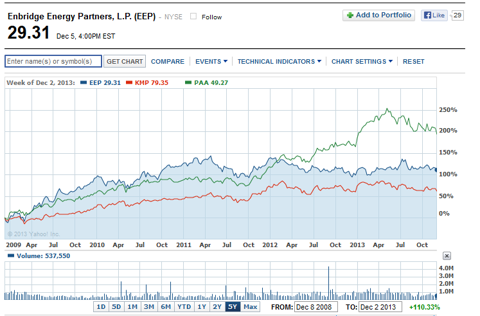 Click to enlarge
Liquids business has potential
Given the explosion of onshore oil and gas production in the US, I am much more positive on the US pipeline operations of Enbridge Energy Partners than on the pipeline network in Canada. Enbridge Energy Partners currently invests in a variety of expansion projects (see section below) which should allow it to boost future throughput volumes for its pipeline assets and processing facilities. Adjusted operating income in the liquids segment has been somewhat volatile but hit a relatively decent $152 million on average over the last five quarters. Lakehead volumes have recovered in Q3 2013 and are now on the same level as in Q1 2013.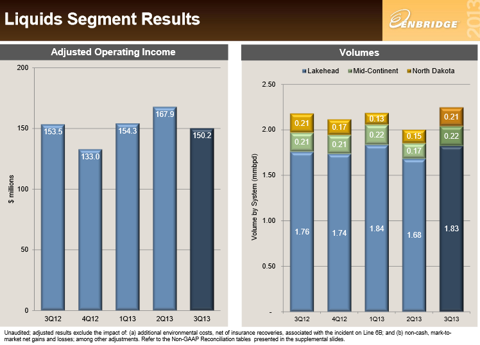 Click to enlarge
Growth projects support distribution payments
Enbridge has quite a few expansion projects as work-in-progress. Enbridge shows aggressive capital deployment to a host of pipelines which are expected to come online until the first half of 2016. A focus on higher-margin liquids projects should further support distribution growth from Enbridge Energy Partners.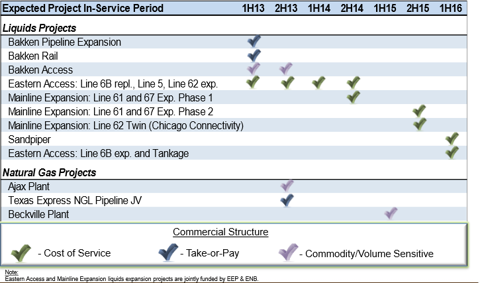 Click to enlarge
Distribution history and yield
Enbridge Energy Partners presently pays $0.5435 per quarter which translates into an annualized payment of $2.174. Investors who purchase this master limited partnership get to enjoy a forward dividend yield of 7.4%. This yield is higher than the 6.7% paid by investor darling Kinder Morgan Energy Partners.
Enbridge Energy Partners has a distribution record starting as far back as 1992. The distributions per unit over the last fourteen years are displayed in the graph below. Distributions have increased from $1.75 in 2000 to $2.174 in 2013 (an increase of 24%).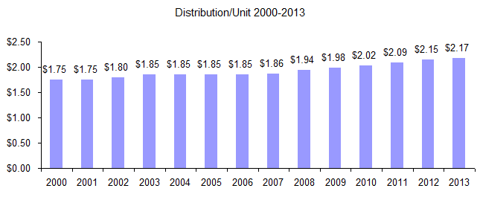 Click to enlargeDistribution growth hasn't been as spectacular as with other MLPs but Enbridge Energy Partners has one of the most attractive yields in the sector. Atlas Pipeline Partners (NYSE:APL), which I also hold in my portfolio based on outstanding historical performance, also pays investors more than 7%. Magellan Midstream Partners (NYSE:MMP) has the lowest yield of 3.68% but its footprint in the Permian Basin and Eagle Ford shale give this company still decent capital appreciation potential.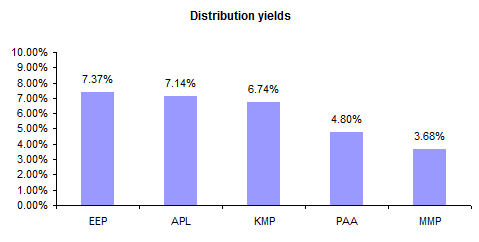 Conclusion
Investors who desire high distributions might want to opt for either Enbridge Energy Partners or Atlas Pipeline Partners. Plains All American Pipeline and Kinder Morgan Energy Partners are also high-yield, well-diversified master limited partnerships that could be added to long-term income-oriented portfolios. Magellan Midstream Partners is a fast growing pipeline company which focuses aggressively on acquiring pipeline capacity. Its distribution growth record is just as impressive as the one for Kinder Morgan but its distribution yield is too low in comparison. Investors who want to get exposure to a high-yielding US pipeline play should take a closer look at Enbridge Energy Partners. Long-term BUY on favorable industry economics, expansion drive and high current yield.
Disclosure: I am long KMP, APL. I wrote this article myself, and it expresses my own opinions. I am not receiving compensation for it (other than from Seeking Alpha). I have no business relationship with any company whose stock is mentioned in this article.