Eastman Chemical (NYSE:EMN) was incorporated in Delaware in 1993, after being spun-off from Eastman Kodak (NYSE:KODK). Unlike Kodak, a company looking to get back on its feet after emerging from bankruptcy, Eastman Chemical is a Fortune 500 company and a good, lesser-known play on the global recovery.
A global specialty chemicals powerhouse
I'm sure most people would have wanted the blue-chip camera business much more than the boring chemical company when the spin-off occurred in the early 90's. Today is a different story.

Source: Eastman Chemical annual report 2012
Taking a look at Eastman Chemical's leadership positions in a variety of markets, it's easier to understand why the company has managed to increase earnings by double-digits for three years straight. It is also well on its way to increasing them by double-digits for a fourth year as well.
It's also geographically diverse, with 45% of revenues coming from North America, 6% from Latin America, 21% from Europe, the Middle East, and Africa, and 28% coming from the lucrative Asia Pacific region.
After acquiring a leading specialty chemicals manufacturer, Solutia, back in 2012, the company also expanded its reach deeper into faster-growing emerging markets such as China. Eastman said that the Solutia deal would "increase its revenue by 10 percent a year in the Asia Pacific region for the next several years."
The Solutia deal now
On October 25, during the Q3 2013 earnings call, CEO James P. Rogers stated that the integration between Eastman and Solutia was "largely complete." CFO Curtis Espeland also noted that Eastman was "on track to move over the remaining former business of Solutia early next year." The company is also on track to realize "greater than $100 million run rate by the end of this year," or 5% of the acquired revenues. Espeland said that he expects the run rate to be closer to 6% of acquired revenues by the end of 2014.
Espeland also explained that paying a "significant portion" of the Solutia acquisition term loan has been a main focus for this year. Related long term debt was reduced by an additional $250 million during the third quarter. This makes the total payment amount (since closing the deal in Q3 of last year) around $600 million, and when coupled with the "more attractive funding in the commercial paper and other credit markets", Eastman has managed to reduce the original $1.2 billion to a mere $150 million.
The debt from this deal is being paid down quickly, which is impressive and good for long-term shareholder value. Especially when considering what it's being paid down for-- a lucrative asset with prime exposure for rapid and continual growth.
Fundamentals and valuations
After raising full-year EPS guidance for 2013 back in July to "between $6.40 and $6.50", Eastman cut them back down to between $6.30 to $6.40. This caused a minor sell-off, but the company still beat earnings' estimates and is still on track to grow earnings by double-digits this year.
All segments saw growth during the quarter, with the exception of Adhesives and Plasticizers, due to lower prices and volumes.
| | | | |
| --- | --- | --- | --- |
| Segment | Revenues Q3 2013 (millions) | yoy increase | % of revenues |
| Additives and Functional Products | $445 | 10% | 19.08% |
| Adhesives and Plasticizers | $321 | -8% | 13.76% |
| Advanced Materials | $583 | 4% | 25.00% |
| Fibers | $363 | 4% | 15.57% |
| Specialty Fluids | $620 | 5% | 26.59% |
Data from Zacks Equity Research
The company saw its first positive quarter of growth in Europe for the year, which was up 3%. Eastman's sales were actually up across all geographic segments year-over-year, and these higher sales, coupled with lower costs, led to adjusted earnings of $1.68 per share. This was an increase from Q3 of last year, when the company reported $1.57 per diluted share.
Earnings, revenues, and free cash flow have all been trending upwards at an impressive pace, especially over the last four years: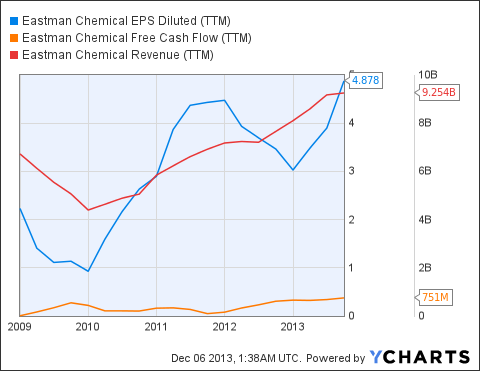 EMN EPS Diluted (TTM) data by YCharts
The company also has a relatively strong balance sheet, which should strengthen as costs related to the Solutia deal are reduced and debt is paid down.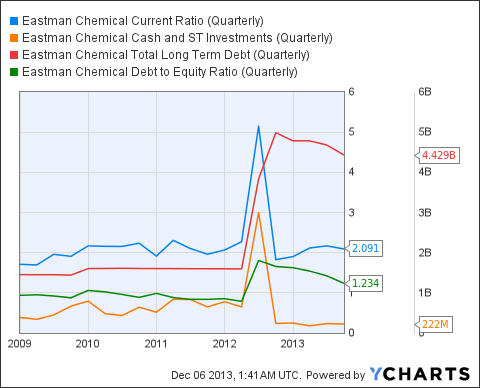 EMN Current Ratio (Quarterly) data by YCharts
Shares of Eastman Chemical also look cheap at 15.25 times earnings and only 10.63 times forward earnings, considering the company's performance over the last three years, as well as its expected earnings growth going into the future.
But what's in it for the shareholder?
Double-digit earnings are nice and all, but double-digit dividend increases are even nicer. The company announced this week that it will boost its dividend to $0.35 a share-- a 17% increase. This marks the third consecutive year of increases, and the streak should continue as management intends to continue to increase earnings and free cash flow significantly going forward.
Eastman Chemical paid $47 million in dividends during Q3, and also repurchased $35 million of common stock. As business booms, so should the amount of cash returned to shareholders. The company's current payout ratio sits at only 25%. Shares currently yield 1.6%.
The bottom line
Eastman Chemical is a boring, often unnoticed company that has quietly grown earnings by double-digits over the last three (and soon to be four) years. This was all in a lukewarm-- and possibly even bad-- global economic environment.
Synergies from the Solutia deal should continue to benefit Eastman as well, leading up to a solid 2014. The company's CEO elaborated more on this during the earnings call, stating that:
"...When we put all the actions we are taking together, we see them contributing somewhere between $0.50 and $0.75 per share in 2014, which keeps us on track for double-digit earnings growth in 2014."
The current average analyst estimate for FY 2014 EPS is $6.99. Putting the current P/E multiple of 15 on that estimate gives us a price of $104.85-- around 40% upside from today's prices with limited downside going forward.
This price target is easily achievable by the end of 2014 if the company continues on its current trajectory, and even more so if the sluggish global economy starts to pick up. Eastman Chemical also estimates full year EPS for 2015 to come in at $8, as well, which indicates even further growth and upside going out further if estimates continue to be met or even exceeded. Currently, it looks like the market is ignorant of Eastman Chemical's true intrinsic value going forward.
Disclosure: I have no positions in any stocks mentioned, but may initiate a long position in EMN over the next 72 hours. I wrote this article myself, and it expresses my own opinions. I am not receiving compensation for it (other than from Seeking Alpha). I have no business relationship with any company whose stock is mentioned in this article.