The MLM nature of Herbalife (NYSE:HLF) is well established at this point, but many investors believe that this is simply a savvy business model. The strongest arguments for the company are its fundamentals; Herbalife has a strong bottom line, with great growth, significant stock buybacks, and a regular dividend. If the only things one knew about the company were basic numbers such as these, the story would appear fantastic. However, a long-term investor should understand why this company is likely to eventually fail, for reasons that will prove Bill Ackman's thesis correct.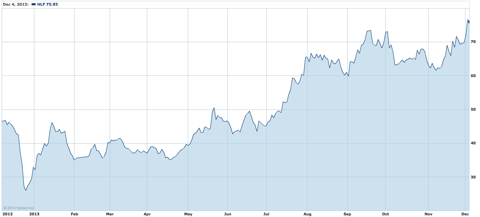 A Long-Term Investment?
The most important reason to avoid Herbalife is that its primary product is hope. This is evident in both Herbalife's product line and the direct-selling method it relies upon. Consider this quandary: how can Herbalife's sales be doing so well if its prices aren't competitive? I believe it is because Herbalife's true customers are those in need of hope, primarily for a "business opportunity", and less so for the products which offer the same.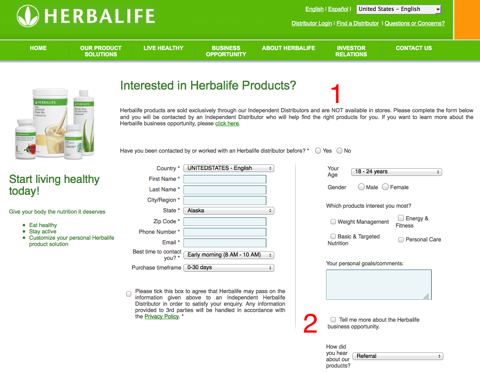 The first thing I'm trying to point out with the above graphic is something that Herbalife admits upfront; its products are not available in stores. If you want to purchase the products, you have to fill out this form and wait to be contacted by a distributor. When is the last time you bought a product that first requested your timeframe of contact, and the quickest option was 0-30 days? The second point in the graphic is equally odd, and can be seen throughout Herbalife's website; how many companies focus on recruiting you to sell for them? What type of company makes it difficult to buy its products right away?
The Products
The prices for Herbalife's products cannot be found on its website, nor can they be found easily on the internet. When I was able to find price lists, they were between 2-5 years out of date, and usually from different countries. The best I found was this retail price list from a distributor in the USA from 2011, which I believe is fair evidence still.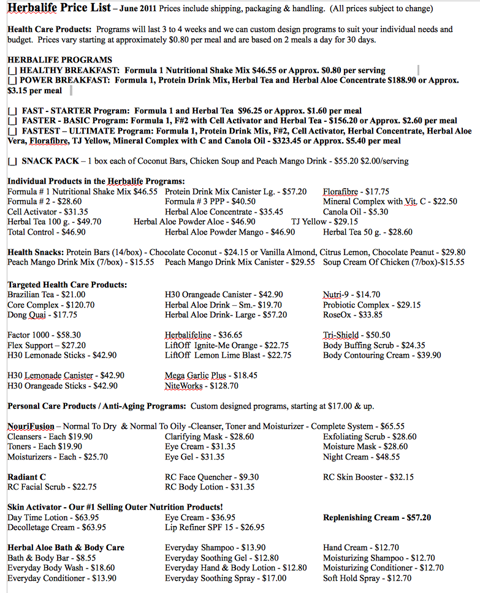 (Source:NeedAChance.com)
The ingredients and nutrition data for these items can be found on Herbalife's Product Catalog; combined with eBay, I figured there is enough public information to see if these were reasonably competitive prices. I found that Herbalife's products not only had significantly higher prices, but some also seemed to be of lesser quality than the competition. Here is an example:
Herbalife's chocolate peanut protein bars come 14 to a box, and have 150 calories each, and feature 12g of protein for a price of $2.13 a bar from this distributor. That seemed rather skimpy to me, especially for the cost, so I compared them to a chocolate peanut butter Clif Bar. These Clif Bars have 250 calories, 20g of protein, and cost $21 for a dozen directly from the company, or $1.75 each. They also feature 70% organic ingredients and no hydrogenated oils, two important factors for health foods that Herbalife's product couldn't claim. To be fair, my visit to eBay showed the same Herbalife bars for $24-25 box, which negates the price difference. But what does that mean for the regular distributor interested in the business opportunity?
The Customers
One gigantic problem has been the churn rate for those distributors, who I believe are Herbalife's true customers. This is typical of every pyramid scheme, but not necessarily true of every MLM company. Avon (NYSE:AVP), for example, gives you the option of buying its product through a representative or directly through its website. Herbalife's website, however, has one primary purpose, and that is clearly recruitment.
The numbers within Herbalife's Statement of Average Compensation are depressing. 71% of distributors end up only buying for personal consumption, and 12% are non-supervisors who make $104 annually on average. The remaining 17% are the 82,464 supervisors, most of whom earned less than $1,000; 90% of them earned less than $5,000 in 2012 according to the company. Herbalife's main product is selling the hope of a rewarding business opportunity, however, it appears to be failing 99%+ of distributors who fail to break the poverty line selling Herbalife's products.
There have been consistent replacements for these failed distributors every year so far, but should a long-term investor have faith that this trend will continue? Even with the recent positive ruling from a Belgian court and plenty of growth viable globally, a reputation can be lost very quickly in the digital world. With a small army of disgruntled ex-distributors growing every year, the public backlash against Herbalife has most likely just begun.
The Law
Although Herbalife is clearly an MLM company, that does not necessarily mean it is a pyramid scheme, even though the two do share many of the same features. There is no guarantee that the SEC will take action against Herbalife for its structure, however, I do believe that Herbalife is likely guilty of plenty of other legal mistakes, which have been well outlined here by Matt Stewart. A class-action lawsuit or other action alleging price discrimination is the most likely of these scenarios, which could be devastating for Herbalife shareholders. There are simply too many potential legal problems here for me to be comfortable investing.
Conclusion
My primary concern with Herbalife is long-term shareholder value. Even though the company has been growing fantastically, I believe that its methods are unsustainable, and that the company fails to offer anything special to differentiate its products or justify its prices. There will always be a market for hope to reign over reason, but everything imperfect unravels even faster in this information age.
Still, the market can stay unreasonable longer than most of us can stay solvent, and there are powerful investors supporting Herbalife. Due to those factors, I would not suggest shorting Herbalife stock, as the potential for loss is too great in the near future. If a friend were determined to take a position, I would suggest incrementally buying long-term put options, due to their limited risk.
Disclosure: I have no positions in any stocks mentioned, and no plans to initiate any positions within the next 72 hours. I wrote this article myself, and it expresses my own opinions. I am not receiving compensation for it (other than from Seeking Alpha). I have no business relationship with any company whose stock is mentioned in this article.