BP (NYSE:BP) presently trades at $46.80 and its 52-week High at $48.03 is clearly in reach. BP produced capital gains of 10% so far this year and the stock is up 14% over the last 52 weeks. Over longer performance measurement periods, the company underperforms its peers substantially. The peer group against which BP is benchmarked below consists of Exxon Mobil (NYSE:XOM), ConocoPhillips (NYSE:COP), Chevron (NYSE:CVX) and Total (NYSE:TOT). BP's capital return over the last five years has, in fact, been flat. The large decline in share price depicted in the chart (April-June 2010) represents the reaction of the market to BP's Deepwater Horizon oil spill: In a matter of two months BP has lost 55% of its market capitalization.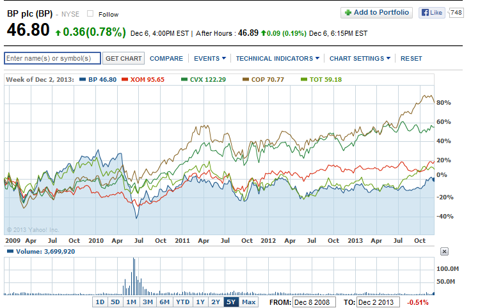 After the Deepwater Horizon explosion and the subsequent oil spill in the Gulf of Mexico, BP's valuation reflected extreme pessimism with regard to anticipated settlements and litigation costs. It is difficult at this point in time to name the exact amount of damage caused to businesses and the environment and I suggest that a lot of claims brought forward by plaintiffs are exaggerated.
At the height of the oil spill the usual panic headlines dominated publications. Time Magazine asked whether BP was actually headed for bankruptcy (article). I always found this approach to be extremely negative because BP achieves about +$20 billion a year in operating cash flow and could have more or less comfortably afforded to pay even high amounts of claims. Now, things have moved forward and BP has entered the litigation phase. A federal judge recently halted payments to businesses that have filed compensation claims (source):
NEW ORLEANS (NYSE:AP) -- A federal judge has temporarily suspended BP oil spill settlement payments to businesses while he reconsiders the company's arguments against compensating those that cannot trace losses directly to the nation's worst offshore oil spill.

Judge Carl Barbier issued an order Thursday noting the claims office will continue taking and processing business claims but won't make final decisions or payments until the matter is settled.

BP is trying to block what could be hundreds of millions of dollars in payments to Gulf Coast businesses.
This is a big victory for BP and it is likely that BP will ultimately pay significantly less than what investors originally thought. My previous remarks with regard to BP's settlement record remain valid. In a related BP article I have written that BP's additional charges for restoration costs were relatively minor and a big portion of charges had already been accounted for:
BP recognized a cumulative charge of $42.5 billion in relation to the 2010 Deepwater Horizon explosion and subsequent oil spill in the Gulf of Mexico. In Q3 2013 another $40 million was added in relation to restoration costs. At the end of the third quarter BP had $700 million of headroom left in the $20 billion trust fund established in 2010 which is included in the total cumulative net charge of $42.5 billion. If BP exhausts the $700 million left in the trust fund, additional costs will be charged right to the P&L. I think that the majority of claims have now been accounted for and charges/payments in the future will be marginal and declining.
Low P/E valuation in a lowly valued large-cap energy group
Worries are sometimes a good thing. They are good when they drive the valuation of a first-class, profitable business with global operations to such low valuations that the margin of error is minimal. BP currently trades at only 9x forward earnings giving long-term oriented investors a great deal in my opinion. A final settlement should furthermore be a huge catalyst for the stock.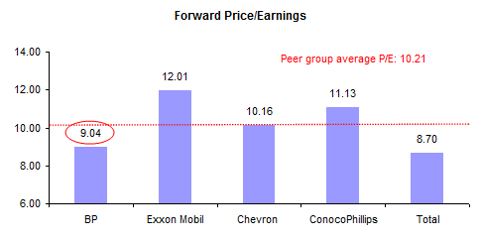 Just as important as a low valuation is BP's dividend yield. BP has one of the highest yields in the sector and actually pays a higher yield than some REITs and master limited partnerships. BP now pays nearly 5% while other large-cap US energy companies pay between 2.6-3.9%.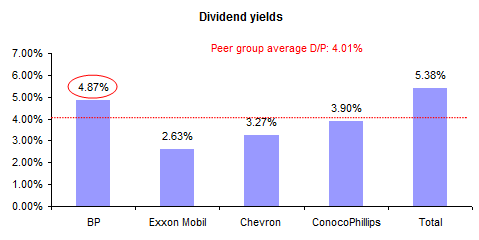 An updated summary valuation- and dividend table is provided below:

Conclusion
Even though BP ran up 13% over the last three month, the company is still suffering from the aftermath of the Gulf of Mexico oil spill and settlement risk hangs over the stock. BP has the resources at hand to deal with further settlements which I estimate to be marginal. BP still provides investors with a deep discount to intrinsic value as the company merely demands a multiple of nine times forward earnings. Also, the entire sector appears to be undervalued at a multiple of just about 10x forward earnings. In addition, investors get to enjoy a relatively high dividend yield approaching 5%. I believe the company has meaningful upside potential once the company has worked through its settlement process. Strong long-term BUY on valuation, yield, recent court win to block settlement payments and strong cash flow generation.
Disclosure: I am long BP. I wrote this article myself, and it expresses my own opinions. I am not receiving compensation for it (other than from Seeking Alpha). I have no business relationship with any company whose stock is mentioned in this article.