Thomas & Betts Company (TNB) was founded in 1889 by Mr. Thomas and Mr. Betts, selling electric conduit in New York City when incandescent lighting was first introduced. Their enterprise has grown into a well-managed mid-cap company that is successfully weathering the current economic conditions.
The company produces and markets 80% of the products needed to carry electricity from the power generating plant to the electrical outlet into which you plug your computer. Fourth-quarter and full-year 2009 results, along with 2010 guidance, were recently announced, and it seems things are looking up. TNB's markets could be considered "sweet spots" in an economic recovery.
Thomas & Betts manufactures more than 70,000 parts and components used in electrical construction and manufacturing (82% of 2009 revenues), steel structures for utility electrical transmission and telecommunications (12%), and commercial-grade heating and air conditioning equipment (HVAC; 6%). Some 40% of revenues are tied to the construction market – commercial, industrial and residential. Marketed mostly to distributors, TNB has built strong relationships by offering a wide selection of quality products and timely shipments, reducing client's purchasing overhead costs and working capital needs. This strength has allowed TNB to maintain excellent operating cash flow during difficult times. TNB employs 9,000 people in 50 facilities, mostly in the United States. As the economy turns and TNB's major markets recover, profits and share prices should rise.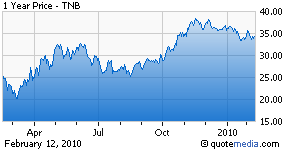 Revenues in 2009 were $1.9 billion, down 23% from $2.5 billion in 2008. Net income from continuing operations in 2009 was $2.27 per shares, down 35% from $3.48 generated in 2008. Consolidated earnings profit margins decreased to 17.7% of sales from 19.7% in 2008. We all know the reasons for these declines: economic weakness in TNB's main markets. Thanks to conservative management, cash flow from operations has held up quite well, decreasing only 7.7% in 2009 to $238 million.
Management forecasts 2010 as a flat revenue year, with earnings in the $2.20-$2.60 range. Electrical revenues are anticipated to be flat, steel structures up and HVAC down. Wall Street consensus earnings per share estimates call for $2.50 in 2010 and $3.08 in 2011, and estimates have been rising since the release of 2009 results.
Thomas & Betts is well positioned for an uptick in economic activity. While projecting a flat year for electrical products, a stronger-than-expected housing turnaround for new construction and remodeling will directly benefit TNB and may help offset anticipated commercial construction fragility. Electrical components and steel structures products specifically marketed to utilities could experience steady growth as the electric grid upgrade and buildout finally takes shape, along with connecting online alternative energy generating facilities.
Commercial-grade HVAC demand may experience a revival as older buildings are retrofitted with more energy efficient heating/cooling plants. In addition, TNB is focusing on providing more HVAC replacement/upgrade/repair services as new commercial construction remains weak. If these markets recover faster than management expects, earnings surprises will be to the upside. Stabilizing and recovery of TNB's markets, along with recent cost cutting initiatives, also should help gross margins recoup. Some bullish analysts believe EPS of $2.75+ is possible in 2010, followed by upwards of $3.45 in 2011. TNB seems to be well positioned for growth in these markets over the medium- to long-term.
Thomas & Betts ended 2009 with $482 million in cash and $638 million in debt. In late 2009, management issued $250 million in notes due 2021, and with the proceeds repaid $125 million in higher-cost debt due to mature in 2013 along with $95 mil of their revolving credit facility. The next debt maturity is not until the fourth quarter of 2012, and there is approximately $350 million available on corporate lines of credit. Management continues to conservatively manage its cash and has sufficient on hand to fund acquisitions as they become available. TNB has a long history of making timely acquisitions to enhance organic growth and has the financial strength to continue this business model.
Thomas & Betts stock has a market cap of $1.78 billion, 53 million shares outstanding, a beta of 1.36, and it is included in the S&P Mid-Cap 400 Index. As a mid- to late-cyclical stock, TNB should see better days ahead, with rising EPS driving share prices higher. If the worst of the economic decline is behind us, TNB should have consistent earnings growth potential of 13%-15% a year. My price target is $48 during the next 12 to 24 months, 16 times 2011 current consensus estimates, with the belief that these estimates may be conservative.
If you are looking for a mid-cap industrial company with excellent management, TNB is worthy of your due diligence. Beating Street estimates, as TNB accomplished in its 2009 fourth quarter, is always a thing of beauty.

Disclosure: Author is long TNB and has been a shareholder since 2006.