On Thursday, December 4, Fifth Third Bancorp (NASDAQ:FITB) issued $450 million of preferred stock. The Series I preferred is a non-cumulative, fixed-to-float issue.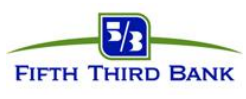 Fifth Third Bancorp is a diversified financial services company headquartered in Cincinnati, Ohio. At September 30, 2013, the Bancorp had $125.7 billion in assets, operated 18 affiliates with 1,326 full-service Banking Centers, including 104 Bank Mart® locations open seven days a week inside select grocery stores, and 2,374 ATMs in 12 states throughout the Midwestern and Southeastern regions of the U.S. The Bancorp reports on four business segments: Commercial Banking, Branch Banking, Consumer Lending and Investment Advisors.
The details of the offering are: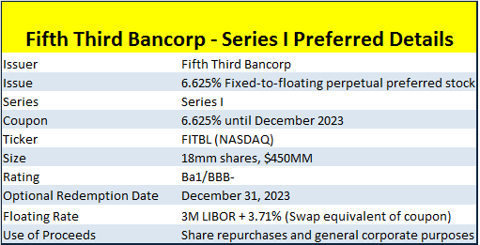 Click to enlarge
This is a typical non-cumulative, perpetual fixed/float bank preferred.
Before relative value of the issue can be determined, a financial comparison to peers is in order. For Fifth Third, the financial peer group will be:

Click to enlarge
Looking at Fifth Third versus the chosen peer group reveals that the bank has a weaker tier one capital (and risk based capital) ratio than their peers. Loan loss reserves are adequate and better than most, as is their provision for loan losses. Their BASEL III capital estimate is 9.5%, a healthy number.
Some key charts from their recent presentation at the November 7th BancAnalysts Association of Boston: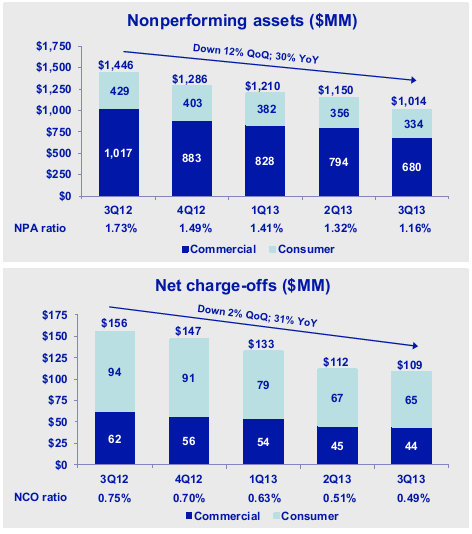 To me, at the end of the day, it is all about asset quality. Quality assets will drive returns across time and speak well about the company's ability to underwrite their business. Perhaps they are not swinging for the fences, but they will drown under the weight of bad assets.
Then there is funding. The right funding (very little ST wholesale) will add to the stability of the business and not create a liquidity crisis in tough times or "shock periods":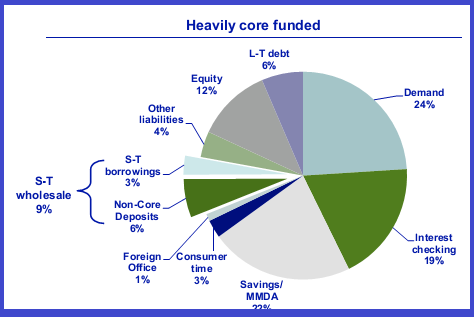 And finally, capital - what is left over at the end of the day to absorb losses and help create growth: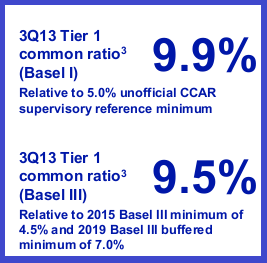 I like the banks position, although some of their non mid-west target areas will be hard to grow. They have a decent financial profile and are consistent with their peer group.
If this is correct, their stock performance should be in line with peers: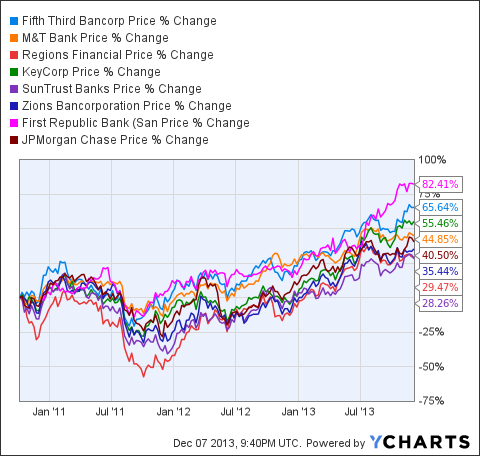 Over the last five years, they have been one of the better performing banks in the peer group - second highest share price growth of 65%, not too shabby. But what have they done for investors lately? Let's take a look: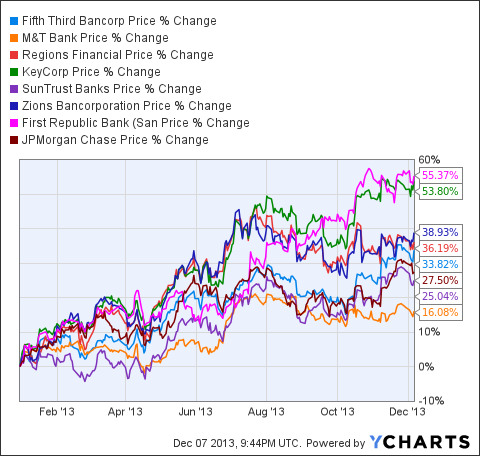 Middle of the pack at +33% year-to-date. Not bad. (Notice FRC, wow!)
So the bank has decent financials, a conservative profile and the equity has done well. But, this is about preferreds, so how do they stand up against the preferreds of their peer group (when applicable):

Click to enlarge
From a relative value standpoint, the new Fifth Third issue is not that attractive relative to its peers. Of the above choices, I would prefer the First Republic 6.7% or the Regions 6.375%.
Bottom Line: While Fifth Third is a sound bank and its equity has rewarded investors, the preferred is not overly attractive. It is safe and will out-yield the common, but there are better choices available.
Disclosure: I have no positions in any stocks mentioned, and no plans to initiate any positions within the next 72 hours. I wrote this article myself, and it expresses my own opinions. I am not receiving compensation for it (other than from Seeking Alpha). I have no business relationship with any company whose stock is mentioned in this article.