This is an update for my five suggested BDC portfolios for the first two months of Q4 2013. Earnings season for the 25 BDCs that I follow will be officially over as of December 9, 2013 after Medley Capital (NYSE:MCC) reports results. I will have updated portfolio allocations coming out over the next few days but I wanted to look at results over the last two months compared to the S & P 500.
The five types of portfolios are:
The table below takes into account the stock price appreciation and dividends earned for the first two months of Q4 to come up with total return to investors. The S & P 500 appreciated 7.4% plus 0.3% in dividends for a return of 7.7% during this period compared to the average BDC with around 6.3%. However my five suggested portfolios all performed better than the average and were inline or better than the S & P 500 with the exceptions of the 'High-Yield' and 'Risk Averse' portfolio. These results are what I expected and this is why investors should consider more than just dividend yield when investing in BDCs. The 'Total Return' portfolio earned its name over the last two months and will most likely continue to outperform the others. The 'Risk Averse' portfolio is not expected to outperform during bull markets like we have had over the last few months and is for investors that are seeking downside protection in case of a down market but still want yields that are higher than the average stock.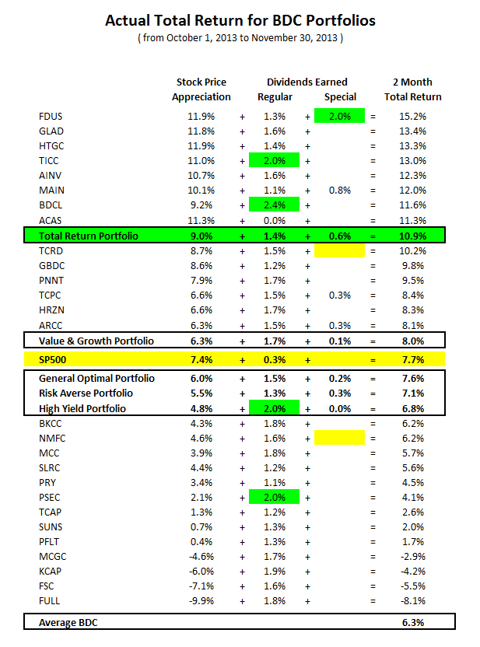 Two surprises to the upside were Gladstone Capital (NASDAQ:GLAD) and Apollo Investment (NASDAQ:AINV) both of which had 5% positive earnings surprises and NAV per share growth especially GLAD that had a portfolio fair value at 72% of the initial cost which is the second lowest in the industry. The table below shows the fair value of each BDCs portfolio as a percentage of cost from the previous quarter. There are numerous factors that affect this and it can be seen as an opportunity for some of the BDCs with asset values that have been written down and start to perform or appreciate such as the case with American Capital (NASDAQ:ACAS) which is where much of the recent NAV per share gains have come from (and the share buybacks). However the higher amounts generally indicate better underwriting skills and investors should watch for trends in these percentages.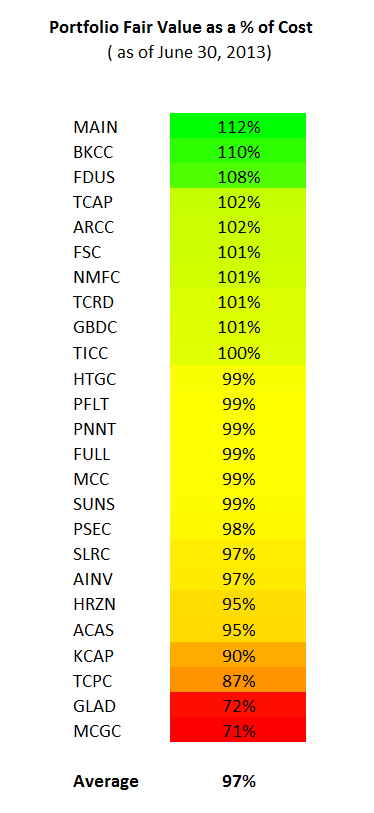 MCG Capital (NASDAQ:MCGC) continues to struggle with retaining its portfolio value and dropped from 71% in Q2 (shown in the table above) to 67% in Q3 which is one of the many reasons it continues to be ranked lower than the other BDCs.
Many of the BDCs that I typically rank lower including my latest rankings "BDC Rankings: November 2013" have underperformed during the first two months of this quarter including MCGC, Full Circle Capital (FULL), KCAP Financial (NASDAQ:KCAP), Solar Capital (NASDAQ:SLRC), Solar Senior Capital (NASDAQ:SUNS) and BlackRock Kelso Capital (NASDAQ:BKCC). Even quality BDCs such as Triangle Capital (NYSE:TCAP) have underperformed most likely due to being overpriced.
Many of the BDCs that I consider to be better than the others have been outperforming the average including Fidus Investment (NASDAQ:FDUS), Hercules Technology Growth Capital (NASDAQ:HTGC), Main Street Capital (NYSE:MAIN), TCP Capital (NASDAQ:TCPC), THL Credit (NASDAQ:TCRD), Golub Capital BDC (NASDAQ:GBDC) and Ares Capital (NASDAQ:ARCC). The 'Total Return' portfolio has the most of these top performers including MAIN, FDUS, HTGC and ARCC, leaving New Mountain Finance (NYSE:NMFC) as the only underperformer of the group. I do not expect this portfolio to continue to have average monthly returns of 5% to 6%, similar to the last two months, but I do expect it to have returns that are higher than the market.
The 'High-Yield' portfolio seems to be the most popular but underperformed all the other portfolios and the overall market. BDCs such as MCC, Prospect Capital (NASDAQ:PSEC) and Fifth Street Finance (NYSE:FSC) all underperformed but paid higher dividends than most. FSC was the smallest component in this portfolio due to the likelihood of a dividend cut. This portfolio will most likely have the most changes from the previous quarter and continue to focus on sustainable higher yield companies. During the next market downturn I will be assessing the performance of the 'Risk Averse' portfolio.
I am working on updates for each of the five portfolios and posting results on my website (linked below) as well as upcoming articles. Investors should only use this information as a starting point for due diligence. See the following for more information:
Disclosure: I am long MAIN, TCPC, ARCC, FDUS, TCRD, PSEC, NMFC. I wrote this article myself, and it expresses my own opinions. I am not receiving compensation for it (other than from Seeking Alpha). I have no business relationship with any company whose stock is mentioned in this article.