Overview
Regency Centers (NYSE:REG) is a REIT that owns, manages and develops shopping centers throughout the United States. Geographically, 60% of their Annualized Base Rent (ABR) comes from California, Texas, Florida and Georgia. Grocery-anchored properties comprise 80% of this portfolio.
With one of the highest development exposures among its publicly traded peers, Regency enjoyed tremendous growth thru 2006. Unfortunately, this is not the case in 2010. The development pipeline now represents 18% of gross real estate assets, nearly 3 times that of its peers. With bad debt reserves from tenants continuing to grow, Regency will face cash flow problems that only a strong rebound in the retail sector will solve. Unfortunately, that is not going to happen.
Operating Business
In their recent 4Q earnings, Regency reported that Same Store Net Operating Income (NOI) continued to decline, and at an accelerated pace. Management guided the occupancy rate down from the year end level of 93.1%, as tenants continue to struggle.
The company reported that rents on new leases were down 18.5% in the 4th quarter. While renewals showed rent growth, it's a deceiving figure. It equates to shopping for a new ARM when your house is underwater by 35%. The options are to cover the gap or agree to the existing bank's new terms. The same principle applies here. Regency claims this is due to a stabilizing retail market. Right... Retailers struggling to stay in the black will walk across the street and save 20% if they can.
Regency's geographic exposure is concentrated in the most economically devastated areas of the country. The properties are not low in quality, but the assumption that demand for retail space would support strip malls across the street from strip malls has proven to be flawed. In addition, the tactic of using grocery stores as loss leaders to command premium specialty retail rents is over. Combine pressures from super centers with a consumer that is a net saver, and the scale of the obstacles REG must overcome are enormous.
Consensus Expectations
Street models are looking for NOI growth to be roughly flat (-2% to 2%) for the next 2 years. NOI growth is going to be much worse than expectations.
The argument that the portfolio will hold up relative to peers based on groceries anchoring many of the properties is flawed. The decline in grocery traffic could actually torpedo cash flow. Are local "mom & pop" retailers, which Regency has plenty of exposure to, going to pay premium rent for a location with declining traffic trends? No. This is clearly shown by the 18.5% decline in quarterly rents.
The perceived balance sheet 'strength' is a function of Regency's $1 billion in liquidity, $700 million of which is in the form of bank credit lines. Analyzing the debt maturities, it is apparent that by the end of 2012 the credit facilities will be fully drawn. With cash flows continuing to deteriorate, will there be and appetite for more investors and banks to extend more credit?
Catalysts
The stated Occupancy Rate is one of the best in the group, but is not a reflection of tenants that are current. The guidance for lower occupancy in 2010 is just the beginning. As occupancy trends lower, Street estimates for NOI and FFO in '11 will be slashed. As we get late into '10, '12 will be even lower. Cash flow pressures will result in concerns over the dividend coverage. Given that the investor base is income focused, this will cause a good deal of anxiety.
Currently, there has been 'blind' money in Regency. Over 20% of the float is held by Index funds or closed end garbage. As it becomes more apparent that cash flow is not strong enough to support the yield, REG shares will be pressured on two fronts. First, the shorts will be all over this. Arguably, they already are with 20% of the float on the dark side. Secondly, long only investors will be forced to sell REG if the dividend is suspended or eliminated and non-index managers will bail long before this. There is no realistic scenario that results in this stock trading materially higher.
Valuation
REITs trade on a multiple of Funds From Operations (FFO). Regency is currently 15x's 2010 consensus FFO. This is roughly a 20% premium to the Strip Center group due to balance sheet 'strength'.
SS NOI: 2010 estimates -3.6%. This is in line with the group, but not realistic
5 year FFO Growth Rate: 1% vs. 4% for the peer group
Cap Rate: 8.1% vs. 7.7% for peer group
The average multiple for Regency over the last 10 years has been 12.5x's FFO. Applying this to a 2011 estimate of $1.86, approximately 20% below the Street, BlueCut derives a $23 value due to the trend in bad debt reserves, rental rates, and the development pipeline. (Click to enlarge)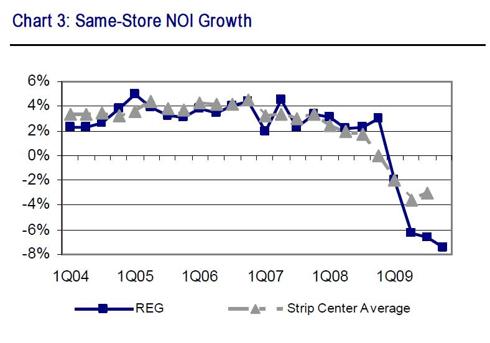 Source: UBS
Summary
BlueCut maintains a short position in Regency based on: the outlook for retail rental rates, the company's development exposure, 2012+ debt maturities, declining vacancy rates and dividend coverage. Regency has an experienced management team but in this environment the business model will struggle for the foreseeable future. The stock is worth $23 today, but it will trade lower as the chances of the light at the end of the tunnel being a train seem increasingly more likely.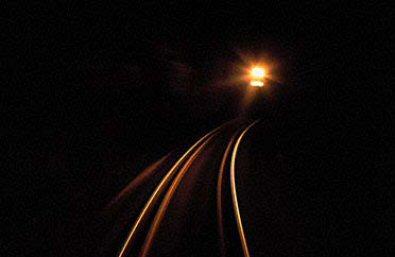 Disclosure: Short REG