Apple (NASDAQ:AAPL) has been on fire since it reached two year lows under $400 a share in late June (See Chart).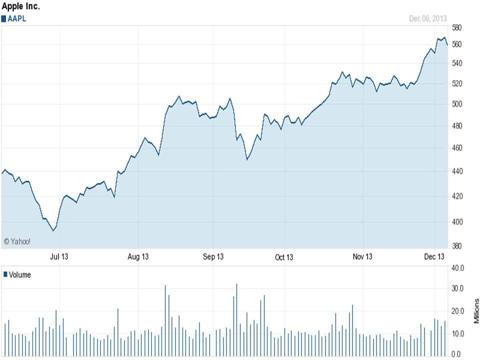 Click to enlarge
The stock's rise has been primarily fueled by successful launch of the new versions of its iconic iPhone and iPad franchises. A highly likely deal with China Mobile (NYSE:CHL) and its over 750mm subscribers should officially be announced before Christmas. This is also is providing momentum for Apple's rise.
Regular readers know I am a bull on the company's continued prospects. However, today I want to talk about a tech supplier that is benefiting from Apple's successful rollout of its new iPhone. It is also riding the fourth generation LTE buildout wave going on here as well as the Middle Kingdom and other developed countries. The name of the company is Avago Technologies (NASDAQ:AVGO).
Company Overview:
Avago Technologies engages in the design, development, and supply of analog semiconductor devices with a focus on III-V-based products. Its product portfolio is comprised of RF amplifiers, RF filters, RF front-end modules, and other communication products. Its components are found in a variety of manufacturer's smartphones.
Wireless chip revenues from components that go into both Samsung's and Apple's smartphone offerings was recently up 19% Q/ Q and 10% Y/Y. This product line accounts for just under half of Avago's overall sales. I would look for continued strong sales in this segment as the new iPhones continue to sell above expectations.
In addition, its wireless infrastructure sales are growing even faster. This growth is benefiting from the tailwind of LTE build outs. China Mobile will spend more than $6.5B building out its new network this year. Verizon (NYSE:VZ) is also making a major push to deploy new 4G capabilities. This business line makes up a third of revenues and recently grew 22% Q/Q and 55% Y/Y, helped by a recent acquisition.
Avago is well positioned to continue to ride both these tailwinds to higher sales and earnings.
4 additional reasons to buy AVGO at under $47 a share:
Earnings are tracking to a 15% gain this fiscal year and analysts see similar earnings growth for FY2014. Revenues are also growing in the teens.
The company has a solid balance sheet with almost $1B of net cash (~10% of enterprise value). Avago also pays a 2.1% dividend.
Despite the growth in revenues & earnings, the shares sell for just over 12x forward earnings, a slight discount to its five year average (13.1).
The company has been bottom line expectations for six straight quarters now. Its average quarterly beat over consensus has averaged ~11% over this time period.
Disclosure: I am long AAPL, AVGO. I wrote this article myself, and it expresses my own opinions. I am not receiving compensation for it (other than from Seeking Alpha). I have no business relationship with any company whose stock is mentioned in this article.