Seadrill (NYSE:SDRL), a leading offshore drilling company, posted lackluster third-quarter results, and its dividend increase did little to impress investors. Consolidated revenue in the third quarter was flat on a sequential basis, while operating profit fell to $471 million from $507 million in the second quarter of this year. The company's top-line and operating profit performance, however, were much better on a year-over-year basis, up 17.2% and 14%, respectively. Diluted earnings per share advanced to $0.60 from $0.40 in the year-ago period, slightly lower than expectations. EBITDA came in at $663 million during the quarter, flat on a sequential basis but up 15.5% on a year-over-year basis (also modestly below forecasts).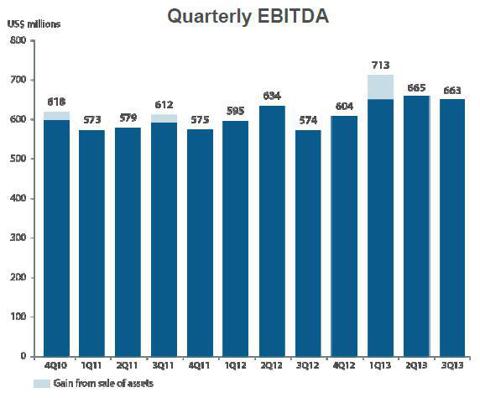 Image Source: Seadrill
Seadrill's net cash from operations was $1.2 billion during the first nine months of the year, while additions to new buildings and rigs/equipment were $2.2 billion and $494 million, revealing significantly negative free cash flow during the period. The firm's cash, restricted cash, and marketable securities totaled $1.11 billion as short-term and long-term interest bearing debt stood at a whopping $12.7 billion (shown in image below), which excludes another $630 million in long-term debt due to related parties. The firm's cash flow generation and balance sheet leave much to be desired.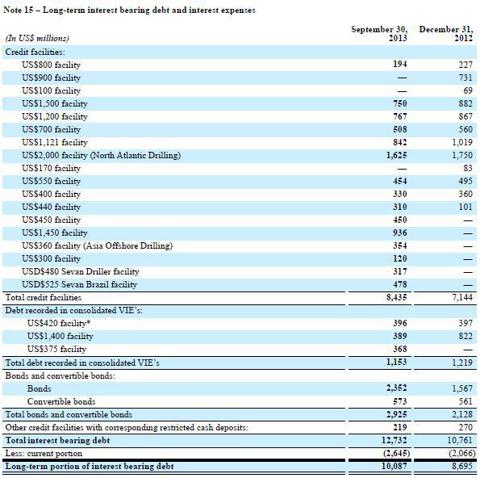 Image Source: Seadrill
Still, its risky financial profile did little to stop the company from upping its quarterly dividend by $0.04, to $0.95 per share (about a 9% annual yield). The lofty yield in Seadrill's case speaks more of a company with significant financial risk (in which the market demands a hefty payout to own shares) and less of a healthy dividend growth gem. Seadrill's Valuentum Dividend Cushion score is very poor, reflecting its huge debt obligations. The company's operational outlook also revealed a potentially difficult 2014 (adapted from press release):
"As a result of the pause in upstream spending the firm has observed a decline in the overall number of fixtures, lead times and contract duration. The company also expects to see a number of sublets adding to near term available supply. Contrasting with 2012 when the market was under supplied, based on these observations it is clear that the market is adequately supplied currently and may encounter some challenges in 2014. Importantly, these challenges will be acutely felt by lower specification assets while Seadrill is positioned in the high end of asset classes where utilization is likely to remain at 100%. In terms of expected near term contract duration, there is a significant work obligation required to retain licenses that expire in 2014 and 2015 and it is likely to lead to more coordination of rig capacity from oil companies and somewhat shorter and more flexible work programs for rig operators."
But while 2014 may be a more challenging market, the company's order backlog stands at an impressive $19.5 billion, with its floater fleet accounting for the majority ($16 billion). The firm also noted that it is well-positioned to continue to grow the backlog in coming periods.
Valuentum's Take
Seadrill's quarterly EBITDA is consistently strong and stable, but its debt load is running wild. Annualizing the company's EBITDA in the third quarter, or $2.65 billion, puts the firm's net debt/EBITDA ratio at a frightening 4.4 times, which approximates that of junk-rated credits. Seadrill expects to reach $4.5 billion in 2016 annualized EBITDA, but the target is a few years away and one that is fraught with operational risk, especially given management's commentary about 2014. The company expects floaters and jack-ups capital spending to be $2 billion in 2014 and $3.5 billion in 2015, which will pressure cash flow significantly. It's highly probable the company generates negative free cash flow for the next couple years. Seadrill's 9% annual dividend yield may turn some heads, but its financials speak of a very risky enterprise. We're staying on the sidelines.
Disclosure: I have no positions in any stocks mentioned, and no plans to initiate any positions within the next 72 hours. I wrote this article myself, and it expresses my own opinions. I am not receiving compensation for it (other than from Seeking Alpha). I have no business relationship with any company whose stock is mentioned in this article.