Operating as an independent downstream energy company, Northern Tier Energy, LP (NYSE:NTI) refining, retail, and pipeline operations provide products and services to the PADD II region of the U.S. The industry in which NTI operates in is highly competitive in nature, but the small number of competitors located nearby makes aids in reducing the overall competition. With the strategic advantages NTI receives from being one of few firms with access to a lucrative set of resources, it is able to sustain its position as one of few suppliers to a large customer base. Looking below, the states colored in blue represent NTI's customer base, or also referred to as the PADD II region in the U.S.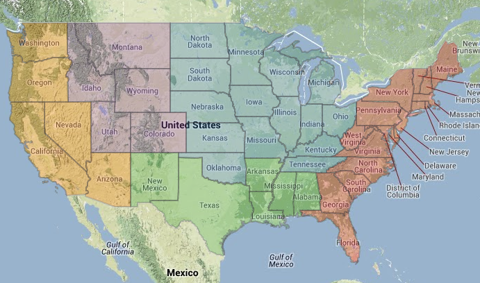 (Source: US PADD and Refineries from eia.gov)
With a large customer base, NTI has plenty of need and support to expand its operations. Given the strategic advantages and resources its business provide, NTI provides a feasible investment for investors looking for capital appreciation as well as income. The risk to reward profile is extremely attractive, and with the discount its common shares trade at in the market, NTI is an investment opportunity hard to beat. This article outlines five strong reasons why NTI is a solid buy at its current market value and will conclude with several concerns investors need to keep in mind.
5 Reasons NTI's Cheap Below $25 Per Share
#1 The vast majority of NTI's revenue derives from its refining segment, and with the high returns this segment produced from a favorable level of production, investors should expect to see a sizable amount of value added from its operations in 2014. According to NTI's 10-Q for the period ending June 30th, 2013, the refining segment of its business generated nearly 70% of its total revenue, while the remaining portion of its revenue comes from its retail business and pipeline operations. On a daily basis, NTI maintains a production capacity of roughly 81,500 barrels, which is relatively high compared to its peers. Looking at the returns provided through its operations, you will see NTI is fully capable of investing capital in its business to provide a return in excess of its cost of financing. Additionally, you will see its return on shareholders' equity is excellent, and at a higher positive correlation coefficient to its return on invested capital.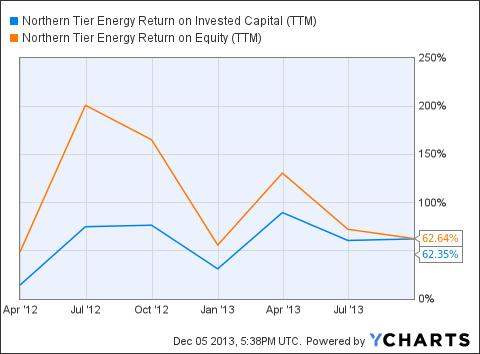 NTI Return on Invested Capital (TTM) data by YCharts
Last, you will see NTI provides a sizable return on its assets too. Based on the change in NTI's asset utilization ratio, we can tell management has made an effort to effectively enhance the efficiency of its fixed operating assets in terms of their usage.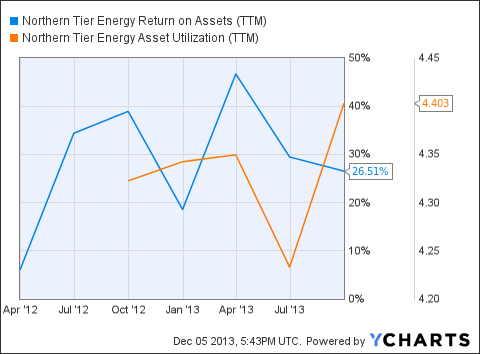 NTI Return on Assets (TTM) data by YCharts
#2 The geographical placement of NTI's refinery serves as a strategic advantage over its industry peers, and gives investors the opportunity to benefit from a sizable increase in its market share going forward. Currently, NTI has one refinery, which is located in St. Paul Park, Minnesota. While one refinery may not seem to be enough, the location is where the true value added is. As of now, NTI's refinery is of two of the only refineries in Minnesota, and on top of that, it's one of the only four in the Upper Great Plans. Through its 17% equity stake in the Minnesota Pipeline Company, NTI is allowed direct access to the crude oil supplies from the Bakken. Its business utilizes a vertically integrated refining platform to retrieve oil from two locations, including Canada, and of course, the Bakken.
While a sizable portion of its oil does come from Canada, it's important to understand that NTI is heavily dependent on Bakken, which provides more than half of its oil. In the last two years, NTI has taken advantage of having one of the closest refineries to Bakken, and effectively used this strategic advantage to increase its production capacity. Not only is this clear to see through NTI's high level of daily production we saw earlier, but as a whole, the production in the Bakken has more than doubled to producing nearly one million barrels per day.
Additionally, the location of NTI's refinery has also contributed to cutting costs. NTI's stake in the Minnesota Pipeline Company has provided it with the luxury of being able to benefit from lower transportation costs. For firms in the refining industry, transportation costs will typically eat away at a large chunk of profits. However, NTI's partnership in the pipeline business allows it to save a substantial amount in transportation costs, which is why NTI is capable of above-average margins. Conclusively, NTI's refinery location serves as a competitive advantage that many of its peers do not have at their disposal, and as NTI continues to expand its production capacity, investors will be in an excellent position to benefit from a fair increase in its valuation.
#3 The combination of NTI's strong financial position and attractive valuation provides investors with an adequate amount of downside risk protection, yet also suggests there is a case for value. From looking at NTI's balance sheet, you will see it has a strong set of non-current, which primarily consists of operating assets, or commonly known as property, plant, and equipment [PPE]. As of June 30th, 2013, its PPE account balance was $437.7mm, which is roughly 13% higher than reported six months ago. The increase in PPE is a direct result of NTI's efforts to expand, which is clearly reflected through the change in its capital expenditures this year. On the liability side, not a whole lot has changed in the last six months, except for the reduction in its accrued liabilities outstanding.
Last, you will notice NTI has quite a large amount of debt relative to its equity, and although the equity portion is not included in the image below, the difference in its assets an liabilities implies the equity book value for its most recent period is roughly $445.2mm. While NTI continues to carry a large amount of debt on its balance sheet, you will see this level has not changed in the last six months. Looking ahead, the only potential concerns I have regard its short-term liquidity. The amount of current assets available to cover its current liabilities is fairly limited, but as of now, its working capital available appears to be sufficient. Therefore, it's not a pressing issue, but rather something to take into consideration for later on.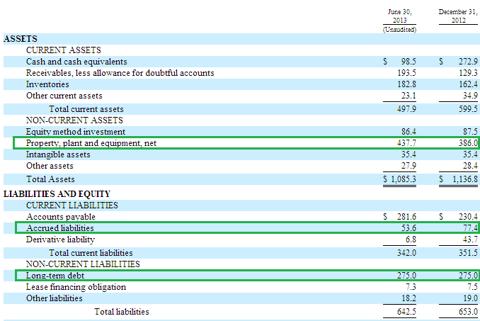 (Source: NTI's 10-Q for the period ending June 30, 2013, from sec.gov)
#4 NTI provides a steady stream of income to investors with a dividend yield of 5.24%. As an investment, NTI is far more attractive in terms of the potential for price appreciation its common shares offer, but this yield provides a unique opportunity for income investors to receive the dividend and take advantage of the undervalued nature of its shares. Since NTI implemented its dividend policy, its shares have risen quite a bit, which can be seen through the recent fluctuation in its dividend yield. While dividends are not guaranteed, investors are faced with the risk of not receiving the dividend at any point in time. However, considering its competitors engaged in the same line of work offer a dividend, there's a fair probability NTI's management will sustain its dividend policy as long as its operations can finance it.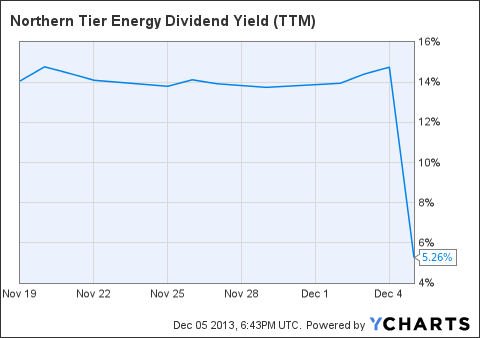 NTI Dividend Yield (TTM) data by YCharts
#5 The intrinsic value of NTI's operations suggest its common shares are undervalued, and the consensus of sell-side analysts display a high degree of optimism as well. Looking at the level of cash generated by its operations, we can tell the real earnings NTI has generated has helped its operations continue moving in a positive direction. After accounting for changes in working capital, increase in fixed operating assets, and new capital expenditures, NTI's free cash flow remains high. While the deviation between its operating and free cash flow was significantly smaller in its earlier stages, the recent spread in the difference between the two can be attributed to the increase in its capital expenditures for expansion related activities. For the end of 2012, its capital expenditures were right above $30mm, and as of now, its capital expenditures are roughly $95mm on a trailing twelve month basis.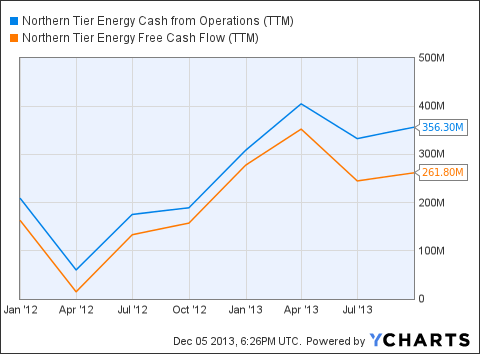 NTI Cash from Operations (TTM) data by YCharts
To provide investors with a better idea of what to expect, I have modeling NTI's intrinsic value for 2013, which reflects the true value of what NTI's business should actually be worth by the end of 2013. The only real variable in the model that remains uncertain is NTI's FCF figure for year in. Therefore, I have provided three scenarios modeling NTI's fair value, taking into consideration different levels of free cash flow for the end of 2013. The variables and financial statement items that remain constant in both models below include NTI's weighted average cost of capital, the perpetual growth rate used, its total debt outstanding, and last, its current level of shares outstanding. While there's a fair probability we may see a change in its capital structure as additional funds are needed in the near future, its level of debt has remained constant for quite some time now, and I anticipate it to remain the same by year end. Let's take a look:
Scenario #1: NTI's intrinsic value based on its current free cash flow TTM figure and the assumption that the changes in free cash flow and capital expenditures offset each other
Using its current free cash flow figure trailing twelve months [TTM], NTI's intrisic valuation is extremely attractive, and you will see, its true value on a per share basis is considerably higher than its current market value.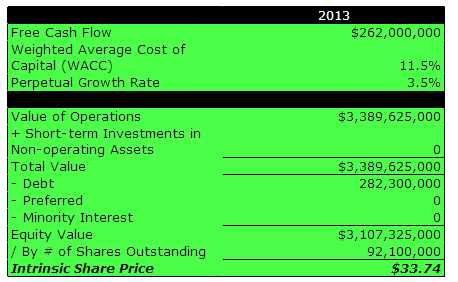 Given NTI's capital expenditures are already higher than reported last quarter and that its free cash flow for this next quarter most likely will not be negative, there's a slim probability that this will be its year end free cash flow figure. However, I provided this scenario to give investors a sense of NTI's worth based on its free cash flow TTM figure, and also serve as the least optimistic scenario. The next two scenarios are far more accurate in terms of what I think NTI's level of free cash flow will be by year end.
Scenario #2: NTI's intrinsic value assuming its free cash flow for 2013 only increases 5% from its free cash flow TTM
The probability of this scenario occurring is highly likely. While I am more than positive it will generate a positive level of operating cash flow in its final quarter, its capital expenditures are highly likely to increase as well. After accounting for additional capital expenditures, I have assumed 5% growth in free cash flow from its free cash flow TTM figure, which is extremely conservative. However, at the same time, it yields an intrinsic price per share that is pretty attractive from an investor's point of view. The final figure produced in the model reveals the true value of its operations should be worth between $35-$36 on a per share basis, which is an implied upside of roughly 48% from where its shares currently trade in the market.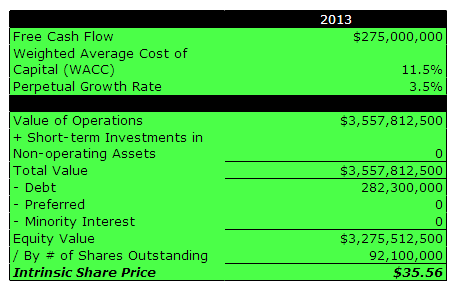 Scenario #3: NTI's intrinsic value assuming its free cash flow for 2013 increases by 15% from its free cash flow TTM
The last scenario is by far the most optimistic case provided, yet the underlying assumptions still remain conservative. I accounted for an increase in operating cash flow that would be consistent with its increases so far this year, but have also assumed its capital expenditures would increase proportionate to the expansion NTI has slowly been revealing through its cost structure. While probability suggests that there's a fair change of NTI generating this level of free cash flow for the end of 2013, the probability that NTI will be worth this is the market is next to none. However, if NTI generates this level of free cash flow, it will truly be worth between $39-$40 per share.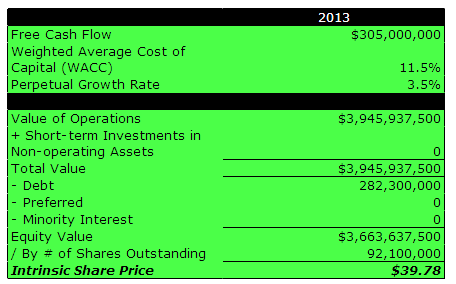 The reality is that NTI is extremely undervalued based on the fundamentals underlying its operations. As you saw in the models above, even in the worst case scenario NTI is still undervalued by a large amount. In addition to these models, sell-side analysts continue to be fairly bullish on this stock as well. Of the 10 analysts currently covering NTI, the median price target for the next six to eight months is $29.50 per share, which is a 20% premium on what you can purchase its shares for in the market today. While it may be quite a bit of time before investors begin to correctly price NTI's fair value into the market, now is the time to gauge the right entry point for initiating a position. As long as NTI stays under the radar, buying opportunities will make there appearance left and right, and patient investors will be rewarded in due time.
Investor Concerns
NTI presents a considerable amount of upside potential over the next six to twelve months, but there are several risks that investors need to bear in mind. First, is the level of debt on NTI's balance sheet. While NTI's current financial position is sound, it has a sizable level of debt on its balance sheet with a debt to equity ratio of 0.64. With a large amount of debt on the balance sheet, investors need to keep an eye on its degree of financial leverage, which reveals the level of sensitivity of a firm's EPS relative to the fluctuations in EBIT. Right now, NTI's financial leverage is low at under 0.7, but it has increased quite a bit since 2012. As the degree of operating leverage experiences an increase, so does the underlying volatility of a firm's EPS. And given NTI has a sizable interest expense that is fixed, it's important to keep an eye on this metric going forward to ensure sure its operations are not undergoing stress where an increase in financial leverage could magnify its EPS in a negative direction.
Second, it's important to recognize that the competition industry-wide will remain a constant threat to the health of NTI's business. As mentioned earlier, NTI has selected several locations of operating that have simultaneously reduced its level of surrounding competition, and while there are no serious threats from this angle at the moment, NTI has a significant amount of competitors across the industry. Down the road, as NTI continues to increase its operating cash flow, it will have a sufficient amount of capital to allocate towards expansion and engage in acquisitions of firms that are not able to quickly grasp enough market share to compete.
Last, investors need to watch its liquidity and the sources of capital it uses to fund its operations. As we saw earlier, its level of current assets is not much higher than its current liabilities, which is also reflected through its current ratio of less than 2. On top of that, if you exclude the $182.8mm of inventory on its balance sheet, you will see its quick ratio is well below 1. While funding is not an issue at the moment, investors need to monitor NTI's liquidity in the short-term and look for changes in its source of funds. Issuing debt would heavily influence is capital structure causing its WACC to increase quite a bit, and with a large amount of debt outstanding already, NTI does not need the excess leverage.
Bottom Line
Albeit the risks, the NTI's return potential is superb. Current investors should continue to hold NTI and add to their position as pullbacks present buying opportunities, while potential investors should consider this an attractive risk to reward opportunity. The strategic location of NTI's operations along with the lucrative resources at its disposal give NTI a competitive edge above its peers and enables management to cut costs that will expose investors with a higher level of profitability. With its common shares trading at a severe discount to their intrinsic value, NTI is a feasible opportunity for growth as well as income investors.
Disclosure: I am long NTI. I wrote this article myself, and it expresses my own opinions. I am not receiving compensation for it (other than from Seeking Alpha). I have no business relationship with any company whose stock is mentioned in this article.