(Editors' Note: This article covers a micro-cap stock. Please be aware of the risks associated with these stocks.)
Neuralstem Inc (NYSEMKT:CUR) is my favorite biotech going into 2014, and this article will explain why. I have been a buyer of CUR this year, and have added to my position as the stock moved higher. My first buy was when I wrote my first article here at a price of $1.20, and since then the price has doubled. The trend remains up, and we don't fight the trend. I expect multi-year highs in 2014 as results of the study continue to be presented.
The story continues to evolve
CUR has grown significantly in 2013 and I believe the future is even more exciting. The company's technology enables the creation of stable neural stem cell lines that are taken from the human hippocampus. In 2009,CUR was granted patents on its four first in-class chemical entities. NSI-189 was the first one to be in a clinical trial and is used to treat major depressive disorders, Alzheimer's disease and post-traumatic stress disorders.
NSI-566 for the treatment of Amytrophic Lateral Sclerosis (ALS)
CUR is currently undergoing studies to treat the symptoms of ALS via transplantation of its NI-566 human spinal cord stem cells directly into the gray matter of the spinal cord. This study has been granted Orphan drug status by the FDA. This is big news for the company. Richard Garr, the CEO stated:
"The designation of our spinal cord stem cells as an orphan drug underscores the importance of developing effective treatments for patients with ALS. In addition to providing a seven-year term of market exclusivity for our stem cells for ALS upon FDA approval, Orphan Drug Designation also positions Neuralstem to take advantage of certain financial and regulatory benefits, including government grants for conducting clinical trials, waiver of FDA user fees for the submission of a Biologics License Application for NSI-566RSC, and certain tax credits".
Neuralstem expects that this study will achieve three goals:
1. Graft permanently into the region,
2. Rebuild circuitry with the patient motor neurons,
3. Protect patient neurons from further deterioration of the disease.
The Phase 1 study showed promising results.
Dr. Glass stated that the clinical assessments showed no evidence of acceleration of disease following stem cell injections, which met the goal of providing safety in Phase 1 trial. He continues by saying;
"We have cautious optimism that a few of the patients may have slowed in their progression of lower extremity weakness, and 1 patient may have improved".
Results can be seen below.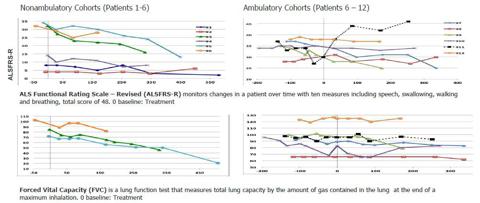 The conclusion from this study suggests:
No complications related to cell delivery.
No toxicity related to cells.
Definitive evidence of long-term cell survival via DNA fingerprinting.
ALS patients have problems with deterioration of their respiratory function, and thus injections in the cervical region will be next to check if this important function can be helped.
Phase II has now started. In October 2013, the first patient was treated using NSI-566 spinal cord-derived stem cells that were injected in the cervical spinal cord. All the patients should be treated by the second quarter of 2014.
Major Depressive Disorder trial.
This trial was a randomized, double-blind placebo-controlled, multiple dose escalating trial that evaluated the safety, tolerability, pharmacokinetics and pharmacodynamic effect of NSI-189 in the treatment of major depressive disorder. Phase 1a was completed in October 2011, and Phase 1b was completed in late 2013. The results in animals was impressive as NSI-189 has the potential to reverse the hippocampal atrophy associated with major depressive disorders, and thus restores fundamental brain physiology. The results for the Phase 1b study are due anytime now, and I believe positive results are around the corner.
Summary into 2014
CUR has other studies and aims to work with other diseases. These include Multiple sclerosis, stroke, spinal cord injury, Parkinson's disease, Huntington's disease, traumatic brain injury, cerebral palsy and others. The opportunities are endless. Below shows what the next 12 months can provide to investors and patients alike.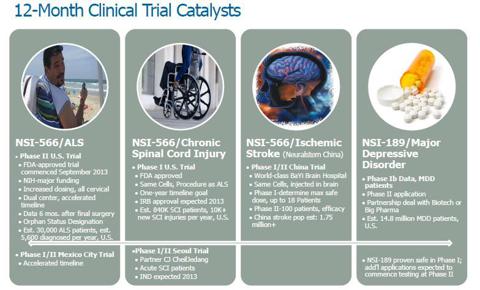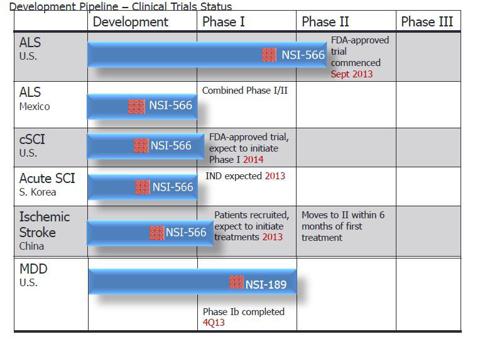 Technical analysis
Although the fundamental story of CUR is an impressive one, I continue to like how the chart is setting up. The weekly chart shows a nice uptrend in the 50 day moving average, and also a nice support o the 10 day moving average, a number I use to add to my position.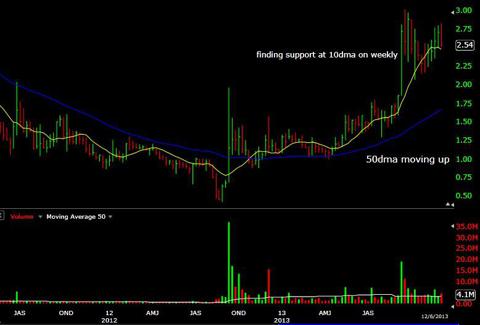 The monthly chart also shows some beautiful accumulation. The trend remains strong, and the cup and handle forming looks good for higher prices. Keep an eye on the volume.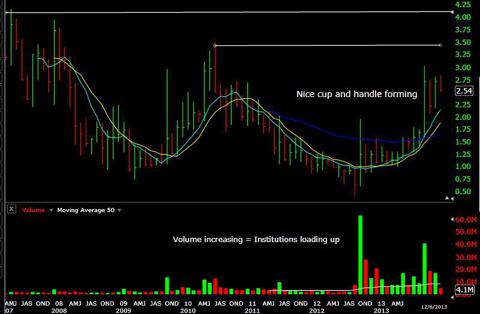 Risks
Like any other biotech company, results can fail so there are risks investing in these companies. Always do your due diligence before taking a position. As always, we only risk 1% per position. CUR also has a number of competitors, namely Brainstorm Cell Therapeutics (NASDAQ:BCLI) which targets ALS, and StemCells Inc (STEM), which is studying spinal cord injury. However, note how their charts are in a downtrend; hence we see no reason to enter a position in any of these stocks at this time.
Conclusion
The company is now in a very strong cash position and the chances of a secondary offering has diminished. The $16 million cash in hand will be enough to cover expenses for the next 2 years. Going forward, I expect development partnering with a large company that will boost shares even higher.
News from their Phase 1 study for the treatment of major depressive disorder should come out anytime, and I expect good results. Phase II will be more important to get a clearer picture.
In April 2013, I wrote this article on Acadia Pharmaceuticals (NASDAQ:ACAD) that can be read here. ACAD has tripled from $7 to over $24, sending its market capitalisation to $2.2b. I expect CUR to have the same potential going forward. With a market capitalisation of just under $200million, the opportunity to reach new highs is there, and I expect it to become a billion dollar company one day.
Disclosure: I am long CUR. I wrote this article myself, and it expresses my own opinions. I am not receiving compensation for it (other than from Seeking Alpha). I have no business relationship with any company whose stock is mentioned in this article.