Nvidia (NASDAQ:NVDA) makes money by selling graphics cards and competes with players like Intel (NASDAQ:INTC) and AMD (NYSE:AMD). We estimate that the professional graphics cards business is the most valuable division for Nvidia, constituting about 35% of Nvidia's stock.
Professional Graphics Cards Constitute 35% of Trefis Price Estimate for Nvidia
Professional graphics cards are used by gamers as well as professionals in industries such as architecture, construction and engineering. In addition to professional graphics cards, Nvidia sells less powerful graphics cards, referred to as discrete graphics processing units (GPUs) and graphics chips, referred to as integrated graphics processing units.
Nvidia's main customers for discrete GPUs and integrated GPUs are PC makers like Dell, Toshiba and HP that incorporate them as components within new PCs sold. In comparison to the professional graphics card business which, we estimate constitutes 35% of Nvidia's stock, the discrete and integrated GPU businesses constitute only about 18% and 12% of Nvidia's stock respectively.
Three Factors Drive Value of Professional Graphics Business
Below we highlight three of the most important factors that make professional graphics cards the most valuable division for Nvidia:
1. High professional graphics pricing compared to discrete and integrated GPU pricing
Compared to the number of professional graphics cards sold annually, the unit sales of discrete GPUs and integrated GPUs are about 20x and 50x higher, respectively. However, the average price of a professional graphic card is 7-8x higher than the price of a discrete GPU.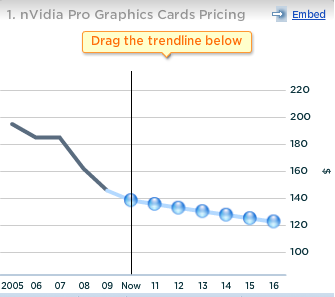 We estimate that the average price of an Nvidia Pro Graphics card in 2009 was $146 and that this will decline to $123 over the Trefis forecast period. In comparison, we estimate that the average discrete GPU price was $21 in 2009 and that this will decline to less than $19 over our forecast period.
2. High professional graphics profit margins compared to discrete GPU margins
We estimate that Nvidia's profit margin for professional graphics cards was close to 51% in 2009 compared to 19% for discrete graphics.
We expect Nvidia's professional graphics card margins to increase over the forecast driven by
(i) sales of newer products like Tesla which deliver superior performance over earlier products
(ii) lower unit costs that Nvidia expects to achieve by introducing products on the more advanced and efficient 40 nm manufacturing process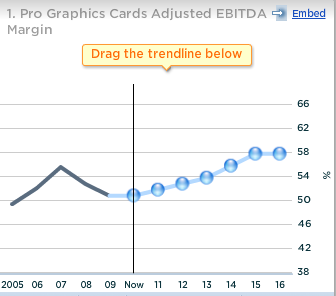 We estimate that Nvidia's profit margins for professional graphics cards will increase to close to 58% by the end of Trefis forecast period.
3. High professional graphics market share
Nvidia has dominated the professional graphics market by constantly delivering some of the best performing graphics cards.
We estimate that Nvidia has much higher penetration in the professional graphics cards market (86% share in 2009), compared to discrete GPUs (65% share) and integrated GPUs (11% share). Although AMD with its new product, FireGL V7700, is giving stiff competition to Nvidia, we believe Nvidia's domination and brand recall provides it significant cushion from steep market share losses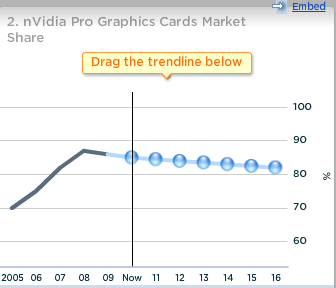 Although we expect Nvidia's market share of professional graphics cards to decline to 82% by the end of Trefis forecast period, its share in this segment will remain high relative to Nvidia's discrete GPU and integrated GPU market shares.
Disclosure: No positions