During the past quarter, Verizon (NYSE:VZ) saw an increase in the average data (internet, SMS) revenue that it earns from each Verizon mobile subscriber. This has been an industry-wide phenomenon with competitors AT&T (NYSE:T) and Sprint (NYSE:S) also seeing increases in data revenue over the past few quarters.
Verizon's increasing data revenue is attributable to the growing prevalence of 3G and 4G technologies, as well as the proliferation of high-end, data-intensive communication devices like smartphones, netbooks, e-book readers and smartbooks.
We have updated the Trefis price estimate for Verizon from $35.84 to $35.18 (versus market price of $28.87) based in part on the on-going shift to higher data consumption and what it means for Verizon.
Below we highlight the significance of the mobile phone business for Verizon, the shift to smartphones and the rising dependence of Verizon's stock on the mobile data business.
Mobile Phones 42% of Verizon's Stock
Verizon makes money primarily from mobile phone plans that constitute close to 42% of its stock price. The majority of the revenue in the mobile phone business currently comes from the monthly subscription plans.
We estimate that Verizon will make about $24 billion in revenue in 2010 from the voice component of monthly subscription plans. It will make an additional $11 billion in 2010 from the data (internet, SMS) component. In comparison, the money earned from the sale of mobile phone devices will be less than $5 billion.
Higher 3G/4G Phone Sales Will Boost Verizon's Data (Internet, SMS) Revenue
SMS and internet revenue per mobile user for Verizon has risen steadily over the last few years attributable to greater use of 3G mobile phones, including smartphones, that make it easier for users to access more data quickly. Mobile SMS and internet revenue per subscriber for Verizon rose by nearly 19% year over year to around $16 in the last quarter of 2009.
Verizon is expanding into 4G LTE technology that will provide data transfer speeds up to 8x faster than traditional 3G technology. The company plans to offer 4G services in 25 to 30 markets by the end of 2010. 4G will make it easier for subscribers to use even more data (faster internet, richer multimedia) and should further increase the data revenue per mobile subscriber that Verizon collects.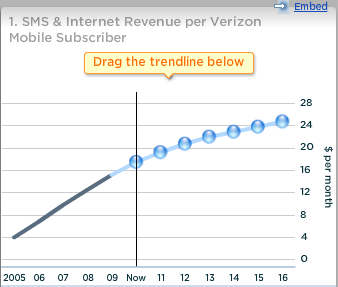 We believe Verizon has significant opportunities to continue to grow its SMS and internet revenue and we expect SMS and internet revenue per Verizon mobile subscriber to reach nearly $25 by the end of Trefis forecast period.
You can modify our forecast here to see how much Verizon's stock could be impacted if SMS and internet revenue per subscriber were to increase slower than we forecast as a result of increasing data price competition between mobile phone operators vying to attract new subscribers.
Disclosure: No positions