As most of you know I have been covering the Triple Net REIT sector for years and as the category has evolved there has been considerable debate as to whether the once niche sector can sustain the growth. Thanks to the wave of M&A (merger and acquisition) activity, the Triple Net REITs have mushroomed into dominating capital markets platforms that thrive on external growth.
In an article (Realty Income May Be Old School, But The Dividends Are Really Cool) I wrote just a few weeks ago, I explained that the driving force behind Realty Income (NYSE:O) and the other larger Triple Net REITs will be the ability to source quality assets. I wrote:
In the very worst scenario outlined, Realty Income has ample credit to finance future acquisitions. I have no doubt that Realty Income will be able to meet or exceed 2014 acquisition guidance and I believe that all credit metrics will remain strong.
In another article last I explained that W.P. Carey (NYSE:WPC) has consistently demonstrated its ability to grow earnings by focusing on large-scale portfolios including a substantial number of sale/leasebacks. During a recent earnings call, Carey's CEO, Trevor Bond, explains:
We think that as the economy continues to expand globally that you will have more companies that start to see sale-leaseback as an attractive alternative form of capital raise as opposed to debt, for instance. And we think that they'll have more confidence and more intention to actually utilize that because they'll have more of a need for it…And going forward, we think that the sale-leasebacks will be done by corporate owners in order to expand as well, particularly here in the U.S. So that's why I feel that the supply of opportunities will eventually expand and hopefully enough to accommodate the increased inflow of capital into the space. We're certainly seeing that abroad and we think it'll continue.
As the larger Triple Net REITs grow in size it's clear that they will be similar to banks - they grow deposits by selling stock and they invest in leased real estate to generate yield. Much like banks, the difference in the cost of capital and the going in cap rate (net income dividend by price) is the profit (cash flow available for distribution). So when interest rates do begin to rise, the cost of capital for owner occupants will rise.
As Marc Imrem with Transwestern explains (source: Transwestern Insights, Trends, and Opportunities):
To cope with higher costs, owner occupants are looking at asset liquidation as one strategy to generate funds for operating expenses, company expansion of retiring debt. This presents an excellent sale/leaseback opportunity for investors who are hungry to buy real estate that comes with a long-term tenant in place. The lending environment is expected to bring more net-lease properties to market, as well.
That increased demand is well-timed for the Triple Net REITs who are armed with historically attractive low cost capital and scale. As Imrem explains, "the expected increase in deal flow can be tied to rising interest rates that has risen more than 100 basis points on the last few months…Interest rates on 10-year Treasuries rang in the New Year at 1.86%, dipped as low as 1.66% in May and rose to 2.75% in mid-October…the upward trend is inevitable."
Let's Examine the Growth of the Sector More Closely
As Imrem describes, a larger number of office, industrial and retail buildings are projected to be marketed for sale and the beneficiaries will be the dominate Triple Net REITs. In an effort to validate the potential for growth I thought I would examine 4 such companies (all publicly-traded) in an effort to demonstrate the size and scale of the Free-Standing sector.
By examining the potential prospects for sale/leaseback occupants' investors can get a better handle on the depth of the Triple Net sector while also examining the value proposition for occupants to either own or lease real estate. The list of 4 companies is just the "tip of the iceberg" in the estimated $2 Trillion stand-alone sector and the primary purpose for this article is to demonstrate the extraordinary growth of the capital-driven sector.
Tractor Supply (NASDAQ:TSCO)
Tractor Supply is the largest specialty retailer of farm & ranch stores with over 1,245 stores in 48 states. The company's uniquely positioned retail model has led to considerable growth and profitability. In another historic year of growth, TSCO should ring up around $5.12 billion in sales in 2013 and earnings per share of between $2.24 and $2.27 per share.
Tractor Supply leases most of its stores and with a targeted growth rate of 8% annually, the Tennessee-based retailer is expected to grow its nationwide footprint to over 2,100 locations. Many of the company's stores are free-standing and that creates a pool of some 900 or so new stores in the future.
With shares trading at $72.76 I would not be lining up to own TSCO (P/E of 32.8); however, the rental income is extremely attractive for Triple Net investors. The leases are around 15 years with increases every 5 years. The dividends paid by the Triple Net REITs beat the heck out of the sub 1% dividend yield being paid by TSCO.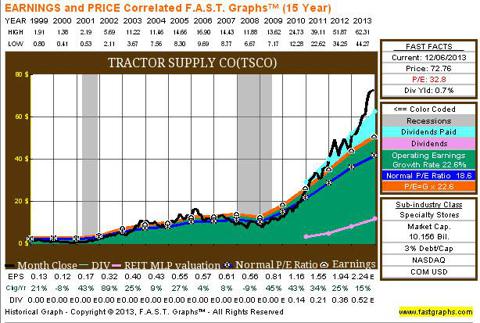 Cracker Barrel (NASDAQ:CBRL)
Cracker Barrel is a familiar restaurant brand that spans over 620 locations in 42 states. Of the 624 stores open as of September 20, 2013, CBRL owns the land and buildings for 412, while the other 212 properties are either ground leases or ground and building leases. That means there is considerable equity that can redeployed by utilizing sale/leaseback strategies.
As evidenced below, the company has done a great job with paying down its long-term debt; however, a sale/leaseback transaction would put the family dining operator in an enviable position as being a company with very little debt.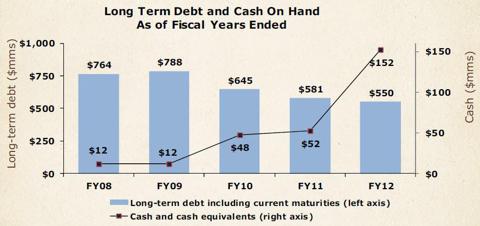 Arguably, CBRL makes a lot more money selling grits and bacon than owning its massive real estate portfolio. The FAST Graph below illustrates CBRL's appetizing earnings history and dividend growth. I wish I had taken a position in the shares earlier as the current share price of $107.57 gives me a stomach ache (P/E is 20.4).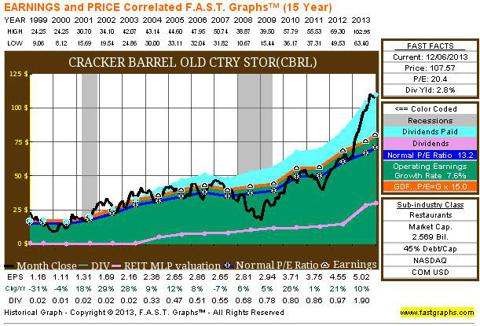 Family Dollar (NYSE:FDO)
The dollar stores have been one of the fastest growing retail sectors and as evidenced by the earnings history of Family Dollar, the category is one of the most profitable. In 2013 Family Dollar exceeded $10 billion in total net sales with over 7,916 stores in operation - 500 opened in this year. By leveraging its strategically-deployed sale/leaseback model, FDO has reduced development risk by match funding its capital allocations with sale/leaseback deals.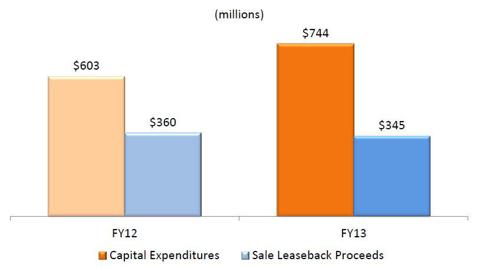 Family Dollar management is focused on being a best in class dollar store retailer, not on being a landlord. That's one reason that the Charlotte-based company has been successful at returning profits to shareholders. In 2014 FDO expects to complete around $200 to $250 million in sale/leaseback transactions and another 525 new stores (and 850 renovations in 2014).
The FAST Graph below is indicative of the historical earnings growth. In addition, the dividend (shaded aqua blue area) has increased and is now around 1.6%. At $65.98 I find the shares moderately expensive (P/E is 17.1); however, I find the real estate more attractive especially the 15 year leases that are part of a diversified income platform.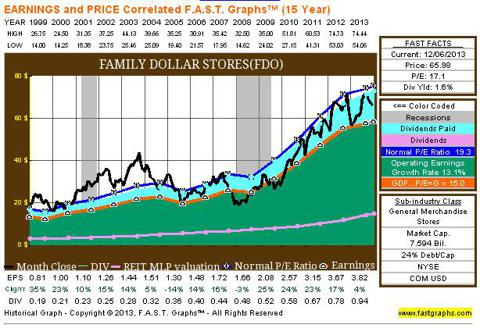 AutoZone (NYSE:AZO)
Similar to Cracker Barrel AutoZone owns around 50% of its 5,201 stores. At an average of around $1 million per store, a sale/leaseback could unlock around $2.5 billion of liquidity. Of course, unlike CBRL, AZO has limited debt and its massive cash flow generates ROIC of 32.7%. For some companies, owning real estate is considered a good hedge against and as an investor (in AZO) it's good to know there's a rainy day fund sitting there.
However, given the historically attractive low cap rates and the enormous investor demand (driven by the Triple Net REITs) I believe that AZO should consider strategic dispositions that could allow for a dividend. AZO does not pay a dividend and I believe that company should evaluate its long-term dividend policy and the potential of the sale/leaseback market. Although the shares carry an extraordinarily high price tag ($459.60), I believe that the entry point is fair (given the P/E of 15.8).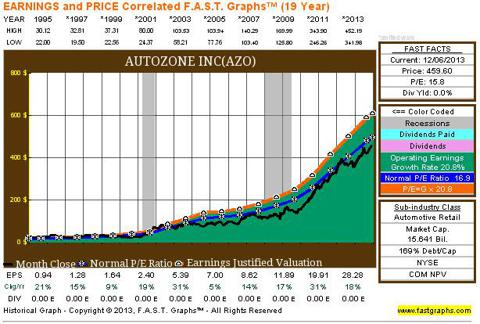 Size Does Matter
In a recent article in Real Estate Forum the author, Poonkulali Thangavelu, wrote:
Whatever be the means to achieve their objectives, single-tenant net lease players concur that there are certain benefits to owning large-scale portfolios.
The question at the end of the day is depth - how deep is the sector? I asked Chris Volk, CEO of STORE Capital (a Private REIT) about the supply and demand and he explained:
The combined enterprise value of the entire public net lease REITs today approximates $40 billion, or less than 2% of the investable marketplace. We are in the early innings of delivering this sector to the investor universe. The net lease market has been the fastest growing REIT sector and is likely to continue that way for some time.
All of the public REITs have fallen in price - some more than others - and although Mr. Market is blinded by the fact that there is quantifiable external growth drivers, the sell-off has created an opportunistic cycle in which investors are now being rewarded handsomely for durable forms of repeatability.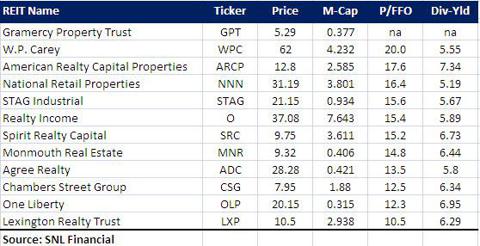 Remember, all of the sale/leaseback candidates mentioned in this article are publicly-traded companies that own or lease extensive real estate. In fact, all of these companies rely on brick and mortar to provide their differentiated investment objectives. A large part of the success of these businesses are rooted in the sustainability of the sources of income.
While many of these companies pay dividends, it only takes one board meeting to suspend or even cut a dividend. Alternatively, REITs cannot hold a board meeting and decided to slow down dividend payouts; after all, REITs are required by law to payout at least 90% of taxable income and that's the essence of the investment model that has lasted well over 50 years.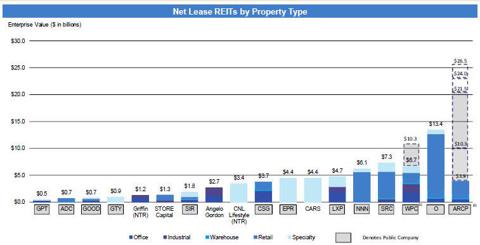 This is the first article in a series on Triple Net REITs and each week I will examine the "voyages" of the durable dividend sector and "its mission: to explore strange new worlds, to seek out new life and new civilizations, to boldly go where no one has gone before."
Also, I have a monthly newsletter (The Intelligent REIT Investor) where I provide detailed analysis on the Triple Net sector and insight into the dynamics of the most powerful and repeatable REIT models. As the legendary investor Ben Graham said,
Paying out a dividend does not guarantee great results, but it does improve the return of the typical stock by yanking at least some cash out if the manager's hands before they can squander it or squirrel it away.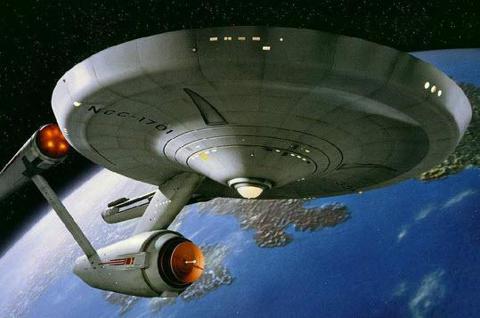 Check out my monthly newsletter, The Intelligent REIT Investor and my NEW 3D portfolio (coming in December).
REITs mentioned: (NYSE:GPT), (ARCP), (NYSE:SRC), (NYSE:LXP), (NYSE:MNR), (NYSE:CSG), (NYSE:ADC), (NYSE:STAG), (NYSE:NNN), and (NYSE:OLP).
Source: SNL Financial, FAST Graphs, Gramercy Presentation, and Reaal Estate Forum.
Disclaimer: This article is intended to provide information to interested parties. As I have no knowledge of individual investor circumstances, goals, and/or portfolio concentration or diversification, readers are expected to complete their own due diligence before purchasing any stocks mentioned or recommended.
Disclosure: I am long ARCP, CBL, CSG, DLR, GPT, HTA, MPW, O, ROIC, STAG, UMH, VTR, HCN. I wrote this article myself, and it expresses my own opinions. I am not receiving compensation for it (other than from Seeking Alpha). I have no business relationship with any company whose stock is mentioned in this article.